Top Personality: Ubik of Elude
Hugi had an audience with the graphics artist who worked on most Mad Wizards and Elude demos.
Interview done by Magic of Nah-Kolor
Magic:
Hi there Ubik! Please introduce yourself to our readers.
Ubik:
Hi Magic :) My real name is Przemek, I'm 33 years old, living in Goleniow, a small town in Poland, near Polish/German border.
Magic:
What made you start making 3d graphics in the first place?
Ubik:
Hard to say. 3D graphics have fascinated me since the beginning of my adventure with computers. With my first computer, a C64, apart from using amigapaint, CoalaPaint and other gfx-programs, and writing in various forms of BASIC (mainly warsaw-basic) I also tried to combine 3D. There was a variant of basic - unfortunately I do not remember its name - which allowed the creation of 3D models. Of course these were just simple gradient fill blocks, but it was spinning me terribly :) Modeling was done with commands, of course - there was no any graphical editor :) Then came the Amiga with the sensational Real3D. Although in the beginning, I spent more time with DeluxePaint coping comic fragments and of course the immortal graphics of Boris Valeyo. That was also the time when I left graphics for Protracker, but fortunately did not last long and returned to the Real :)
Magic:
You contributed to most Mad Wizards demos as well as Elude. Explain your time on the demoscene before the Elude and Mawi days.
Ubik:
What I did before Mawi...? Indeed we can start with the beginning of my scene-life. Assuming that the beginning was my first party,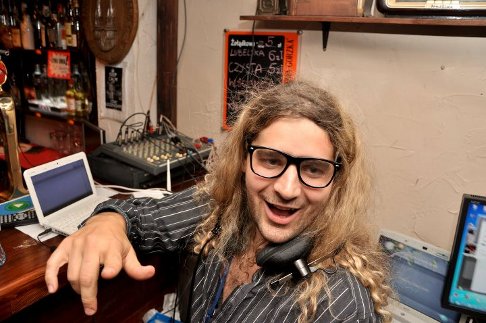 the time when I began to explore the demoscene from the inside. This was at the beginning of 1994 at the Eastern Conference Party. I was a member of several groups, the more familiar groups were Appendix, Nah-Kolor, Whelpz and Addict. However, in Mawi all this scene-stuff began to spin harder. Then I decide to leave all groups (except for Wheplz where I'm still a member :)). With Mawi we released a lot of demos, we often came together. Much enjoyment you see... this was a very different time. We were younger, we did not have lots of things in our heads like family, kids, a job and other things like that. But we had lots of time for entertainment, and we benefited from this ;)
Magic:
What happenend to Mawi? Why did the most important and active member form Elude?
Ubik:
Well, Mawi became a group of celebrities. Lots of members who did not do anything except having a famous handle. I did not like this and because of this I left the group and founded Elude. This was the biggest reason why I left Mawi. It was pretty easy to persuade Kiero to change group aswell. Then Chaser joined to us, who at that time was in Anadune.
Magic:
Why was it easy to persuade Kiero to join up with Elude as well? And... as a founder, where does the name Elude originate from? Why this name for your own demogroup?
Ubik:
I think he shared my point of view. But if you want to know for sure, you must ask him why it was so easy ;) Why Elude? Hmm... Maybe because I wanted to emphasize the 'divorce' with Mawi, and start something new, or maybe just because 'Elude' sounds cool (imho). Probably both.
Magic:
Could you please describe a day in the Polish live of Ubik?
Ubik:
It's hard to say what I must write here. In fact it's nothing interesting. Most of the time I spend on dealing with children, cleaning, cooking and other such things. Meanwhile, replying to e-mail clients and answering phones. Only in the evenings I sit down to computer to work or watch some movie.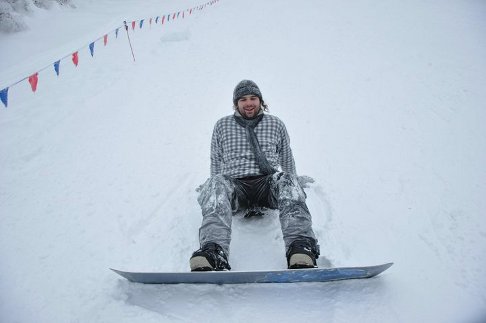 Magic:
Would you like to change anything if you had the chance? If yes, what would you like to change? Also, what job do you have in real life?
Ubik:
Oh no. It was my decision to live life like this. Sometimes I think it would be nicer to have some more time to do nothing, but we can't have everything. I am working in my own (small) company. I'm a PHP programmer, and sometimes I make some webdesign in Photoshop. I also wrote software to manage a online real estate agency.
Magic:
You told me you play the piano. How does a 3d artist on the demoscene end up making music? Please comment.
Ubik:
Yep - true story bro ;) Why? Hmmm, actually I don't make music, I just try making covers some various artists. Sometimes I just need to rest and do something not connected with computers. Reading books, watching movies or playing. Piano is also something great to discharge emotions. I've just worn my headphones and hit the keyboard - it's a great feeling :)
Magic:
Looking at the photos you sent me, you have quite a nice hair cut! It's probably very easy to recognize you at a party, which could be an advantage for people who to meet you. What can you tell us about yourself regarding your hair?
Ubik:
On the one hand I do not attach much importance to it, you know - for me it's just hair. Everybody (almost) has hair. Well, ok... maybe it is a little longer than what most guys have. But on the other hand, sometimes I like to experiment. A year ago I painted it blond, half a year ago I cut a third of my hair on my head and now I cut it every few days because they quickly grow back. Who knows - maybe in the next six months I'll be going bald ;)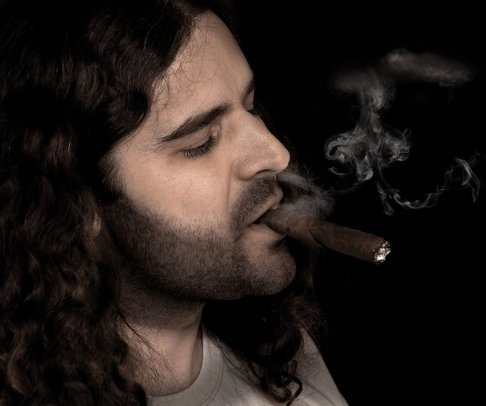 Magic:
Next to Amiga, Elude also started to make productions on the PC. Was this an obvious move for Elude?
Ubik:
Yes, that was obvious, because on Amiga we make demos just for fun. On PC me have big competition, and this is really a challenge! PC is also something new for us - we still must learn lots of things.

Magic:
What's your view on the current Polish demoscene? Plastic seems to be sleeping again. Ghostown looks quite promising. Please comment.
Ubik:
The scene in Poland is always an interesting thing. As you may remember, in the 90's despite the large productivity and highlighting a really good production, the Polish scene was as if separated from the West. The same was true with sceners, we did not go to foreign parties and non-Polish people do not come to us (with limited exceptions). All this was definitely caused by the regime in Poland before 1989. We were poorer, going beyond the boundaries was something special, another obstacle was the language - after all, for years we were taught Russian. English in the schools appeared quite late. Well, but this is not what was supposed to be - I just wanted to show that the Polish scene has always been as if separated from the 'western' scene - so my opinion is all the time. Of course, many things have changed, we often appear at Western parties (although non-Polish people still visit us only occasionally - I do not know why, we really do not steal cars, etc ;)), our productions are staged at the Western parties, etc. However, all the time it is as if they constitute a separate enclave - they stick together, play together, drink together. We are really a harmonious bunch. Unfortunately this is not reflected by productivity. As you can see Plastic is asleep, and unfortunately it looks that the dream will take a lot more (Kinga and Bonzaj became parents a few months ago, so if previously they had little time on stage, then today they do not have it at all ;)), Amnesty and Futuris appear once a year and have been taken into the underground. Anadune unfortunately stopped making demos (Acryl made lots of cool games for iPhone). The Polish scene is saved by DMA and Flopi - you must agree with me, that they make awesome 4k-intros. I was a happy appearance together with Nitro - Blacksun, very active. I only regret that as a group we cannot decide on a platform giving demos for C64, Amiga and recently PC. Imho choosing one platform and making a good production on it is very important. Only then can they develop their skills and do not have to start from the beginning every time. Ghostown is a big light in the tunnel. They probably save the Amiga section of Elude from staying lazy bastrads who don't even think about demos. Really :) There was a moment in which we have found that it probably does not make sense, that this demo will be the last, etc. Making demos for fun is one thing, but a healthy rivalry with the productions is another. We missed it. Well, but Ghostown arrived, they showed that they can and, more importantly, they want to make great productions.
Magic:
What are your best moments on the scene so far? Could you also describe your worst ones?
Ubik:
Hard to say - really. For sure one of my best moments was the first time I won a 3D compo (Astrosyn 2), that was my breakthrough. I just love our group-meetings. It's really a great feel - all the time - to realize how harmonious we are. Not only with demo-making (in fact, when we make Amiga demos, sometimes I and Kiero hate each other ;)), but also when we watch movies, dance after drinking, talk about some stupid stuff... That is the reason why we are a small group. It's easier to stick together. Very cool was the Lightshaft nomination for scene awards. BTW I think it was a little bit undeserved. Much better graphics was in We Come In Peace, which didn't get a nomination.
Worst moments... I do not know whether they can be described as the worst, but there are times we just regret. For example, binge on IntelOutside 2 so much that I slept almost the entire party. Generally at the beginning of the adventure with the demoscene there was too much alcohol. I mean I called it wrong, alcohol was the right one - only I was too young ;)
Magic:
Do you look forward to Revision 2012?
Ubik:
Hell yeah! I've just can't wait! Elude wanna make two demos (for PC and Amiga) - I hope. Now it's the 4th of March, and we already did... nothing :)
Magic:
Nothing?!? :) Why else are you looking forward to Revision 2012?
Ubik:
I really have not done anything yet. Kiero combines something old with new effects, but nothing has happened yet. Probably we will start next week. I'm looking forward to Revision for several reasons. I like big parties. Masses of people, new contacts, old friends, everybody talks about topics and is interested in the demoscene. It's fun to drink a few beers with friends, smoke a joint, jump with good music. Especially when you are not doing this on a daily basis.
Magic:
Please take the opportunity to write some things about Elude, give greetings and say whatever you want to whoever you want? Do you have some last wise words as an ending?
Ubik:
A few words at the end - hmm ok... Greetings will not be because I have to greet someone face to face with a beer in both hands ;) Instead, a small appeal. People do not talk about their responsibilities, families, etc. but they say that they do not have time, do not feel like doing a production - whether it will be a demo, music, graphics, ascii or running a store. Nevertheless they have the time to write on Pouet 'scene died', 'today is not the same' or other bullshit like that. We are the Scene - instead of saying that the scene is dying, do something to change that, or get the fuck, graze sheep, plant flowers or dig sand on the beach. Kisses :)
Links related to this interview
Magic