Netpoet - On a Personal Level
Portraited by Magic of Nah-Kolor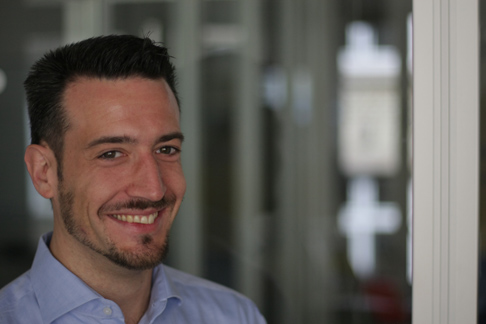 Frank Stiegler, also known as Netpoet of Calodox, was born in Düsseldorf, Germany, in the year 1977. At a young age he was introduced to computers: "My first exposure to computers was with an Atari 2600 in 1980. I especially loved Missile Command and Dig Dug." Netpoet doesn't clearly recall what computers followed after the Atari 2600 (and when this happened), but he remembers: "An Atari 2600, then at some point a Commodore 64, and after that it was PCs all the way. My dad worked for IBM for a long time so it figures, I guess." But how did Netpoet start making music with computers? Netpoet explains: "My love for music, or the love of music for me, as I sometimes say. I was thirteen years old, hell I don't remember how it started. What I do remember, however, is that I started with an Adlib soundcard. It wasn't even able to play samples so you can imagine how impressed I was to see the talking parrot that came along with the first Soundblaster cards."
Along this road, Netpoet became the person he is now. A musician, member of demoscene groups and host of the annual scene.org awards since 2006. Netpoet: "The only group I have actually co-founded and worked with for quite a while is Parkstudios. Together with my friends A-Move, Velvet and Falcon, I founded this group on January 1st, 2000. We were active for roughly five years. Aside of that, I have been a member of Calodox and 243 (Hungary), plus some joke memberships like 5711 and Downlords." Netpoet worked on the following productions, which he is particulary proud of: Haujobb's "Green Cheese" (1st place at Evoke 2003 in Console), Mindforce's "Reel" (demo, 6th place at Mekka & Symposium 2002), and Haujobb's "Orbitalism" (64k, 1st place at Evoke 2002). "I actually don't even have a complete list, I always wanted to make one but I never took the time to do so."
The name Netpoet, personally, reminds me a little of the following two words: Internet and Pouet. :) But does the name Netpoet have any explanation at all and where does it orginate from? Netpoet explains: "Back in the Fidonet days, I had a different name which I cannot even recall any more. It wasn't very cool, however, I can tell you that. 'Netpoet' (originally in two words, "net poet") started out as an addendum, a description of how I saw myself back in the days when the net was still a novelty. In those days I also used to quote from the singer PM Dawn, which contributed to my feeling of being a net poet. I always loved writing but actually, I didn't write poetry at the time. What's maybe more, at that time I thought about changing my nickname again soon but somehow everybody started calling me Netpoet (one word), so I decided to keep it. A lot of my German friends left the 'net' out altogether and turned the 'oe' part into an 'ö', which makes me 'Pöt' for them. Sometimes when I write to people who call me both 'Frank' and 'Pöt', I sign with 'fröt'."
These days Netpoet is exploring something new on a job-related level while he reaches back on a more familiar tool to create music: "Just these days I'm starting a new job in Frankfurt in email marketing, for a company called rabbit eMarketing. I'll be project manager / client consultant / head of legal affairs there, and I'm very much looking forward to it. Prior to that, I worked in privacy management in Düsseldorf for a year, and even before that, I was primarily an attorney-at-law at a law firm in Essen. So you can see I'm moving away from the law profession, and I'm very happy I am because with the stronger IT affiliation, I can finally work in area I have always deeply cared for. Music-wise, I have just starting firing up Renoise again. For me, it has been and still is the most amazing program I have ever used for making music, and I am anxious to get going with it again", Netpoet tells me.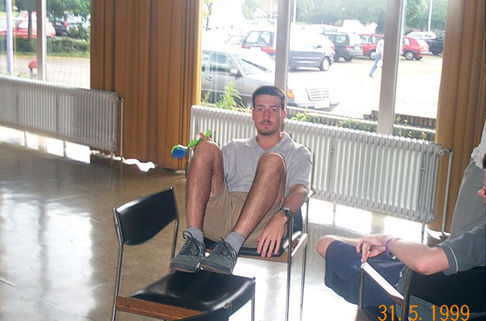 ---
Netpoet - The Musician
---
Originally, Netpoet's function in the demoscene was the role of a musician. What does music really mean to him? "Music is like the comfortable hooded long-ass terrycloth bathrobe on a cold winter morning when you're sitting on the leather couch enjoying your coffee. When it's playing, it's everywhere. When it's not, often something essential is missing. Playing the wrong type of music in any situation can be like walking around squirting ice-cold water on people lying on the beach trying to get some sun", Netpoet tell us. Thinking about somebody who has been around in the demoscene for such a long time on the demoscene as Netpoet, I wonder: Where does he get his motivation and inspiration from to compose music?
Netpoet: "There is no way to tell, really. A lot of things have been an inspiration to me, and sometimes, frankly, a source to steal from. I recall having samples of various drums from Ian Pooley and DJ Tonka at the time, various hiphop groups like A Tribe Called Quest and De La Soul, and tons of other sources, like movies, things friends said, etc. But I think I always needed music to vent my feelings. I felt a lot better every time I finished a piece of music."
There are many, many musicians inside and outside the demoscene. Hugi asked, though perhaps it's a cliche question, which musicians Netpoet admires the most. "Oh gosh, there are so many out there that I always have to leave 90% out. Demoscene-wise, the ones who always used to push my right buttons were Purple Motion (who probably pushed everybody's buttons in the early 90s) and my former fellow co-musicians Velvet and A-Move, and Falcon. Radix, too, was one of my idols at the time. But a lot of people have made outstanding productions. I really can't name all of them", Netpoet explains and continues: "In the professional sector, it's even worse; I cannot name all of them. I admire BT a lot; his work has one of the fullest sound spectrums I have ever heard. Röyksopp are unbelievable. Jazzanova make some of the funkiest shit these days. Mr Scruff makes my head nod and laugh at the same time. Furthermore, I love Justin Timberlake, LTJ Bukem's stuff, and pretty much all the stuff played on friskyRadio", Netpoet kindly comments.
Next to this, to make it a little bit harder for Netpoet, I asked what the best pieces of music he ever listened to would be. Netpoet: "Please don't make me go there. It's too much to even think about but one thing might be interesting for you, and that's the song I'd like to have played at my funeral. It's called 'By Your Side' and is made by a guy called Julian Petrin. I ordered the CD directly from him years ago, and this song gives me the chills every time I listen to it. There is one chord in it, pretty much before the last take-off, which is odd, and I can't help but get goosebumps when he throws in this odd chord."
Netpoet has been composing music for many years now. I asked him if his gear and methods changed during the years. Netpoet explains: "Obviously hardware and software changed over the years but the only significant change I can name in my musical creation history was when I figured out that mixing and mastering played a much more important role than I had thought until then. Ever since then, I have followed a variety of rules like that yours ears turn tired after a while, and you start having bad judgment on, e.g., how much bass a song needs."
My favourite track composed by Netpoet is "Favorite Astronaut". So I asked Netpoet if he could tell us something about the making of this track. Netpoet answered: "That's actually my favourite song of all my music. It was the tenth song I started when I wanted to make a theme song for Evoke that year, and actually, I wasn't too happy even with that song because the mixing was pretty poor until finally, my friend Chimerical Child helped me out with it. I am very happy it is highly praised by many, and I had a lot of fun making it. For those who are interested, I used Renoise for it, the program I like the most of all until this very day."
The vocals of this track are also what makes this track so special. But who is singing them? Netpoet comments: "I am. Me, myself and I, and I literally mean me and myself and I, as I often put several layers of vocals together to make my relatively weak voice appear stronger. I have never had professional training, after all."
---
Netpoet - The Scener
---
Netpoet is a German citizen. Born and raised in Germany. Could he tell us something about how he experiences German life and the demoscene in Germany? "Due to my lack of experiences with other countries, my view is limited, I guess, but for me, the German Demoscene has come a long way, and there is almost endless potential there. Think of all the outrageously good productions which were made by German brains. Haujobb, Farbrausch, Blackmaiden, to name just very few. We are all getting older, and I'm a little afraid that not so many youngsters are stepping into the veterans' footsteps. But I am still regularly overwhelmed by the talent you can see in nowadays' productions. It's merely how we offer a great venue for talents to produce in and for the Demoscene", Netpoet says.
I guess that during his time in the demoscene, he surely had his ups and downs. His best and worst moments. But Netpoet sees this differently: "I cannot think of any time during my scene activity which I would describe as either, honestly. Of course, it's always nice to win a prize, and I sometimes used to giggle when people whose names I handed my stuff in under would go on stage and were asked to say something about the production when they obviously had no idea what to say. There have not been any particularly bad moments in my scene history, really. Not that I could recall anyway."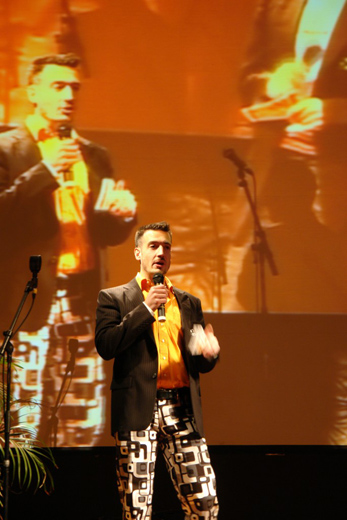 With his legal background, Netpoet cooperated on an article about copyright and its meaning for the demoscene, which you can read elsewhere in this issue of Hugi. Netpoet also hosts the annual scene.org awards. This topic was excluded from this interview, as Netpoet also gave his input together with Melwyn in a full article about this annual awards show. Of course this article is also to be read in this issue of Hugi.
As Netpoet pointed out in this portrait earlier on, we are all getting older. From this perspective, what can we expect from him on a musicial level and what are his plans for the future? What could he tell you, the reader of this portrait, before wrapping up and closing down? "Expectations are never a good idea; you might be disappointed after all. :) At this point it's rather unlikely but who knows, you might see some music by me in a competition at Evoke or another party this year. With my current move to Frankfurt and my new job, I don't know how much time I will be able to dedicate to projects like this, but I will try to impress you all again", Netpoet explains and concludes: "I'm still amazed at how colourful the Demoscene is, so this advice goes out especially to the younger crowd. Go to demoparties, including the ones abroad, and meet up with guys from all over the place. It will vastly widen your horizon. It has done that for me as well."
---
Links related to this article
---

Website of Netpoet's new job

Evoke 2005 report
In the last 2:50 minutes of this report, you can see a quick shot of Netpoet, and his great track "Favorite Astronaut" is played until the end of the report.

Copyright and its meaning to the demoscene article
Netpoet & Magic