The woman behind the demoscener II
A questionnaire with the wife of Virgill and the girlfriends of Ghandy, Duckers and Lazarus. Read about what they think about and how they experience their husband's/friend's demoscene hobby.
Note: This article is a followup to the article "The woman behind the demoscener" from Hugi#34. If you haven't read that one until now we suggest that you do this also.
Prologue
After Hugi #34 was released, my article about the woman behind the demoscener got a lot of positive feedback. A reason for this, I think, could be that anno domini 2008 many sceners can identify with the answers the wives of Chromag, Polaris and Navis gave on the questions in this article. In these answer sceners recognized situations from their personal experiences, for example the wives' opinions on the load of time spent with the demoscene instead of the family. That is why I decided to make a follow-up to this article. It's an informative article with some amusement in it with a funny side-note. This time the wife of Virgill/Rebels+Alcatraz and the girlfriend of Ghandy, known for writing for Pain and Zine among other things and member of Scarab, Moods Plateau and Deviance, were so kind to cooperate on this article. Also the girlfriend of Duckers of Outracks, about whom I discovered that she also calls herself Zeila and is a scener herself, is participating in this article. Finally, we have the girlfriend of Lazarus of Nah-Kolor, Edyta.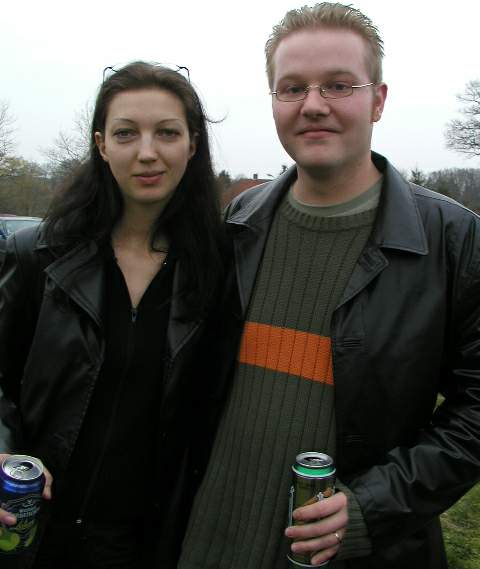 Just to make sure you won't forget who is who while reading the article, read the first question, the introduction, carefully. Here is also a quick summary:
Viktoria is married to Virgill.
Christine is the girlfriend of Ghandy.
Mia is the girlfriend of Duckers.
Edyta is the girlfriend of Lazarus.
The Interviews
Hugi:
Introduction: Please tell us who you are, who your partner is and what a normal day is like for you.
Viktoria:
My name is Viktoria, I'm 31 years old and a diploma music educator by profession. Currently I'm primarily mom of two children (Aaron, 3 1/2 years old, and Livia, 1 1/5 years old) and I'm working at a municipal music school two days a week where I'm teaching the piano. Jochen (Virgill) and I have been together for almost 15 years, for 6 years of which we've been married. Jochen is a data technician by profession, but his true vocation is music. That will never change ;-) Our normal day... Apart from the job our life is mostly about our two children. The evenings are for us (the parents) and often our friends. At weekends and in the time between we steal time in order to pursue our hobbies: Jochen makes music and I take photos and edit the images in Adobe Photoshop.
Christiane:
Hi, my name is Christiane and I've been together with Ghandy for two years. I'm living in the Ruhr area and I'm working as an assistant medical director for neurology in a hospital at the Lower Rhine close to the Dutch border. You know Ghandy, he is very straightforward, easygoing, likes talking and enjoys meeting new people. A normal day is primarily determined by work, I get up early, drive 60 km to my workplace, spend a lot of time in the traffic jam, then treat my patients etc. and in the evening, I'm back at home. When I'm free in the weekends, we try to do a lot with our friends, go drink a beer, play badminton, watchmovies, read or walk the dog. And we sleep long, but I'm usually awake early on the morning...
Mia:
Hello! My name is Mia, I'm 21 years old and my boyfriend is Duckers of Outracks. I'm currently studying computer science at the Norwegian University of Science and Technology in Trondheim, Norway. A normal day for me may vary a lot, since I'm a student... It usually involves reading/lectures in the morning and doing some home assignments in the afternoon. I use to eat dinner together with Duckers in the evening, which usually includes watching a movie or an episode of a random TV-show. I guess that's my average day as a student. It's a bit more hectic in the exam period, though.
Edyta:
My name is Edyta and I'm 24 years old. I'm Lazarus/Nah-Kolor's girlfriend. I live in a small city, but my office is several dozen kilometers away from my home, so I have to get up at 5 am to get there on time. Usually I go back home at 6-7 pm. I am... a programmer. I have two turtles, Marian and Hogata.
---
Hugi:
What do you know about the demoscene?
Viktoria:
I learned about the demoscene shortly after I met Jochen, and I immediately realized that Virgill was already married... to the demoscene ;-) Since I'm a musician myself, I do not only accept his passion, but share it. Just in the days he was spending with you ;-), I was lonely and made friends with the idea to get to know you / the scene personally... That didn't remain an open wish ;-D
Christiane:
Not much! Before I got to know Ghandy, I knew nothing about it, I didn't even know the word demoscene. Today I know just some rudimentary facts of the scene.
Mia:
I know quite a lot actually, since I like to call myself a demoscener :) I use the nick Zeila in the scene, and I recently formed a group called bitFlavour together with Flipside. I know that the demoscene is a very inspiring and productive environment that easily stimulates a creative mind. There's so much to be amazed about, I can watch demos over and over again. I'm happy that I discovered the demoscene. I wish I had discovered it earlier! ;)
Edyta:
I know a lot about demoscene, because Mariusz says a lot about it. This is probably the most important thing in the world for him. I know that people gather in groups and each member has their function, there are graphic artists, musicians, etc. Their main aim is to create the demo, but why? - I do not know. Maybe they want to show their skills, or on the contrary - they want to learn new things.
---
Hugi:
What do you think of your friend's/husband's demoscene creations? Please tell us which ones you like the most and why.
Viktoria:
My husband is an incredible genius... ;-) His works are very varied. Recently my sister wanted to know from Jochen how a man full of the joys of life like him is able to write music that is often quite dark and goes deeply below one's skin... His youngest pieces were true to the style. You listened to them and knew: Virgill. I think he lost himself in the many years and I'll never stop being amazed at each of his new works... I'm not sure either what style suits him most... I love many of them! The question "why" must remain open, the decision lies in the ears and in the heart. In order to name some of my favourites: "Elements", "Its over now", "Artcity", "Kom oh Tod du Schlafes Bruder", Rebelion Outro", "Exit ii", vieles aus KML", "Interference", "OMG, it´s a CUBE - Enigma remix", "Help me" and the cream of the crop at last: Cons - "gone with the storm" (virgill ambient remix)... If you haven't heard it yet, do it soon!
Christiane:
Hhhhmm, has he created anything? I don't even know it.
Mia:
I think my boyfriend is very talented. I think his demos are well composed, have excellent syncing, are displaying some very nice effects/sceneries and together it all fits so nicely with Irvin's great music. I like Synthematik and Gamma the best out of his demo list. I like Synthematik because it was one of the first demos I saw from Outracks and it has an awesome soundtrack that got stuck in my brain for a long time. It's also special because of its neat cel-shading. Gamma is on my favourite-list because it's well executed and has a nice theme all over it. I also followed the whole process of making this demo, that was a neat experience. Oh, and the music in Gamma is fabulous! But I bet you know that, since it won a Scene.org award ;)
Edyta:
I love all demos Lazarus ever did and even notice some constant elements in them. My favourite things are colorful shaggy ball and freaks called "thingies" from "Visage".
---
Hugi:
Is it ok with you that he spends so much time with his demoscene hobby?
Viktoria:
Well, I knew from the beginning on what I'm up to ;-) Of course I often wish nothing more than that the "jingling" finally stops and I get to hear the comforting sound of our vacuum cleaner instead... :-D The children also have to be patient from time to time until Dad has taken off his headphone. Usually the musical score for the whole family follows... great! Nevertheless I don't think that Jochen is spending TOO much time with it. It's rather that the point of time when creativity overcomes him or when he gets music orders is often unfavourable. The latter thing cannot be influenced by him. I know what it means to him and I would make him unfortunate (and myself unpopular ;-D) if I placed myself between him and the demoscene. It will never get that far. :-)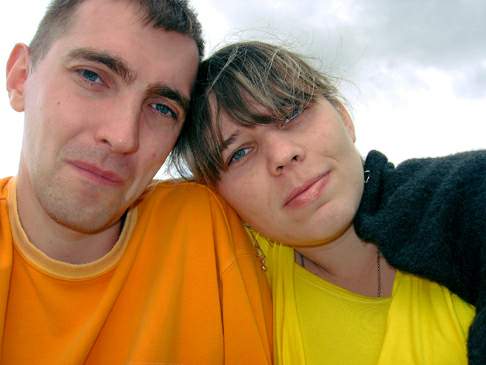 Christiane:
Yes, if it's fun for him, no problem!
Mia:
Yes, absolutely! I'm proud of what he does, and I think he should continue to be creative and make scene stuff like demos, intros, games. And he has a lot to teach me as well! I don't mind that he's in front of the computer a lot, since I'm spending a lot of time in front of my own computer :)
Edyta:
Mariusz can sit all night long making demos. Even more - he took a laptop on our summer holidays to finish "Visage" on time. I think he prefers making demos more to spending this time with me, and I'm very unhappy because of this. And he even doesn't want to admit that my computer is better than his! ;)
---
Hugi:
Have you ever been to a demoscene party? If yes, what did you think of it? If no, ever thought about it to go to one?
Viktoria:
Yes, I had the honour! :-D Let me think... I was at the Cebit in 1994 and, embarrassing enough, I even participated in one of the graphics competitions. There I met Fiver and Rewired the first time (greetings!). The next parties where I joined Virgill were Mekka Symposium 2000 and 2001. There I got to know Dalezy, XXX, Peachy, Dreamer, Jazz, Acryl, Chromag, Visualice and Melwyn (hi guys!!!). Let's see if I will ever manage to show up at your place again... It would be cool!
Melwyn: In the meantime I'm able to ask you in English if you want your breakfast egg hard-boiled or soft-boiled. So come and test it ;-)
Fiver2: You are my Nr. 1! As soon as I'm done with Photoshop, I'm ready for the Fiver2 weekend seminar. Feel invited!
Chromag: Our supermarkets also have tinbeer and carts withdrawn from service. If you promise to leave the parking cars uninvolved, we could in theory repeat the binge of FallingBostel :-D
Christiane:
The parties seem to be very particular, actually they rather bore me. It's difficult because I'm clueless. It seems to be a scene which isolates itself very much. It's not mainstream. My impression of the people at the parties is that they are very strange, not easily accessible, not communicative, many are there for themselves. That's astonishing as demos are very creative. I met only very few "sensible" people who are standing in the middle of their lives. I try to communicate with them, but I don't really succeed. There are exceptions of course. It's not my world, but that's not necessary anyway.
Mia:
Yes, I've been to Solskogen in 2007 :) I've been to The Gathering since 2003 too, but I'm not sure how "demoparty" TG is anymore.. I guess it's technically a demoparty since it has democompos, but it lacks the scene spirit. TG was the party where I delivered my first demo, though ;P Although TG is a very big party, it can't be compared to Solskogen in scene spirit. I'm definitely going to Solskogen this summer too :) It's nice to be around so many sceners at once. At TG you're lucky if you find some sceners :) Solskogen has a nice atmosphere that I like. I would love to try to visit some foreign parties in the future as well.
Edyta:
I've never been to a demoscene party and would never be. I do not see anything interesting in starring at a huge screen, in a crowd of people.
---
Hugi:
Did your friend/husband show you some demos? Which ones did you like the most and why?
Viktoria:
Of course! What a question... Usually I'm not asked IF I want to see something :-D, but what I saw has always been worth it. After all Jochen is my "pre-selector" :-D Unfortunately I can't remember the names of the demos. The last thing that really knocked me flat was "Mfx - Inflorescence"... extremely good, all in all!
Christiane:
There are very funny things, I especially like glon243 by Cocoon.
Mia:
Well, I usually download and watch demos on my own :) If he finds something on Pouët that's great and it turns out I haven't seen it, of course he'll show me. I appreciate it more when I can watch him making a demo, like I did with Gamma.
Edyta:
I've seen many demos, but I don't know their titles. But I remember that Lazarus promised me to show Amiga demos. It was four years ago...
---
Hugi:
What could make the demoscene more attractive for women to participate in it?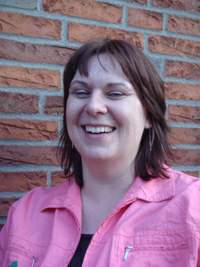 Viktoria:
If I am to answer spontaneously, I'd say: Either you love the scene or you hate it. In the latter case you'd have passed by your partner's life for years. ;-)
Christiane:
Maybe beginner courses for demos which give you an overview.
Mia:
Let the women know about the demoscene! I have lots of friends who don't even know what the demoscene is about. If they knew what it was all about, and that they're welcome in the demoscene, I bet some more women would be interested to participate. There's a lot of creative women out there. Bring on the propaganda, guys! ;)
Edyta:
I do not have time to play in a demoscene. I have a job that I like and which I devote a lot of time to. Still I learn of new technologies, I use them in my applications. And I also have responsibilities. I see that what I do at work facilitates and accelerates the work of other people. And what is the advantage of demos, except that you can watch them? As long as I do not see a point in making them, it will not be interesting for me. Unless someone will do a demo about turtles. :)
---
Hugi:
What would you like to tell the participants in this article?
Viktoria:
Girls, think of it, it's in our hands to save the demoscene from extinction! ;-)
Christiane:
Everything has already been said. Greets!
Mia:
Let your man enjoy his passion, I bet he's letting you enjoy yours ;) See the beauty in what he's doing and be inspired.
Edyta:
Let your partners do what they like. The smile on their face - priceless! But don't let them neglect you.
Magic/Nah-kolor