Unlocked: Demoscene Journalism & Parties
Hugi got into an exclusive talk with Unlock of Vantage, main-editor of Pain Magazine and main-organizer of the Swiss Buenzli party.
Written by Unlock & Magic
Prologue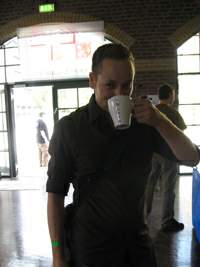 Not many sceners don't know the name Unlock I suppose. I write this after Unlock confirmed this to me himself and refused an in-depth introduction about his person as a start of this article. In all honesty, thinking about this, I think he is right. He has been around for a long time, is known from the magazine Pain and the Buenzli party he organizes among other things. Still a small introduction is at its place before Unlock and I exchange thoughts on topic about demoscene journalism and parties. I also asked Unlock how his life outside the scene is shaped anno domini 2008.
Unlock: "After all those years in the demoscene, I should be pretty known out there already. For those who do not know me, here are a few facts: Demoscene wise, I'm a founding member of the group Vantage, member of the C64 group Padua, main editor of the PAiN diskmag and main organizer of the Buenzli demoparty. I've started out into the scene with an ancient C64, back in 1992. I never had an Amiga, but instead I still have various other Commodore hardware still running at home. Nowadays, the demoscene is a hobby for me and the hobby-dedicated time mostly is invested into organizing Buenzli and PAiN. Other activities in the demoscene include visiting parties and here and then watching demos. My life outside the scene consists of working (as a software engineer in an employment state and part-time CEO of my own company), girlfriend, mountain biking, running, inline skating."
Diskmags & Journalism

Magic:
What do you think of today's diskmag scene? Seems Pain got some nice competition with Zine, Mudia Art, Savage Charts, Hugi and the recently released Showtime.
Unlock:
To me it seems excellent to have competition for PAiN. PAiN has always been trying to be around here and there again so that the demoscene does not forget about diskmags. It was an important process to see PAiN evolve from a Swiss local small mag into probably the most popular diskmag of the (PC-) demoscene (and there is no such thing as a diskmag scene - what would that be?). Competition normally drives the involved parties into higher efforts. We will see if this will work for diskmags too. Zine has not yet been able to keep the high promises on the release schedules - however impresses with excellent articles and an innovative engine. And beside, who would I be to criticize an irregular release rhythm.
Magic:
Could you give your personal opinion about the above mentioned diskmags?
Unlock:
I don't comment on single mags or even issues. I'd just like to point out that I'm really happy to see a diversity and a generally broader range of mags around. Every single mag has to find its own niche and reach its own, self-set goal. Charts mags can be interesting, but don't make sense without voters, art packs with additional mag content are a nice feature that can turn out being real diamonds if well done. Traditional mags need to define themselves in a new way, try to establish a way of appearance and style that doesn't render them obsolete. Sourcing of content has not got easier and this turns out in a lower release rate, a phenomenon not only applicable to PAiN but for all mags around.
Magic:
The demoscene has a lot more media than just diskmags these days. Take for example demoscene.tv, 4sceners.de, Bitfellas, Pouet, Zine podcast. Why do you think diskmags are still worth being made?
Unlock:
Diskmags are part of the demoscene cultural heritage so it does make sense to still create diskmags. The content, look and release cycle of diskmags has of course changed and that's good that way. With the introduction of the Internet in the mid nineties, the way the demoscene is communicating, spreading news and articles/content has got more versatile. New platforms evolved and complement each other.
Magic:
What is your all-time top 5 of favourite demoscene writers/editors and why?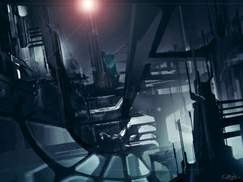 Unlock:
To be honest, I don't have any favourite writers or editors. Everybody can write if he wants and I'm more concerned about the content, the mag and generally the overall outcome. So, I judge a mag on the general feeling and not on single editors contributing. One name, however, that's stuck in my mind is Jazzcat, the guy behind quality commodore 64 diskmags. Nowadays, the guys regularly contributing to Zine seem to have a goodlevel. The first article that I have been reading in PC diskmag (afterknowing plenty of commodore 64 diskmags at that time) was written by Furball (and that was, of course, in PAiN).
Magic:
Is it harder to make a diskmagazine today than it was five years ago? Please comment.
Unlock:
Generally said, it's not easier or harder than five years ago. In the last five years, the scene didn't change too much. If you had asked about the difference of diskmag creation from today to ten years ago, it would be more significant. Still, there are the ever same problems and obstacles in the creation of diskmags: get articles, regular release schedule and so on. For me personally, it got harder due to varying or broader interests, other projects and a more limited free time (being no student anymore).
Party Chit Chat
Magic:
What did you think about Breakpoint 2008?
Unlock:
I skipped the first day of the party because of family duties. When I arrived, the party was already full running. I didn't actively contribute, like always, and instead took the time to talk to old and new friends, spread some Buenzli flyers and drink a few beers. An intense moment for me was when I was presenting a category in the scene.org awards show. It's already quite some months since Breakpoint, and theoverall mash up memories are in the region of "good" to "fun".
Magic:
Yeah, I noticed you gave an award away and that you were sitting in the front row at the demoscene awards. How did you end up there and who asked you to give an award away?
Unlock:
I was asked by Leia and ended up there, because I accepted to give the award away. I was a jury member of the scene.org awards in the early years and since then I've been following the happenings around the awards closely. For me, the top 5 of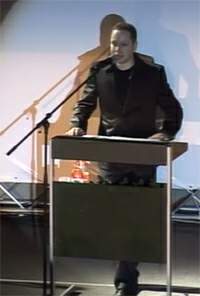 every category at the awards shows a good selection of demos that you should keep on your own harddisk - for me it doesn't really matter who wins the actual award.
Magic:
Adok told me you also visited the Realtime Generation festival / exhibition in Vienna. What can you tell us about that?
Unlock:
I only visited Realtime Generation for a few hours, mainly to see some friends and check the exhibition. I did like the exhibition a lot and think it was nicely presented. The organization seemed perfect and also the location in the famous MQ in Vienna was excellent. That's a really beautiful place.
Magic:
And how did you experience Evoke 2008?
Unlock:
Evoke belongs to my "must-be-there" parties that I visit every year. Not only because it's some kind of partner-party of Buenzli, but also because it's always a lot of fun to meet friends there. I don't care much about the party program because my mind is full of Buenzli-organizing at the time Evoke takes place. Rather, I hang out with cool people, enjoy Evoke Tracks, go downtown and have a good time there. That's the main point for me at Evoke: Having a good time - and thus I don't care what releases there are.
Magic:
Have you read about the NVscene party in the USA? What is your opinion about this?
Unlock:
If you were at Breakpoint, there wouldn't have been a chance not to read about NVscene. For me, this medal has two sides. It's a weird medal however, because one side is small and one side is large. For me, the positive side is smaller: It's good to see a large company noticing about the demoscene and to have more and more activity in North America. However, on the large medal side, it's a major drawback to see the massive marketing power invested into NVscene - of course paid by Nvidia. A demoparty should be a demoparty for the idea of the demoscene and not for the idea of a company. Sponsors are required for demoparties of a certain size this year, I know that from my own experience - but that's too much in my opinion. I like the guys at Nvidia and the organizing crew and everything - that's not a question. The question would be if it wouldn't have been possible to have that demoparty in a less obvious commercial way by just having Nvidia as a sponsor instead of the main organizer of the demoparty.
BUENZLI
Magic:
Could you tell us about Buenzli. What is the concept of this party for example? What makes it different from other parties? But please begin with telling about the past, present and future of Buenzli.
Unlock:
Buenzli started off in 1996 as a gathering of local sceners. Back then, it took place two to three times a year and it only became an annual event starting from 1999. After a few location changes and changes in the organization team I took over the party as a main organizer in 2003. We changed the idea of the party, we fully internationalized it. Currently, the organization behind the party is a legal association, to reduce risks. The current location seems really appropriate and we know how to build up, run the event and clean the place - thanks to six years of experience in the same location. Currently, there are no plans to change location, name or concept. Buenzli is a demoparty. That's the basic concept. What's different from other parties is our idea of a "demoscene family meeting", which generates a great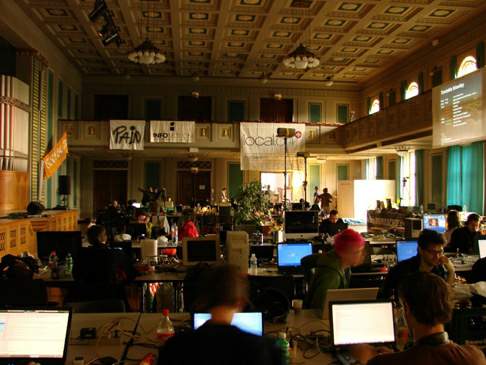 atmosphere at the party place. We try to support this by aligning our room arrangement. Features like a chill corner in front of the big screen, double big screens, cheap food support, retro console corner and other facilities fit well to that idea. Friendly, always helpful and unstressed organizers, a professional back office and knowledge on what we we do turns into a party that gets a lot of good feedback from the visitors. We don't aim at being different and just provide the scene with a series of constant parties. Our visitors know what to expect and this generates a lot of regulars.
Magic:
What are your nicest memories / anecdotes about organizing Buenzli?
Unlock:
One thing that's important for me is the yearly OHP competition. Analog realtime demos, manually presented on an OHP - a feature that was new to the scene and institutionalized by Buenzli. Year by year, brilliant shows are presented. The OHP competition is already a self selling and something we are proud of. It goes further than what we imagined in the beginning. Personally, the feedback I get from the visitors is always overwhelming. That's the reason why we do the party: Happy, amused and productive visitors. My nicest memories mainly consist of smiling faces, people enjoying the party and good releases. Another thing that was unique and burnt into my mind is the piano concert by Jeenio at a Buenzli some years ago. Jeenio played the piano before the prizegiving and managed to create something like a prayerful silence in the party hall. Concerts and acts like the Sputnik Boosters with their robot costumes and Ultrasound, fun competitions like the early sing star contests and also marketing events like the Breakpoint fondue count to my personal highlights.
Magic:
Nuance released Ungol at Buenzli 2008 and won the demo competition. Ungol was made using the NVscene demokit. Nuance decided to support a smaller party (Buenzli) in favour of NVscene and will use the price money for a free BBQ at TUM 2008. What do you think about this?
Unlock:
As an organizer of Buenzli, I'm of course happy about the decision of Nuance to release their demo in our competition. I'm not really involved with all the demokits, Nvscene and the contracts/rules there are around these but I doubt every receiver of a demokit had to sign a contract about releasing something at Nvision. Also, I doubt that everybody who received a demokit will actually create something with it. From this point of view you can say that Nuance used the demokit the way it was intended: They created a demo with it that perfectly works on Nvidia hardware. The barbecue that will take place at TUM 2008 is an excellent idea and shows that Nuance was not after the prize money (which isn't too high at Buenzli anyway) nor after winning - by releasing year after year at Breakpoint without ever ranking too high, they showed that they create demos for the sake of creating demos - nothing else. At the time I'm writing this, I do not yet know about the quality and amount of prods released at NVscene, but I'm sure there will be enough productions anyway. After all, the demokits are there to be used: To be used to create demos, use them as a competition machine, to be creative. At least that's what I understand from the idea of Nvidia giving them away for free.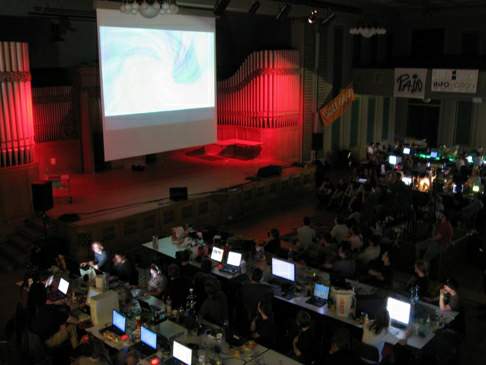 Magic:
Do you think there would have been more releases at Buenzli and also Assembly and Evoke if there hadn't been NVscene? (The question was asked before the NVscene party took place.)
Unlock:
After seeing the amount of releases at Assembly and especially Evoke, I have to answer this question with "yes". I'm not sure for Buenzli though, we have always had special competitions and entries that probably were more experimental, strange or different, and that didn't change much this year. For sure, Assembly would have had more demos if there was no NVscene - at least if you take earlier years as a reference.
Epilogue
Magic:
The average age of a demoscener is getting higher every year. This also concerns you... We are already living in the second half of 2008. How long do you see yourself organizing Buenzli and releasing Pain?
Unlock:
I have been doing PAiN for years already and there are things changing. Nothing is settled yet, the demoscene audience will see early enough. Also, I have been doing Buenzli for years - and it is not stopping. Event organizing is a big area of interest for me. Of course I'm realistic - Buenzli will exist as long as we have fun organizing it. If that's changing, there's no sense in keeping it going. My priorities might change too (family, other job,... things that happen) and then it could look differently again.
Magic:
With the next issue, Pain will celebrate its 60th issue. What can the demoscene expect from Pain issue 60? Can you give our readers a sneak peak behind the courtains?
Unlock:
I cannot tell you much about that yet. We will certainly have some specials, but things are not settled at the time I'm writing this.
Magic:
What do you want to give as advice for beginning organizers of parties?
Unlock:
Well, there are a few points that are important to know and important to know how to handle if you organize your own party. You need to know that it won't just go easily, you'll need a lot of time and invest much work into your party. Further, you need a good team that is supporting you and does work on its own. And even if this is supposed to be fun, underground and demoscenish, you won't get around sponsors if you're having a certain size - and you won't get around assurances, contracts, risk, critics and dirt to be removed. Then again, every party is different. Find your own way of organizing. Find a way that works for you, your concept, your party and your team. Organizers of other parties will happily help you with tips and tricks if you're out of ideas for a certain problem. Also, general event organizing guidelines help you to avoid beginner's mistakes. There are plenty of those in the web.
Magic:
Thank you, Unlock, for participating in this article. Please use this opportunity for some last words and greetings.
Unlock:
Ask me about my last words when I'm on the highway to hell. And I would like to greet your mom.
Links related to this article
Buenzli official website
Pain official website
Unlock & Magic