Portrait: Ghandy of Scarab, Moods Plateau and Deviance
Portrayed by Magic of Nah-Kolor
Ghandy is a longtime article writer, Amiga and PC scener. He is also part of the Pain staff.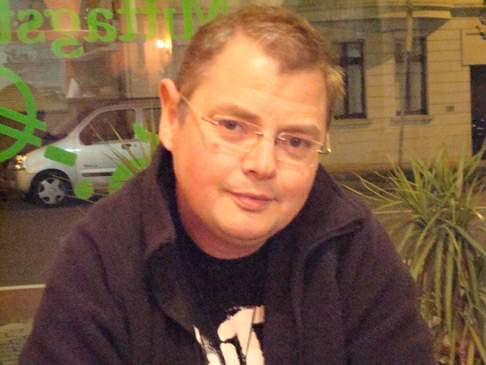 Ghandy's introduction
Magic:
Please tell us some things about yourself as introduction.
Ghandy:
My name is Lars Sobiraj, I am 41 years old and working as educator with disabled people. Avocational I try my best as a freelancing journalist, nowadays for news related websites. Around seven years ago I've been publishing articles in the commercial papermagazine Amiga plus. Since 2002 I am divorced, living in my flat in the center of Düsseldorf near the river Rhine. Ah, I nearly forgot to introduce Frodo, my dog. Maybe you saw him last year at Evoke, going nuts playing around with tennis balls and everything that moves.
Magic:
Please tell our readers, in order of chronology past to present, in which groups you have been part and when and what is was you did in that group.
Ghandy:
Speaking about demoscene related groups I've been in Rebels, Bonzai Bros., Gods, Syndrome, Darkage, the demo section of Deviance, Moods Plateau and Scarab from 1993 until now. But I'm sure I forgot to mention the one or other crew. My job? Well, from the beginning I've been in contact with many people so you can consider me as a sort of public relations manager. But seriously spoken, not having any outstanding talents on stock I've been modemtrading, mailswapping and writing articles.
Magic:
In which city have you been born, please tell us something about how you grew up, and what is it like to live in Germany today ?
Ghandy:
I've been born in Neuss, that's around 20 kilometres away from the town where I am living now. More than 20 years ago I left it and moved to Düsseldorf. My hometown seemed to be too small, boring and conservative for my taste. I never seriously thought about leaving Germany, I still like it here. But the situation is changing slowly but noticeably. Everything is getting more and more expensive. The scissor between rich and poor is broadening, so that the middle-class vanishes.
Magic:
Please describe a normal day for you anno domini 2008.
Ghandy:
As I'm a shiftworker no day looks exactly like the other. Sometimes I can stay for a while at the flat of my girlfriend performing my side job. Sometimes I stay at the home for the mentally handicapped for 26hours in a row. So you see, each day it's really totally different.
Magic:
You mentioned your girlfriend. Can you tell us something about her?
Ghandy:
She's only a few years younger than me and she's working as a neurologist. Those medics are specialized on all sort of diseases having something to do with the nervs in general and the brain in particular. We're together since a bit longer than one year and right now everything works out pretty well. You know, it's always good working in totally different areas. If you are at the evening only speaking about what you did during the work day, things can easily get boring as hell.
Ghandy and demoscene journalism
Magic:
In which things do you find pleasure regarding demoscene related articles and supporting diskmags?
Ghandy:
I generally enjoy writing articles, it doesn't matter if they deal with the demoscene or not. Of course in my native language it's a lot easier to express myself. My english is not that decayed but far away from being perfect as well. And if there are projects which seem to be valuable to me, it's even more motivating to support them. Before I start writing, I always ask myself if the topic that I'd like to write about is worth the effort. Will the majority of readers most likely also find it interesting, or is it just my personal piece of cake? If it wont obtain the reception of the majority, I usually drop my plans for an interview, report or article.
Magic:
Which diskmags on Amiga did you like the most and why?
Ghandy:
In the early 90s I grew up with diskmags such as RAW and Upstream. Rom seemed to be too scientific for my personal taste. I also like some exceptional articles in Oepir Risti. Puh of Agony, its maineditor didn't care about rules in the Scene and IMHO that was pretty cool. The first issue of Seenpoint was with no doubt the best. Wade was btw. one of my alltime favorite editors. His articles were established but not written with a raised forefinger. I did also enjoy many things in Generation after it was continued by Rokdazone as fullblown diskmag, not being a plain message-box anymore. RAW was interesting because of its scandals, other mags were nice to read because of their friendly attitude - D.I.S.C is a good example, or The Charts.
Magic:
On today's PC scene, Pain, Savage, Zine, Mudia Art and Hugi are being released. Please give the readers your opinion about the most recently released issues of the mentioned magazines.
Ghandy:
I can't annotate Hugi as I've been writing for it several years ago. People would think I want to take revenge. I've split up with the Hugi-team and Adok because we didn't match in some quite important aspects. Speaking of PAiN, Zine or Mudia Art, I can't comment them either as I've been a member of their staff or did support them in the past. Any reviews would be a breach of neutrality. Savage is based on a nice idea, really. Also I really love their graphics! Most likely the big times of charts are over, the majority doesn't care about such things anymore. In my opinion charts are a relict of the past Scene, which is a pitty.
Magic:
You have been a writer/editor for quite some time now in the demoscene. What do you think of today's PC demoscene journalism compared to four/five years ago?
Ghandy:
The latest issue of Zine has shown the right direction. Let's move to reliable and investigative journalism, leaving the path of superficial and quickly written stuff. Most people demand quality, anything below the content of Zine#12 wont be taken seriously. Today's diskmags, what are you talking about?? Zine is still in its composition, PAiN only comes out once a year and the staff of Hugi has to clear its backlog. Or did you mean the three articles in each edition of the chartsmag Savage? If the clique of diskmag editors still wants to be taken seriously they must deliver well researched stories, not being littered with grammar and spelling errors. And no, my English isn't perfect as it's still a foreign language to me. I just try my best, things would be far easier if everything in current mags would be in German.
Magic:
Who are your most favourite article writers in the scene today and why?
Ghandy:
None of my past heroes are active anymore. I could tell you why I loved articles from Wade, Puh, Rokdazone and Zerox. But they all faded to dust and secondly only a small minority of the Hugi readers will know who I'm speaking about. I like article writers who're doing articles that almost everybody can understand, who are bold and whose articles are deeply researched.
Ghandy versus the Internet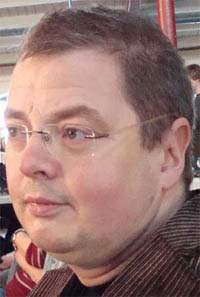 Magic:
You have been involved with scenet.de, diskmag.de and bitfellas.org. (Probably some more websites?) Where does your passion for maintaining such websites come from? What do you like about it?
Ghandy:
It was a very effective way into getting in touch with many people, hearing many different opinions. It's always very good to hearnews directly from the involved people and not from a third party. And it was always my vision to bring people from different fractions (Amiga, Atari, PC etc.) together as far as they were interested into that connection.
Magic:
Could you please name the three demoscene related websites you visit the most? Please tell us your opinion about them.
Ghandy:
Pouet and Bitfellas. Pouet to get a quick overview which productions have been released and Bitfellas for reading current discussions. I'm not a big fan of the Pouet bbs as it's sickeningly filled up by trolls and people posting senseless pictures not being related to the previous reasoning and such stuff. At Pouet you can find people and arguments you wont find anywhere else. But on the other side: I'm just sick trying to read over all the crap that's been posted. The third one? Well, here and there I still give Uphold the law bbs a call by using telnet, just for ancient reasons. Calling boards everywhere in Europe in the early 90s was fun and sometimes I like to refresh my memories.
Magic:
What about www.4sceners.de? Do you visit this one a lot? This German scene portal could be something that might interest you. What is your opinion about it?
Ghandy:
Honestly spoken, no. I'm not very often present there. Sure thing, Bobic is often reporting of interesting things. Offering such a service on a portal where loads of game freaks gather (www.4players.de) is truely clever. It's not that far from fans of good games to those of lovely demos, so why not to combine these two topics?
Magic:
Internet was integrated in the demoscene massively the last 10 years. In your opinion, did Internet enhance the demoscene? Please give us some 'pro and con's'.
Ghandy:
It made it being quicker, more directly. In a team it doesn't matter anymore if those fellows working together on a production are living in the same town or at the other end of the Earth. You can phone and chat for free if you want, but internet also brought a lot of disadvantages. Don't ask me why but 15 years ago it was a lot more personal. Your contacts were also a sort of personal friends, they knew what was going on in your life, relation to your girlfriend, job etc. Now it's mostly shallow. In the icq, irc or any other messenger there's the trend that you mostly deal superficially with the others, if you want or not. New demos are available in the second they've been released. But then nothing was more thrilling than to open a fresh parcel from one of your swapping contacts. You saw the address of the sender, you expected what could be inside, but you didn't know it until you inserted the disk into your floppy drive. Did Astro send me the latest issue of Raw? Was it Acbs of Ram Jam with the topical edition of The Charts or Mr.King presenting his pack, Trasher of Sanity with their really last demo? That moment was simply awesome, nothing could beat this feeling!
Ghandy - Various
Magic:
I remember that we met at The Party 1993 in Denmark and later on in Germany at Breakpoint 2006. What is your oppinion about these two parties and what do you think is the difference between them? Can you explain what the difference is for you personally in experiencing the two of them?
Ghandy: At TP93 my fascination for the Scene began, it was exactly the point where I discovered it. Trust me, I was totally crazy about everything. Now I'm many years older, none the wiser and the fascination decreased. Going to a party nowaday means to me meeting old friends. Having a chat with people that I only see once a year. Of course it's not the same if you can't compete in any contest. With my lacking skills, where should I participate? In a contest for the best review, article or interview? To tell the truth I've been always more a sort of observer instead of taking part in it. But that never envolved to become a serious problem. Breakpoint last year was a great event, The Party was extremly good as well. But please consider that we speak of two totally different demoscenes that you should not compound. The association of people creating demos in the early 90s was far bigger, they used totally different computers compared to today. At that time many musicians still tracked in four channels, the usage of Photoshop or other "tools" was totally proscribed. 3d didn't play the role it does today. And my listing is far away from being complete.
Magic:
Probably the two best and/or popular demos of 2007 are Debris. by FR and LifeForce by ASD. What do you think of these demos?
Ghandy:
I haven't seen enough demos so that I could judge if these two are the best ones in 2007. But particularly the end of Lifeforce showing the atomic explosion raised my hackles and knocked me off my chair. I simply love that stuff from ASD, they know pretty well how to catch our attention. Debris was of course extraordinary and marvellous as well, no doubt.
Magic:
If you divided your time on the demoscene in two, which two periods would this result in and what are you best memories of them?
Ghandy:
I can't see the possibility to devide my 'career' in the demoscene into only two parts. What always did matter most to me was a good relation ship to other people. So, those moments when others out of the Scene and me did meet and came together in a real close manner, that were with no doubt the best moments. I like to think back of my trip to Paris, where I did meet Chris of Gods. Last year I spend almost a week in Stockholm, being a guest of Browalia from Nukleus. Many years ago I did a trip to Berlin, where I was allowed to stay a while in the flat share of Rokdazone, in 2003 I made a short holiday visiting StingRay etc. etc. Afterall, the friendship was what did count most to me, not demos or diskmags.
Ghandy and the future
Magic:
Do you see yourself still being a part of the demoscene in ten years from now ?
Ghandy:
No, I don't think so. I drift away from the whole matter, slowly but surely. And there are not that many people left who could share my experiences from the early 1990s. It's really not the same thing that way. Kas1e recently asked me to support his brand new Amiga diskmag "The Vague", but I didn't watch that many Amiga demos during the past year. What could I write about? And it's also a matter of fact that I'm not that much interested into that sort of stuff anymore. Speaking of the content PAiN was rather small, but The Vague was rather a joke with 16 articles. The Amiga Scene finally sank on the ground of the ocean bed. Cows and Snakefights comes out once in a year, the official Eurochart doesn't exist anymore, D.I.S.C is dead and 90% of the recent Amiga releases are nothing than plain crap. I had to accept that and decided to quit publishing Jurassic Pack. Who should I write for? For 30 or 50 people at maximum that are willing to switch on their Amiga or start their emulator? No mates, sorry, that doesn't make any sense to me. And yes, it's still fun to visit demoparties once or twice a year. It's nice to meet friends at our Ruhrpott Scene Meeting in Essen and that's all I'm willing to do actually. That's also the reason why I abandoned my membership at the association Digitale Kultur e.V.
Magic:
How would you predict the demoscene in ten years from now? What would it look like? How will it be shaped?
Ghandy:
The demoscene began as a clean underground organisation excluding anybody who didn't have anything to do with the matter. Nowadays even important internet portals such as Stern.de, Spiegel Online or Heise constantly report about new ongoings in the demoscene. There has even been reports in the german television, the scene went totally public. It will eventually become more interesting for a lot of people with all its advantages and disadvantages. Chances are good that this trend will continue. In contrary we have to realise that the demoscene can't compete with the gaming industry anymore. Have a look at the physics engine of Crysis or other topical games and compare it with the code from recent demos. In 1992 when "State of the Art" has been released by Spaceballs the demoscene was lightyears ahead, now it's the other way round. In 2008 in huge companies such as EA hundreds of people are paid in order to work as employees or freelancers on only one game. Except with creativity and outstanding ideas it's impossible to overtake them. Also this trend will continue. Apart from that it's really hard to predict how the Scene will look like. Computers become smaller and faster, high quality graphics cards became quite cheap. The whole computer hardware became totally cheap. The percentage of the population with a stable connection to the internet will increase up to 80% or more in ten years. Last but not least I foresee the progress that in 2018 still the vast majority will use an operation system from our beloved monopolist from Redmond, USA. But in comparism to today their operating system will constrain your freedom a lot more. Do things like the Trusted Computing Platform Alliance (TCPA) or Digital Rights Management (DRM) already ring some bells? That progress will become quite drastic, trust me. On the other side an evanescent minority will continue using a free OS such as Linux but will those guys create demos? I guess not. It's impossible to say how our life in general or the demoscene in particular will look like. Too many factors will play their own role in that development.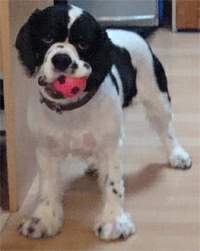 Magic:
Ok it's a wrap! Thank you old scene friend in participating on this portrait of you by answering my questions. As an ending please take this oppertunity to air your last thoughts, send some messages and perhaps even share some wise words of wishdom towards our readers.
Ghandy:
Wise words, what's that? ;-) Do yourself a favour and don't take the Scene too seriously. Speaking of myself, it helped me a lot when it comes to my jobs. I'll keep on 'scening' as long as I enjoy it and not a single day longer. Greets to all my current and former contacts, let's have a beer or two together at the Breakpoint 2008! Cu! Lars aka Ghandy.