In Focus: Moby of Nooon & Sanity
Interview conducted by Magic of Nah-Kolor
Introducing Moby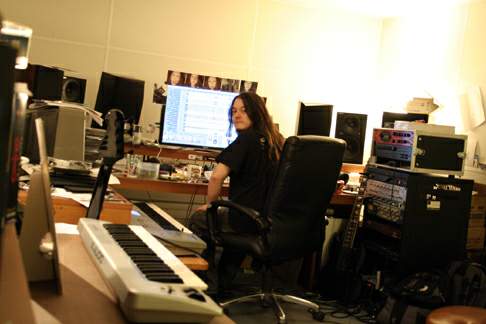 Magic:
Hi Moby, please be so kind to introduce yourself to our readers.
Moby:
Let's go. My real name is Frédéric Motte, I was born in 1970. I've been active as a musician in the Amiga demo scene from 1989 to 1993. I've also been more or less active on the PC demo scene in the group NoOoN which I founded with my good friend Ra.
Magic:
Please tell our readers all demoscene groups you have been a member of.
Moby:
I've been in (more or less chronologically) Impact Inc, Apology, Dragons, Alcatraz, Dreamdealers, Sanity on Amiga and NoOoN on the PC. I probably forgot some, but I think there are reasons why you forget things... :)
Magic:
What made you start making music on computers?
Moby:
I don't really know... I guess I had a feel for it. When I got my first computer (an Oric-1) in 1983, I first started to learn to code. And then I started using my basic code knowledge to make my computer emit sounds and music. I remember typing lines of data just to produce a short and crappy melody with a bass line... But things became a bit more serious when I got Soundtracker on Amiga. I just couldn't stop using it. When I look back in time, I realize this machine and Karsten Obarski (creator of Soundtracker, mother of all trackers) really shaped my life as it is now. I suppose I wouldn't have ventured in the music business if I hadn't had the training the Amiga gave me.
Magic:
What's it like living in France?
Moby:
Everything's fine here. Really. Except Nicolas Sarkozy (president of France -ed). I bloody hate him.
Magic:
What is the origin of the nickname 'Moby'?
Moby:
Before making music on my Amiga, I was swapping games and demos with various contacts, first on the c64 (on which I discovered the demo scene), and on Amiga after 1987. All my contacts had nicknames, so I had to find myself one... At this time I was reading a book. Moby Dick... So, clever me, as I swapping disks, decided to call myself Moby Disk. This is only when I got my hands on Soundtracker, and started to send tunes to other people that I realized that this nickname was utterly stupid. So I shortened it to Moby. Later on, I changed it to Elmobo, because of "the other Moby". The one who's bald and rich (not to be confused with "the original Moby", the one who's hairy and not so rich... (that would be me, for your slower readers... :)). Why Elmobo? That's another story... :)
Magic:
You explained that the origin of the nickname 'Elmobo' is another story. Please share this story with our readers.
Moby:
Oh that's not such an interesting story, really. To make it short, I'm a big fan of the Simpsons. If you're familiar with the show, you probably know that Bart is often tagging walls and signs his drawings with the name 'el barto'. When I was working at Kalisto, my good friends Sylvain (the one who did the gfx for my website) was often sneaking into my office and was writing 'el barto' everywhere while I wasn't watching. This is when he started calling me 'el mobo'. So I didn't have have to look any further when I needed to change my handle...
Moby's Demoscene Years
Magic:
What happened with Nooon? The demo 'Stars' was a real highlight for this group. Do yo know what the other Nooon members are doing today?
Moby:
Well, nothing happened with NoOoN. We all became more and more inactive, having to deal with our lives and stuff. I'm a bit ashamed to say that I don't know what has become of my fellow noooners... I haven't heard of them in so many years...
Magic:
Romeo Knight (if you remember him) made a comeback on the PC scene. So did the group Andromeda. Is a comeback something you would consider? I mean if Chaos is making a new demo and asked you for a track?
Moby:
Sure I remember Romeo Knight. I didn't know he made a comeback though. I kinda lost track of anything demo related. That said, I would lie to you if I said that a comeback is something I've never considered. I've thought about it a lot of times. But I never found the time to actually do it. Maybe someday, but I seriously doubt it... This reminds me I've been asked to participate to a musicdisk a couple of years ago. I accepted but I now realize I've completely forgotten about it :P. If you read this Alex, I'm so sorry... Time flies :(
Magic:
The musicians Virgill, Jogeir, Chromag and Romeo Knight are all still active in a way in the demoscene today. They were also making music in the period you were active in the demoscene. What's your opinion about them?
Moby:
The only one I met in person was Jogeir, a very nice dude, and extremly talented. 'Face another day' springs to my mind as one of my favourite tunes of his. He probably did a lot more kick ass songs since then, but I haven't had the chance to listen to them. I used to chat with Virgill as well. Very nice person, and he seems to never run out of musical ideas. The mod in "Interference" is so cool. I heard quite a few more from him, but I can't remember any titles. The only thing I remember is that it was high quality stuff ! I haven't heard much from Chromag, but I liked what I heard. I specifically remember a couple of heavy guitar tunes which were really good. And about Romeo Knight, I have one thing to say: 'Piggy's Hut'!! Dude, that module rocks bigtime! One of my all time favourites! I realise the music I'm talking about is at the very least 15 years old. I'd really be interested in listening to what these guys are composing now... If you can give me some pointers...
Magic:
Chaos of Sanity is still around in the demoscene today. He is part of the group Farbrausch and coded a great demotool/engine called 'Werkkzeug'. Many great demos were created with it in the last 7-8 years. What are your memories of working together with Chaos of Sanity?
Moby:
Well, you know, Chaos and I only met once or twice, at The Party in Denmark. We never really worked "together". Internet wasn't what it is today, and communicating with someone who doesn't live in the same country wasn't so easy. I actually worked more closely with Mr Pet who was the main coder on "Arte". But as far as I can remember, we just exchanged a few letters during the development of Arte. Ra was closer to them than I was. When Ra and I joined Sanity, I was already becoming less active. But Ra was still really into it, more than ever I'd say. And he had access to free phone calls to Germany. So the only thing I can tell about working with Chaos is that I was feeling very honored at the time to be part of this team, with such incredibly talented members. I remember meeting Cougar as well at a few parties. Really cool guy, always with a beer in his hand... :)
Moby Today
Magic:
It's anno domini 2008. Do you still own an Amiga?
Moby:
Actually, I own two a1200s, an a500 and a CD32. :) They will NEVER leave my house!! I sometimes switch my main a1200 on, and spend some hours listening to old mods :)
Magic:
What are you doing today on a personal level and for work?
Moby:
Personal level and work are kind of tied. I'm still into music. I'm doing video game soundtracks, playing in bands and running my recording studio. I suppose you want a bit more details, so here are some. :) I built my own recording studio (Conkrete Studio) a few years ago. It's dedicated to metal bands. Maybe you remember my love for heavy guitar back in the Amiga days? That hasn't changed a bit... I've recorded, mixed and mastered over 25 CDs in my studio (check here: www.myspace.com/conkrete). This takes about half of my time. The other half is taken by game music. I've been doing game music as a freelance composer since 2001 (I worked as in-house game musician at Kalisto Entertainment from 1993 to 2001). These days, I mostly work for Nintendo DS games. The third half (!!?) which is a far smaller half than the two others, is dedicated to my band(s). My main project is a band called Plug-in in which I play the bass. (www.myspace.com/pluginband) We have a 5 tracks EP released in 2000 which has been sold out for a long time. I just finished the mixing and the mastering of our new album "Hijack" which should be available in the next few months. I noticed you are from Holland, Magic :) We played a couple of shows in the Netherlands by the way. Once at the P60 in Amstelveen, and another in a venue called the "Buk Buk". I also played in the P60 two other times with another band called Bumblefoot (www.bumblefoot.com). The leader of this band is none other than Ron Thal, guitarist in Guns'n Roses (ô pride, ô joy!!). The fourth half (the smallest one) consists in switching my brain off, and switching my PS3 on :)
Magic:
What are you reading, watching or doing at the moment in order to keep up your creativity and motivation?
Moby:
I'm not reading, no time. I'm watching a lot of movies, more specifically horror or scifi. I like some series too. I'm waiting for the 4th season of Battlestar Galactica and Lost. My Playstation 3 is helping me a lot staying motivated in periods of stress. The new Ratchet and Clank game is incredible. Guitar hero III is also one of my fave. But the most important is my girlfriend who is so supportive. She really helps me a lot. She knows how demanding my job is, especially the recording studio, and she makes things really easy for me. A chance she loves metal as much as I do. :)
Magic:
What does music mean to you?
Moby:
Music is everything to me. Not only because I'm making a living thanks to it. I think music is essential to our lives, and I pity the people who just don't like music, or have no musical passion. You must have met some of those people who say "oh I'd listen to anything, I like all kinds of music" without being able to name one artist they really like. I don't believe these people really like music. I think they just hate silence, and would listen to music just like they watch TV. People who really love music are generally passionate about it, with things they love and things they hate. And I think that's ok to hate some kinds of music.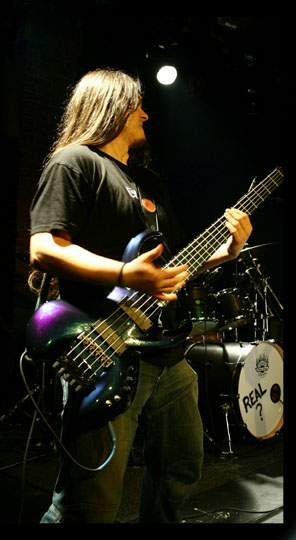 That makes the music you love even more powerful. That's what passion is all about. I feel like there's some music that has been made especially for me, that it speaks to me, that it knows me. This is really strange when I come to think of it, but that's the way I feel when I listen to some of my favorite bands. I really have a physical reaction to some music. Metal for example, makes my spine chill and makes me feel stronger. Oh boy, I love metal!! :)
Magic:
What are your long term plans regarding your musicial activity and what may we expect from you in the close future?
Moby:
Long term plan is to make my recording studio bigger and bigger. Musically, I have no long term plan. My band Plug-In will never sell millions. :) I will probably start a new band in 2008, something more metal, dark and louder than Plug-In. Apart from that, nothing planned. I tend not to plan anything about music. Each time I planned something, it failed, due to lack of time, of energy, or whatever...
Magic:
You seem to be very fond of guitars. What is a guitar for you?
Moby:
The guitar is one of the most expressive instruments IMHO. In the hands of a good guitar player, the guitar is an extension of his body. You can make it scream, you can make it roar, you make it do frightening sounds, you can make it sharp as a knife, or fat as a mammoth. I suck at guitar, I'm far better at bass. But I have a 7 string guitar which sound really good. I need to practice, but I hope I'll be able to use it in a new band soon :)
Magic:
What are the most known games/movies you made/produces music for?
Moby:
Unfortunately, I haven't done any movie yet. But I'm not really looking forward to it. I'm not sure this is something I would like. But I just completed work on a cgi TV series (speech recording and music composition) called Globul-X. It's a series for kids about what happens in the human body. I did some really funky tunes for this one :). Most known games I've worked on since the beginning would be (in no order) Fury of the Furries (Amiga), Nightmare Creatures 1 & 2 (PSX), Dark Earth (PC), The Fifth Element (PSX), Totally Spies 3 (DS/Wii)... I also made some music for a few cell phone games converted from Amiga games, like Nebulus, Another World, Eliminator, Carv Up... Nothing fancy as you can see... I'm no Jesper Kyd :)
Magic:
You told me you like to play games on the Playstation 3. Which games are your favourite?
Moby:
Ha! First thing. The PS3 is the best console ever. Period. As I said, I really love Ratchet and Clank: Tools of Destruction. This game is amazing and really fun to play. I also play Guitar Hero III a lot! I'm playing so much that my fingers are sore. Formula One CE is another of my favorites (big F1 fan here!!). The sensation of speed in this game is just incredible. I'm also playing on my PC. I'm still playing Half Life 2 which is, in my opinion, the best game ever. I just finished God of War II on the PS3 (PS2 game). This one is an instant classic. I didn't think the PS2 was able to deliver such a magnificent game. Next on my list of games I have to play: Burnout Paradise (PS3), Uncharted (PS3), Crysis (PC), Bioshock (PC) and Call of Duty 4. (So many games, so little time...)
Moby - In Closing
Magic:
Are you still in contact with people from the demoscene? Do you get fanmail from sceners from time to time who come across your website on the Internet? Please comment.
Moby:
I have lost contact with most of the sceners I knew. I still exchange a few mails with Audiomonster from time to time and we're having a beer like every 2-3 years... I got an email from Clawz (also a French musician -ed) a few weeks ago. And I have some news from a couple of Dreamdealers members everynow and then... But that's about it... I've been out of the scene for about 15 years now. That's really easy to lose contact with people in 15 years, especially when the thing you had in common isn't part of your life anymore. And yes, I do get fan mail from time to time... I'd say a couple every month. This is really nice :) The nicest one I got was a very short mail from a guy. He just wanted to thank me because my music helped him in a very difficult part of his life. He told me he was listening to one of my mods over and over at this time. That was a very touching email...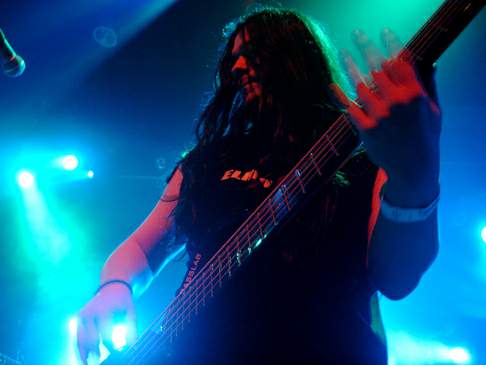 Magic:
In retrospective: how do you look back on your active period on the Amiga and PC demoscene?
Moby:
Oh boy, I miss this period big time. Everything was so exciting. I loved every minute of it. I had a lot of fun, met extremely cool people (and dickheads as well, but they're not the ones I want to remember...)... I did my 'job' as a musician the best I could, and I really learned a lot by doing so. I was certainly not the best musician on the scene, and listening to my "masters" (Dizzy, Walkman, Bruno, Heatbeat...) was just making me want to become better and better. I learned a lot from them. I'm not proud of every mod I released. I'm even ashamed about quite a few ones... But hey, this was a time for experiment!! That said, I'm very proud to have been a part of legendary groups such as Alcatraz and Sanity. I'm also very proud to have worked on 'Substance' and 'Arte' which are still impressive demos! I'm not sure this has anything to do with your question, but there something I'd like to talk about. :) About 10 years ago, I managed to find Walkman's email address. I was like a 10-year-old boy who just found where Spiderman lives... Should I write him or not? So I did. I wrote an email to probably one of my biggest Amiga heroes, saying how much I admire him, how much he was an inspiration to me and blah blah... And he wrote back saying really nice things about my work, how he learned a few things from my mods... This was one of my proudest scene moments (even though I wasn't active anymore at this moment). Even better than winning the music compo at The Party. :) I'm not sure this kind of special moment can happen anymore. Everyone is so easy to reach now... Websites, e-mails, myspace... But around the 90's, when Internet wasn't what it is today, every scener was a mystery. And it gave the scene an underground feel it probably has lost today.
Magic:
What would you tell the readers of this interview and if you have any last words or messages use this opportunity!
Moby:
Thank you Magic for this nice interview! It was good to hear from you. When did we last speak? About 10 years ago on IRC you said? (You reminded me of our IRC chats, I just estimated how long ago it was :) -ed) Time flies... If any old scene friends are reading this, feel free to get in touch if you like! Demo or Die!! :)
Links related to this interview
www.elmobo.com (Moby's Official website)
www.myspace.com/conkrete (Moby's studio)
www.myspace.com/pluginband (Where Moby plays the Bass)
www.bumblefoot.com (Another band Moby plays in)
Youtube links of Amiga demos Moby did the music for:
1998 WildLife (coop with Pink) by Abyss
Other: