In Focus: RokDaZoNe
done by Magic of Nah-kolor
(Originally done for the 2nd issue of the Amiga diskmag Devotion, which was never released.)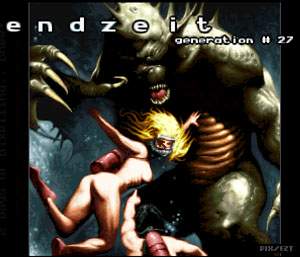 Prologue
Berlin, Raumerstrasse. The X-Bar is a small cocktail-bar in the in-district called Prenzlauer Berg in the east of Germany's capital. Happy hour from 18 to 20 a.m. RokDaZone, who has turned from a beerviking to a longdrink-sipping bon-vivant, is already sitting inside and studying the sushi offers when I enter. 200 cocktails in a card which weighs two pounds need to be tested. "After three you have enough of those" he ensures me. We have a lot to talk after five years since we last met at The Party 1995. I light my first cigarette of the day..
In other words, RokDaZone is back to air some words about his whereabouts today, the reason for his silence in the (diskmag-) scene and of course his view on various other topics he will be tested on.. Please welcome RokDaZone back to the stage anno domini 2001. At least in this exclusive interview done for Devotion issue 2.
RokDaZone, here, now and earlier..
Give yourself a small introduction for the sceners who don't know you yet, and tell us what it is you're doing now. What does the life of Henning Brau look like today?
Funny you already differentiate between RokDaZone and Henning Brau yourself. Factually, RokDaZone more or less died with the Symposium'99, which was my last party. Nowadays I am mostly busy with studying engineering psychology, which mostly deals with usability testing. Currently I am working on my diploma work about evaluation of language-manipulated computer systems and competency relevant multiagent-systems on CNC-machines.
Then of course there is Tiefsee.de, which has grown a respectable musicians and DJs network. Ah, not to mention Berlin. Living here is an event for itself. By the way: They have a cocktail named 'Tiefsee' here. No joke.
What happened two years ago, after the last issue of Generation, that made you disappear from the Amiga Scene?
Difficult to say. As you remember I have been spending much of my time on the scene and Amiga throughout 1991 to 1998, yet then it started to just fall away. I think there have been multiple reasons: I have reached everything I wanted with Generation and for myself as writer, most of my older contacts left the scene, many youngsters started to chase me, like I did before with others... Many reasons to add.
At the Symposium'99 for the first time I felt like not being part of the scene anymore. I had a lot of fun with guys like Acryl, Uyanik, Santa and Antibyte, but not scenishly seen. When I moved to Berlin other things got more important, like finding a new place in life and work. It just died away.
You told me in an e-mail that you don't have an Amiga present here in Berlin where you live. Until what date did you still have your Amiga? What were the last demos and diskmags you have seen?
Haven't seen anything in ages. I had to leave my Amiga behind when I moved in May 1999. Yet it would be a lie if I tried to tell that until that day I'd been an active scener. Matter of fact: I didn't even try to get the demos from TP98, Gathering99 and Symposium99 on my computer.
What are the channels you get some Amiga Scene information through today? Which internet pages do you visit? Which sceners are you still in contact with?
Mostly I get informed by Ghandy and his Scenet homepage, which is highly recommended. He's a scener of great qualities when it comes to reliability and being prolific.
RokDaZone vs Diskmagazines..
What is your knowledge of the diskmag scene anno domini 2000? What do you know of it?
Nothing left. Just what I see from Scenet, which is mostly retro. Yet I am curious to see DISC and Devotion, but I fear I can't wait for a HTML-version, hmm? ROM, Generation and Seenpoint are dead. What about Showtime?
Why did you stop making Generation? Is there a chance for a comeback of Generation?
Nopes, no chance at all. Sometimes it tickles in my fingers, but when just remembering all the work needed, I just need to say: No time. That goes for me as well as for Damion. We're both sucked into real life. But we are in contact still.
With what writers/editors do u still have contact?
Well, Ghandy as he has become some sort of friend in the distance and that's it. (Ghandy visited RokDaZone in Berlin in the end of 2000 -ed.)
What was your motivation to make Generation in the past? Do you ever think you can find it back again?
Motivation for sceneing has always been to see my name on the screen and know that hundreds of others see it as well. Then it turned out a challenge, a game of ambition. It was grand to be someone special. Must sound arrogant as hell, but it's all a game of egostimulation. But I wouldn't be able to find this motivation back again as my new scene has become the world of usability engineers. I just wait for the day I first see my name on useit.com! Childish as I am some things never change.
Did you like the Abnominio I wrote and signed with Macno's name in Generation 22? :)
I hated you for that. Literally. It really pissed me off to be fooled like that. Not to forget about Damion, you can really be happy you haven't met him afterwards. Anyway, stories of the past, forgotten and gone.
RokDaZone vs The Amiga Scene..
If you have any knowledge to judge today's Amiga scene please give us your view on it.. your thoughts..
As much as I know it has grown very, very small, which means that it lost a lot of potential. To me the Amiga scene is the last demoscene that deserves its name, but with its try to compete with the PC, it turned into a pitiful state. Things are over, but I wish all active guys the fun and excitement I have found in my active years. The scene is a good training for what comes later on in business. Each group is a small or bigger company that tries to survive, to grow or to save its position. A social-scientific study about the dynamics would be very interesting.
I don't have much experience about the actual state of the scene, but I expect it to be less party-centered as the classic demoparties are replaced by LAN-parties. Am I wrong when stating that modelers and designers are the new big players?
Your old friend Virgill joined Nah-kolor in January 2000. Any words to him why he should still continue tracking for Amiga and/or PC prods? ;)
He should continue because he can. He's the last creative German musician in the Amiga since 1997. Or better: he should stop and turn over to make money out of his ideas. Or even better: Have it both.
Which demos are the last you have seen? Did you like them? What do you think the demos on Amiga will be like in the future?
The last ones have been those from Symposium99 and plainly I didn't like them too much. I started to hate Lightwave-conversions for they turned our demos into mere animations which often looked good but all alike. Booooring. I don't expect the style of demos to change so much. Always better looks but less individuality. No big surprises anymore. But I also don't have any better ideas myself.
The more active groups on Amiga last year (2000) were Iris, Loonies, Mawi, Potion, Haujobb, Darkage, Nah-kolor, TBL, Ephideria.. Have you seen any of their productions?
Nothing in 2000.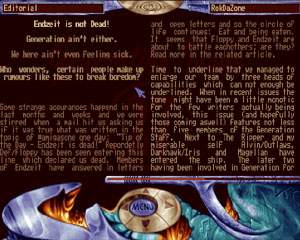 Tiefsee.de vs RokDaZone
Please tell us all about Tiefsee. What is it exactly? What sceners have supported it? Do you earn much with it? Who founded it? Do you maintain Tiefsee all alone?
First of all: I don't earn a buck with Tiefsee. What started as a company has turned into a creative network and a great hobby. I founded it together with a friend of mine, nowadays we have five people in the inner circle plus eight to ten additional dudes. Not much to say. We have a couple of homestudios and produce our tracks together or individually. Whenever the money is there, we produce a vinyl and distribute it to independent record shops. The records always pay the next one, but up to now just partially so the time between two releases is long. Everyone is invited to leech the tracks from http://www.tiefsee.de for free.
What Does RokDaZone Think About..
The Eurocharts: "Big in the past, overrated in recent years. Although I liked the guys personally I preferred other charts."
ROM: "Suffered the same weakness as Generation: We want to be as ingenious as Macno and as prominent as Lord Helmet. Too long articles, too complicatedly written, too egocentric to be objective."
Showtime: "(Mostly) weak articles but my favourite charts. I always liked it."
DISC: "I guess I am the wrong person to be asked here."
Upstream: "Never ever liked it. Wolfman was my personal counterpart."
RAW: "Lord Helmet had the best topics but he was a weak writer. He knew how to utilize the scene, but became too bigheaded when he messed up with Hydra/Andromeda. He had no chance and he disappeared, that's it."
Zerox/Gods: "I didn't know him before my slag-off against DISC 10. He attacked me hard, while I was rather sensing a game. Later on I found out that he's a nice dude and I will with greatest pleasure look at his modern works."
Alvin/ex-Generation (now Devotion staff: "In Alvin I have seen the potential new main editor of Generation, too bad I couldn't hand it over to him. He was and hopefully still is a gifted writer, but he lacked topics and style. Much like me before I met Macno and somehow I tried to coach him. Looking forward to his latest writings."
Darkhawk/Iris: "What a friendly dude and prolific writer, yet to be honest: I liked himself as person more than his writings. Not a gifted writer but always good for a filler - and I don't mean it a bad as it sounds!"
Macno/Abnormalia: "What to say? My mentor and without any doubt (repeat: any) the best article writer the scene ever had. Fineminded and objective with great lust for irony and style."
Mop/Rom: "When the first thing that comes to your mind about a writer is: 'Hey, great English, impressive vocabulary and so long articles' then it's not such a good sign. I can remember dozens of Macno's and Helmets articles, but literally not a single one from Mop. A gifted writer who most of the time didn't write for his audience, but for creating his own monument. I fear that's what the other guys also tell about me, to be honest."
Epilogue
Meanwhile, the Nach-Bar has gotten entirely overcrowded and the happyhour is over. RokDaZone smiles: "You must be a Happy man now Magic!" .. I look fuzzily in front of myself. "You now have your own diskmag and you have my late co-editor Alvin in your staff. And you have a great competitor in DISC. Without competition everything becomes dull." Magic takes a last zip of his rum cola, says a quick goodbye and leaves the bar on his way home to The Netherlands with mixed emotions.. My mission has failed: "Only an interview with the living legend, my plan to lure RokDaZoNe into the staff of Devotion wasn't a success.. :("