Block Party 2010 report
Written by Phoenix
Photos by Phoenix and Radman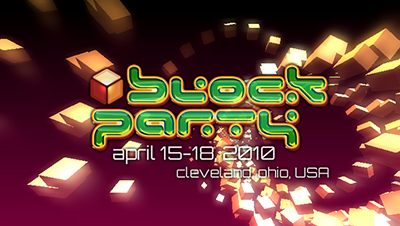 2010 was the fourth year for Blockparty, making it the longest running demoparty in North America (not counting Pilgrimage 2006, which was more or less cancelled) to date. It was also my fourth time there. Again, it was held in conjunction with Notacon, a 3-day gathering for electronic projects, hacking, social computing, in Cleveland, Ohio, from April 16th-18th. A free preview of seminars was given on the night of the 15th.
Notacon was spread across two floors of the Wyndham Hotel. The Blockparty lounge moved downstairs to a larger space next to the main rooms. This allowed Inspired Chaos to set up a large colored cube decoration. As usual, there was a projector showing demos, wilds, and anything else requested around the clock.
Guybrush/Northern Dragons was the only one to host a seminar in the Blockparty lounge itself, on using the Processing language to create realtime visual effects for DJs. He encouraged people to play with the code on their machines, then showed what they came up with. He also gave many good tips on what to expect from a club and its patrons when you go do such a set, including some humorous expectations based on different drugs they might be on. He also shared a pair of "trip glasses" with people, which, when put on with the eyes shut, flashed pulses of red light which stimulated the brain to come up with different visuals and colors. I tried them out and got some blocky symmetrical images, but I had enough after a minute or so.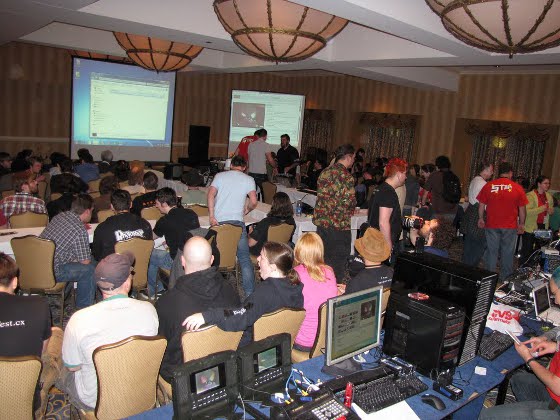 Metoikos, Guybrush, and The Finn (who once again brought his vintage camera with flash cubes) put together a wild compo entry with some help from the other ND guys. Armed with a laser pointer and some basic arts and crafts supplies, they filmed some demo-like objects moving around in stop-motion. Calling it "All That Glitters Is Not Code", it was well-enjoyed and placed third in the wild compo. Meanwhile, Jason Scott and RadMan, Blockparty organizers, were running around filming a wild compo entry of their own, whenever they could get a break from setting the compo machine up and running Partymeister. With some help from the Notacon staff, "Wyndham Reality", another parody of the well-known classic PC demo, featured a flying boardgame, balloons, a slinky, shampoo, a man (Froggy) holding weights, a pool, the cube in the Blockparty lounge, a transvestite, and a spaceship mounted on a plunger flying through a hotel floor past a perplexed maid. It was something that only made sense in the context of Blockparty and Notacon, but it was the crowd favorite. Jason and RadMan, of course, refused the prizes and gave them to 2nd through 4th place instead. It was a good year for compo prizes, with around a thousand dollars total cash, and a case of Cocaine energy drink each for the "lucky" oldschool demo compo entrants.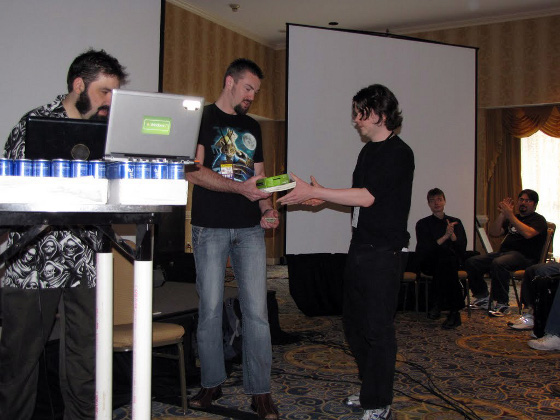 While not on the event schedule, Jason screened his new text-adventure-game documentary, "Get Lamp", on Friday night, the same version as was shown at PAX East a few weeks prior. After the movie, he held an informal Q&A session about production and showed some extras. It should be out on DVD this summer.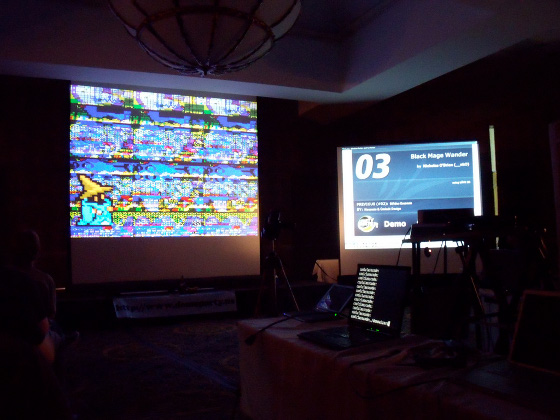 Also on Friday night, the group Criticalartware held a "glitch compo" in their hotel room. They claimed "126 winners", which was just a randomly generated list, and showed three actual productions during the Blockparty compos on Saturday. In the main room was Recycled Rainbow, an "interactive" performance with ear-blasting music and visuals projected onto cardboard boxes, which participants built into various structures, tore down, and threw around. Dual Core, Project Ruori, and 24 Hours the Girl also performed. There was a bar set up in the main hall, which was perhaps a little abused as several Notacon goers were dragged away after getting out of control.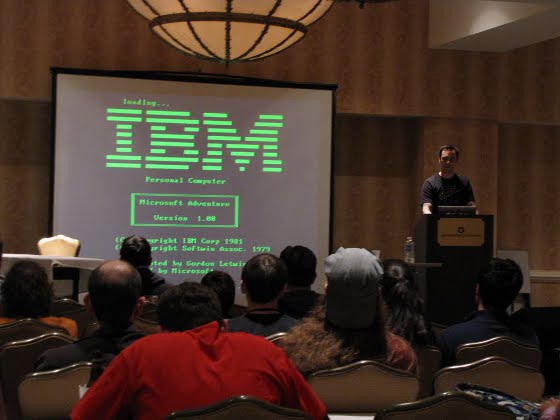 Divy of Evoflash gives his awesome presentation on Flash, here demonstrating his textmode display capabilities, later he would show a C compiler running entirely within Flash.
Regrettably, I did not have any competition entries ready this year, although I threw together a somewhat awful textmode graphics entry. Instead, I worked the booklet and front webpage for MindCandy Volume 3: PC Demos 2003-09, our upcoming Blu-ray/DVD compilation. We had hoped it would be ready for sale at Blockparty, but various events have pushed completion back, and Trixter was unable to attend. Many aspects of production are finished, but several critical steps remain as of this writing in late April.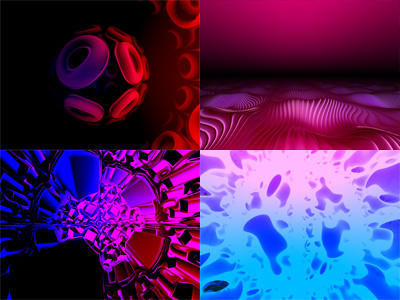 Blockparty compos were held late Saturday night. For the first time, there was a live video stream capturing the introduction and competitions. Well over 100 people packed the hall at the start, to at least watch the wild compo, but by the time the music and demo compos rolled around, all but a few dozen had left. There were some setup problems throughout the compo, as nothing was prerecorded, and the oldskool demo and music entries ran on original hardware. However, all but one of the oldskool music entries were Impulse Tracker modules played on a DOS PC. On the other hand, Krue brought a Colecovision to enter what could possibly be the first demo on that platform, as well as a music entry. The overall compo sound quality was far from ideal, with bass drowning out everthing else. Once again, Northern Dragons (and Slamex/Bawlz) entered a demo, but were runner-ups to Coda. He entered a 7kb intro which was intended to be 4k, but he couldn't get Crinkler to work right. Coda also won the music compo and placed 2nd in the oldskool music compo, which was won by Lapine.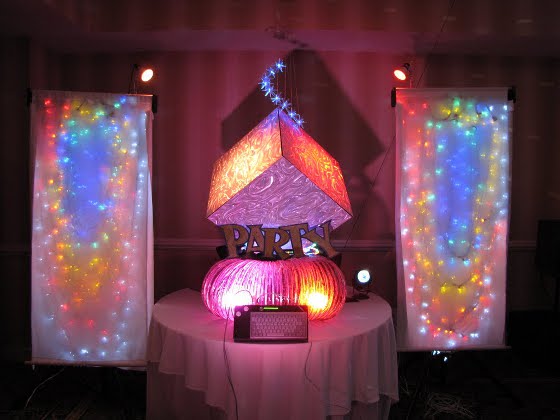 The party cube by Inspired Chaos, and his "Blorgan" project in its full glory. The blorgan is an arduino-based, keyboard-controlled switched mains outlet array with custom display panels. The lighting is 100% LED.
As Jason Scott promised five of them, Blockparty 2011 will take place. However, it will not be in Cleveland, but rather in California, most likely the bay area. It will also be later in the year, around September. Nothing else is certain yet. Notacon will still take place around April in Cleveland, although it will not be in the Wyndham hotel, and another demo party might take Blockparty's place alongside it. Assuming @party happens more than once, that could make three American demoparties in 2011, a new record. It would also mean one on the west coast, one on the east coast, and one near the mid-west (toward the east), allowing more North Americans than ever to take part in the fun.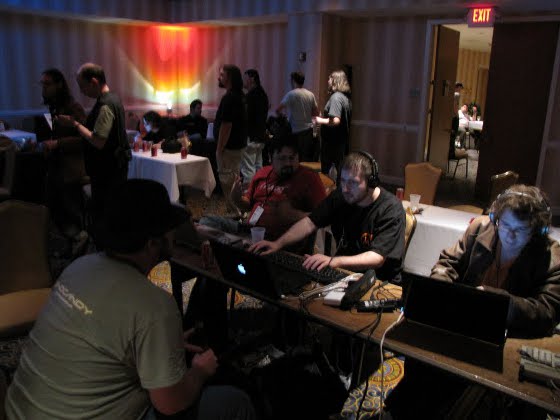 Links of interest:
Blockparty website
Blockparty video streams
Partial list of attendees
Block Party 2010 results
Phoenix