Report: The Amiga 25 Years Party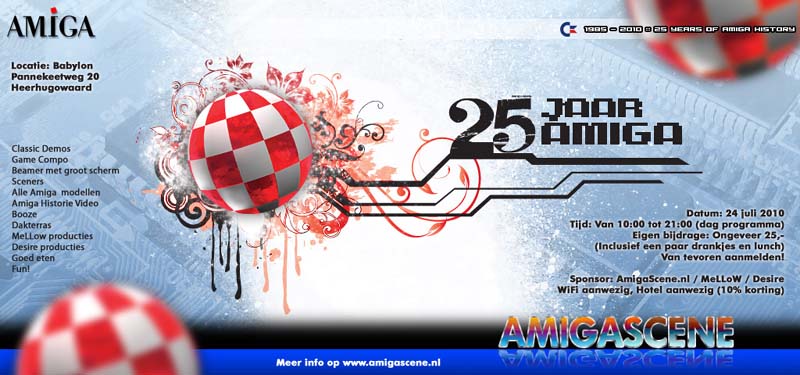 Credits:
Magic of Nah-Kolor: Writer of the article and photographer
Rayon of Mellow: Additional writing
Hammerfist of Desire (Erwin Roosjen): Translation of the Dutch text by Rayon and photographer
Guardian: Took the great widescreen party hall photo (thank you that we could include it!)

Amiga 25 years party, how it all started.
On the 24th of July 2010 it was exactly 25 years ago that the first Amiga ever, the Amiga 1000, had been released. To honour this moment in history and to celebrate this anniversary somewhere in Holland it was time for a party! Rayon explains: "The idea for a party did not form until after the trip to Bletchley in Engeland was cancelled. Bletchley was the first location where the AmigaONE X1000 would be presented, and the plan was to go there with a small group of enthusiasts. Unfortunately there was not enough interest, in part because the trip there would take at least ten hours. (Information at: http://www.amiga25th.co.uk) That was when I asked myself: Why not organize an event in the Netherlands?" and continues: "We have a core of enthusiastic people on AmigaScene.nl and plenty more at the Commodore club. Amiga's anniversary was celebrated at a large scale in both Germany and England, so why not here? With only little more than a month until the 24th of July, which is really the only date to organize the Amiga's 25th anniversary, I had to get a move on. My idea was to do it differently than in Maarssen. I wanted a modern location where catering would be possible. I was also in favor of a 'demoscene' setup with one main screen and rows of tables pointing the visitors towards that screen. Babylon turned out to be the best location and the management was great. I was able to discuss all the options with Sietse, the manager, for a 20-person computer party. We made a list of all the prizes and options and with that in mind I started to think about the day's agenda."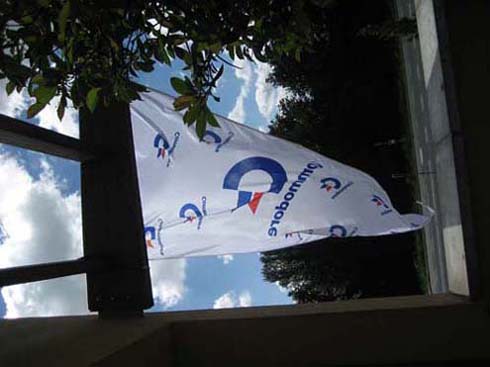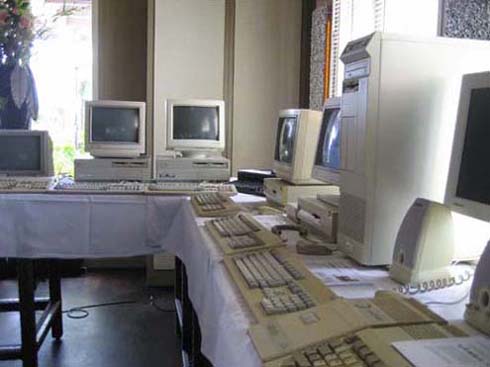 Public Announcement and location
So, as told by Rayon, the party was organized by the webportal/community Amigascene.nl, and the Dutch groups Desire (read the a full article on the comeback of Desire on amongst others Amiga and PC elsewhere in this issue of Hugi -ed) and Mellow. I went there with my old youth (scene) friend Hammerfist (who joined Desire in the beginning of 2010). We agreed to meet Infant of Desire at the party place next to Rayon of Mellow. Rayon is the main organizer of the party and the admin of Amigascene.nl.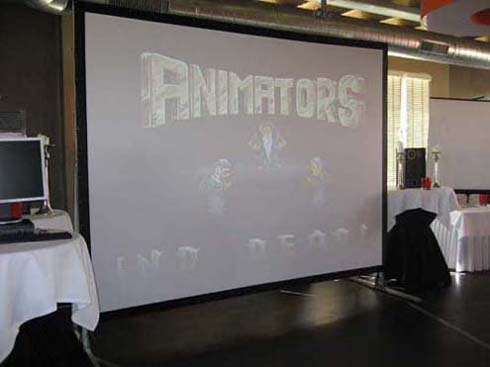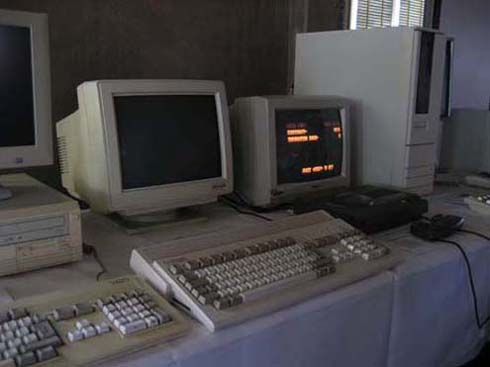 The party place was on the first floor of a nice hotel/restaurant/bar called Babylon. The weather was excellent with much sun. We had our own roofterrace which contributed to an excellent party atmosphere. Included in the entrancefee was a nice lunch and some drinks. Some candy and snacks were free as well and provided on several of the tables.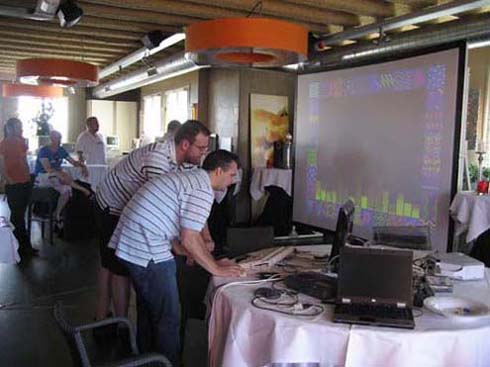 Rayon tells me: "Shortly after thinking about the day's agenda, I asked the moderators of AmigaScene if they would be interested and they were immediately excited. This was reason enough for me to announce my plans in public. That was when Kees (MrRed) offered his help, which I gladly accepted. We decided on what the day would look like and divided the tasks. To minimize our own financial risks, we asked all potential visitors to 'officially' register for the party, basically making them promise they would come. It worked well, and soon the list was almost 50 people long. This gave us room to hire catering personnel for the entire day. In the end, only two people did not come, although by midday I was pretty nervous because only half the expected people had shown up yet. Fortunately with around 45 people the financial risk for us was excluded. The amount of work it took was greater than I had expected though, having to spend time on everything from catering to name tags on the Amigas. (Thanks Folkert!) Babylon helped immensely offering ideas and alternatives. In that respect a TOP location!"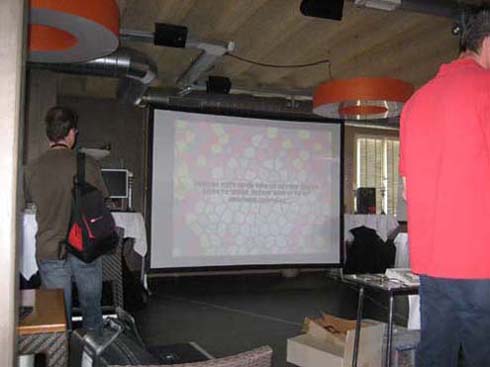 Demoscene releases at the Amiga 25 Years Party
A month prior to this party we decided to port the most recent issue of Hugi at that time (Hugi #36 - Jukebox Delight released on April 2nd, 2010) to the Amiga! To be more exact Amiga os4. While it didn't look at all like we were gonna make this party for a release, a few days before the party would take place Kas1e e-mailed me he had a major breakthrough with fixing the code by Ransom/ex-Iris and we made it after all!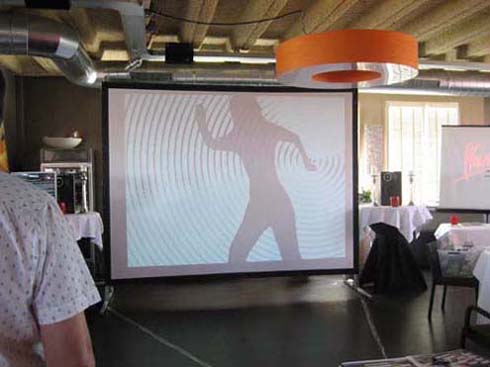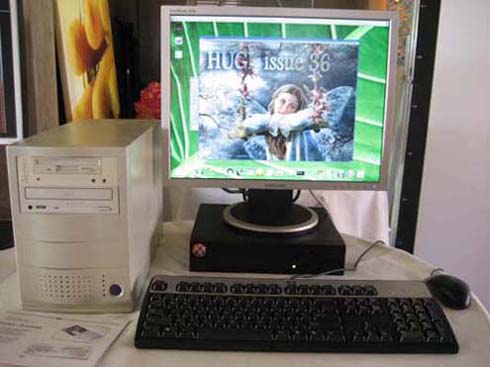 Another release was made by an old Amiga group called Diva's. From the imagination of Infant/Desire this group is an all women group. Colorful as a woman's taste is, it features a photo of a very nice woman, who also happend to be living a few blocks away from Infant his house in the USA. The intro asks anybody who has an Amiga 1200 to spare to send it to Chromag! (Chromag did a track for Hugi #33 and #34 -ed) Which was to make a little fun because Chromag did the music for this intro ;-)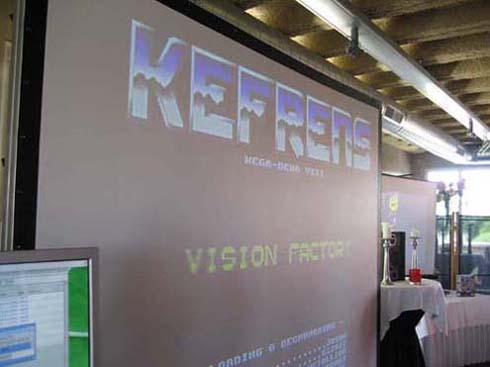 Quite a lot of old and newer Amiga demos were played on the bigscreen. For example The Iraq demo by Animators, Kefrens Megademo VIII, Budbrain megademo 2, State of the Art by Spaceballs, Overload 2 by Jetset, Starstruck by The Black Lotus and a lot more! Unfortunately the first Amiga used to show demos on the bigscreen was 'blown up' and broke down.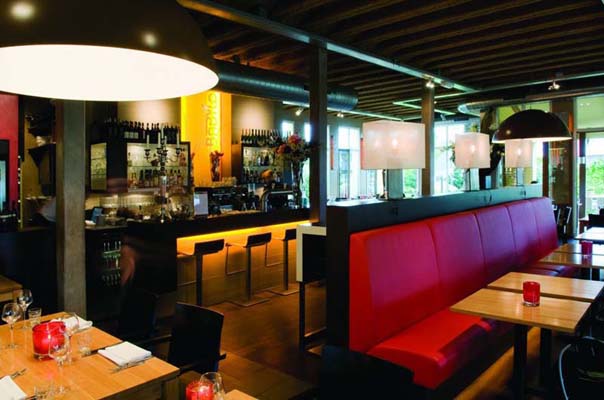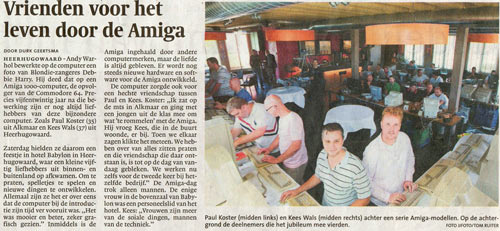 Another nice feature at the party place was that all Amiga models ever released were present and shown next to each other on some tables. That was really a memorytrip down the lane for me and a lot of other visitors I can imagine. Well, perhaps not for that Amiga os4, which was really after my time when I had abandoned the Amiga Scene and sold my Amiga, however I (Magic) never lost an eye on it.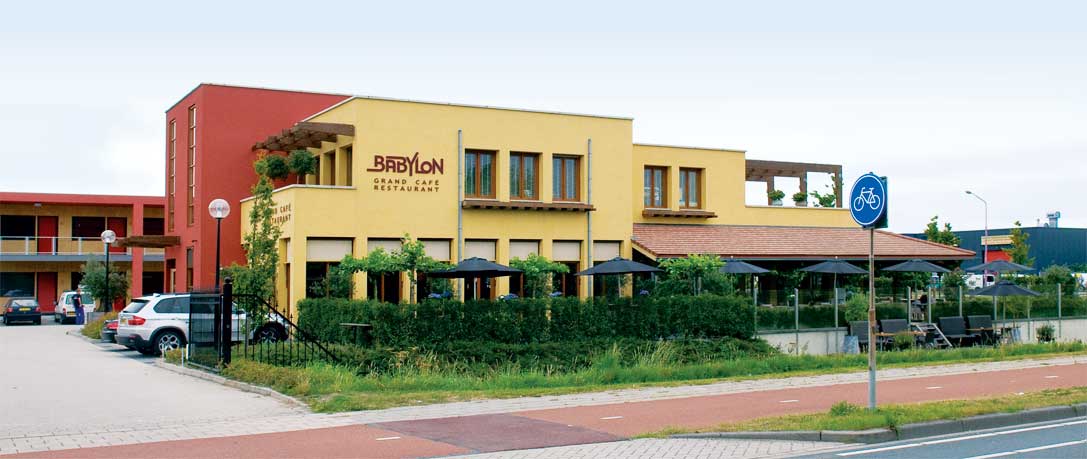 Who attended?
I (Magic) met quite some nice sceners. Like Alien of Paradox (also known as Huib of Mellow in the old days :)) who made quite a nice wild demo as opening of the party. Ikilledher of Jetset showed up whom I hadn't talked to for like 15 years or so. Groups that were present were amongst others Nah-Kolor, Desire, Paradox, Mellow and Jetset. Rayon adds: "To my regret, almost no people from the Commodore user group were present. I have no idea why so few showed up. Maybe the news had not reached everyone? And, to my surprise, the party was visited by a lot of people from the demoscene, increasing the amount of people interested in the Amiga other than those of the Commodore user group (part of HCC). This made me realize there was more interest in the Amiga than we originally assumed. In my opinion, the part was a huge succes. Much more people showed up than the 20-25 I originally expected. There was even a family all the way from Belgium. They arrived first and stayed until well after dinner!"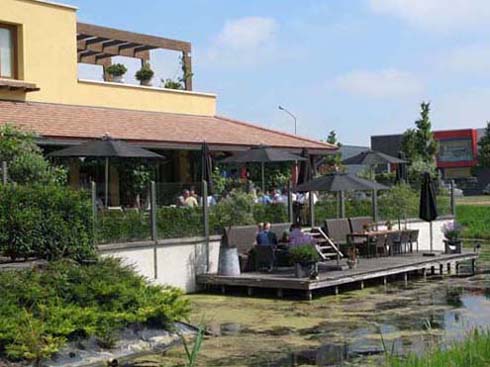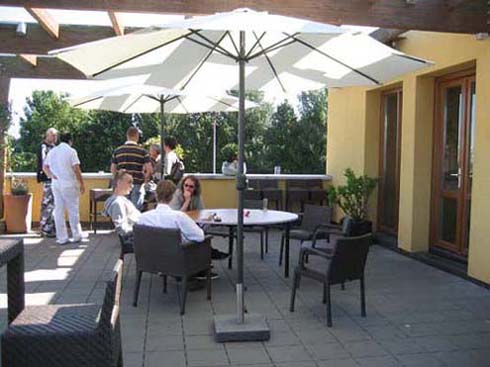 Epilogue
The Dynablaster competition was great fun! We all had dinner together in the restaurant, which was very nice as well. Some nice releases. People I haven't seen since ages. Unfortunately the Amiga connected to the beamer broke down at some stage but was replaced with another model shortly after. Old and newer Amiga demos on two big screens were very nice to see again. Around 22:00 Hammerfist and I went back home again. Thanks to Rayon for being the main organizer and driving force of making this day possible! AMIGA!!!!!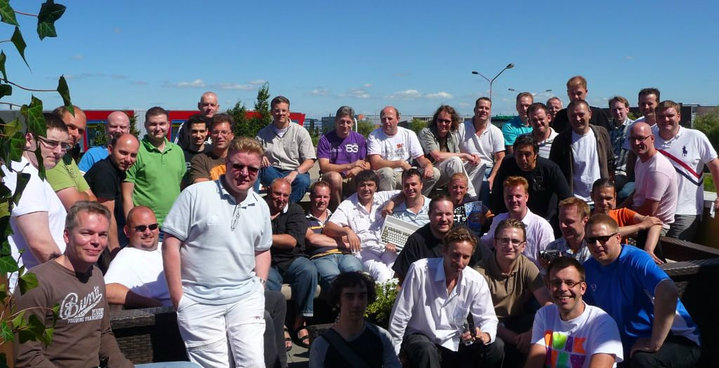 Links related to this article
25 Years Of Amiga Party Invitation on Youtube
Divalicious Amiga Intro on Youtube
Hugi #36 on Amiga os4 part on Youtube
25 years of Amiga Party small video
Amigascene Dutch Webportal
Magic