Letter from TRSAC 2011
Written by Curt Cool
Dear Magic.
I hope that married life is treating you well, or at least cheating you well. Any kids on their way any time soon?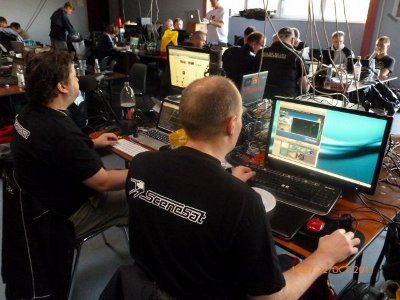 On planet TRSAC, which is not Planet Family, and where lifeforms are not carbonbased, but alcohol-based - and curiously not wearing any pants during demo compos, things are going well. Me and a small expedition left our usual, normal surroundings early for this year's extraterrestial event, giving us time to meet with the local lifeforms and organizers.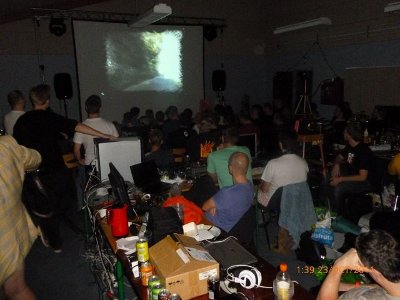 Or, in plain English, perhaps being not quite so much on another planet, I and three other brave fellows who I shared the ride with from Copenhagen to Århus arrived early and met with Puryx, Nico, Booster, Farfar, Dwarf and the rest of the organizers. Naturally, we were happy to meet our old friends, and had time to go and buy some beer, food and other stuff, since the cafeteria at the party place only serves "pølsemix" (sausages & fries covered in whatever), industrially produced burgers and the usual assortment of grilled semi-food. And expensive, watery beer. This is not a complaint, the cafeteria had many qualities - it was generally open, and there were no complaints from the staff about seriously drunken people who were shouting and difficult to serve. And there were seriously drunken people who were shouting and difficult to serve. Much of the time.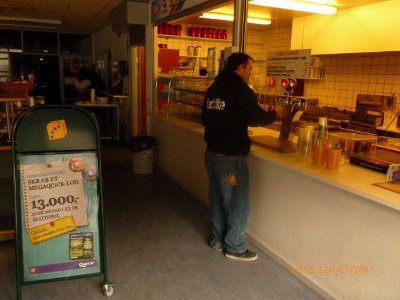 As one can witness at the pouet thread, the party was hugely anticipated, and I am happy to say that it delivered not just what was promised, but actually was a great demoparty held in a kind, humorous and friendly spirit. Punqtured/Fnuque had organized sightseeing and diner in Copenhagen for foreigners arriving there on Thursday before the party, and also organized for those to be driven to TRSAC along with the rest of the Copenhagen scene Friday afternoon. A very friendly thing to do indeed, and something which easily transcends the spirit of the party - everyone tried to help out in every way - if someone needed to be picked up somewhere in order to go to the party, there always seemed to be someone to help out, and if someone was short on cash for food or booze, someone else would probably supply a few bucks for a burger and some booze or beer from his personal stash. The pouet thread also tells of the usual release-motivating and -announcing - we all go to demoparties for a. demoscene releases and b. boozing and partying (not necessarily in that order).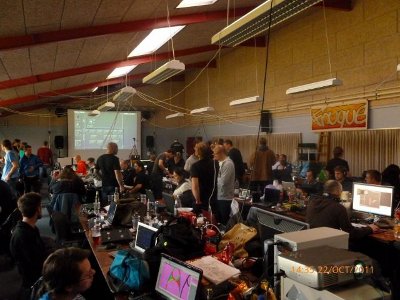 The party kicked off on Friday night - the opening ceremony was postponed in order for the Norwegians to arrive - and they immediately made an impact by winning the difficult quiz Dwarf had organized. They of course cheated by not being drunk enough (perhaps since they just arrived) - which can't be said for the Dutch team, or, mainly, Okkie, who did answer most of the questions - only, not every one of his answers was correct. However, he was blessed with a splendid hangover for most of Saturday.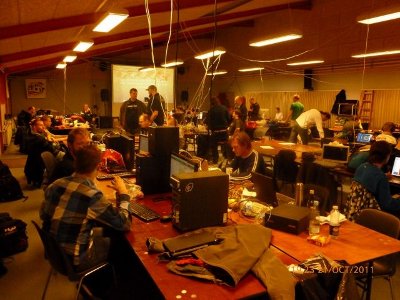 On Saturday afternoon and night, there were compos, but before that, a five kilometer run was organized, and afterwards, the organizers blessed the runners with free pepper-straff-schnaps - and they all really enjoyed the warm and cosy burning of their stomachs for hours afterwards. Mmmmm, pepperschnapps. You should try it Magic, I'm sure you'll like it. I have. And I am still alive. And still have most of my limbs and senses. And Corial liked it so much he said (quote): "Thanks Dwarf - that was really shit!" How's that for persuasion?
Another service not quite as dangerous was the breakfast Saturday and Sunday morning, and diner on Saturday for those who paid the extra dough - and for everyone there was also a nice TRSAC cake Saturday afternoon, and free draught beer before the demo compo. And since everyone brought booze as well, naturally, many of the Norwegians passed out before the demo competition, which was of course slightly delayed since the organizers were totally sober. Cough. Still, everything went smoothly, there were demoshows, a working Internet connection and plenty of friendly people to talk to/drink with.
Returning from the real world demoparty to planet TRSAC, the strange creatures there include dancing starfish who dances and runs around to dubstep music in order to raise the mood of the other aliens present. Everyone seems to be able to consume any kinds of alcoholbased liquids which provide energy and colour to all of their actions, which include watching demos on a bigscreen, preferably with no pants on. Should someone be out of energy, sleep seems to be necessary for these creatures, though if someone is tired, some slapping on the chin (thanks Farfar!) or on the thighs (right back at ya!) is in order. Also, sleeping aliens have been known to wake up with curious markings of stranger times on their bodies.
On what would be planet Earth Sunday, we were once again on our way back to planet Real Life, travelling at (almost) the speed of light, tired and happy, with new power for our everyday lives. Amazingly, not a single bottle or glass was broken at TRSAC (and there were plenty of them to break) - so no alcohol was abused at this thoroughly friendly, well-organized and just plain great demoparty!
You should have been there, dearest Magic. You should.
All the best
Cheers
Curt Cool/Depth