tUM 2010 party report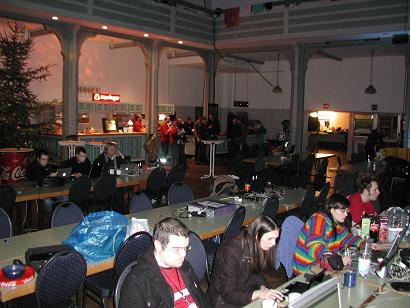 Having coded a game in summer 2010, I decided it would be worth the money traveling to a demoparty in order to present it to the audience there. As I did not manage to finish the game for Function 2010, tUM 2010, held in Karlsruhe-Durlach/Germany from December 27 to December 29, 2010, was the next party of choice, so I went there.
I traveled to tUM 2010 by train, and I had to change trains twice in order to reach the party place. The first train, from Vienna Westbahnhof, departed at 8:14. With this train I reached Munich Hauptbahnhof punctually at 12:30. There I met Paralax, who had been at the same train and would also be making the rest of the journey using the same trains as me. Since the train to Bruchsal was supposed to go at 12:43, I had been afraid that there would be little time to search the Munich Hauptbahnhof for this train. But the train station was smaller than I had thought, and, moreover, the terminal said that the train would be delayed by about 40 minutes. We used the time to eat lunch (döner kebap), and Paralax helped a handicapped woman in a wheelchair call somebody with her cellphone. The train arrived at about 13:15, and we went to Bruchsal, where we were supposed to finally enter the S3 and go to Karlsruhe-Durlach. But the S3 was delayed and it was announced that it would not stop at Karlsruhe-Durlach. Luckily a woman standing next to us pointed out that another train was going to stop at Karlsruhe-Durlach. So we took that train. And, indeed, we arrived at the final destination before 17:00. Here we bumped into Widdy, Kojote and a couple of other guys. Together we wondered how to get to our hotels - the fact that there were two different hotels where people had booked rooms did not really help. In the end the group split up into three subgroups that tried out different paths. With Kojote, I arrived at the partyplace before finding our hotel, although the hotel was supposed to be closer to the train station. At the same time Paralax also showed up at the party place. The others came when we left...
At the counter MadenMann, who was part of the organizing team, told us that Austrians would have got a long-distance discount, but we would have had to apply for that in advance, so bad luck - for next time, we know better. The entrance fee was 35 EUR, and for 15 EUR one could get two t-shirts, a current one and one from an older edition of the party. I bought the two t-shirts and paid the entrance fee, for which I got a band to put around the hand and some stickers.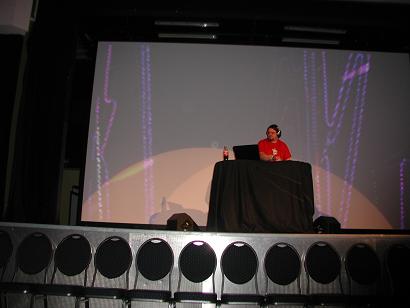 Kojote and I then went to our hotel, and to our surprise each of us got a two-bed room (my room even had three beds) although we had ordered only single-bed rooms. After putting our suitcases in the rooms, we went to a pizza restaurant in order to have dinner, and then we settled back for the party place. I was surprised that one full liter of orange juice was only 2.30 EUR in this restaurant; usually that's what I pay for 0.2 liters in a restaurant in my hometown Vienna...
Back to the party place, I enjoyed presentations of "Lifeforce" and "Die Ewigkeit schmerzt" on the bigscreen. I met a couple of more people, such as FRaNKy from Belgium, who had brought along a pinball automaton from the year 1987 - "older than your C64". I saw StyX of HeadcrasH the second time since Dialogos 2001... Also people from Farbrausch and Nuance came to my attention, but they did not want to talk to me. Swiss people were present at the party as well, such as Decybel and Unlock. When I checked the party network on that evening, it said 83 registered people were there, but the total number of visitors must have been higher, as for instance some of my fellow Austrians who were at tUM 2010 had not registered.
At 22:00 the opening ceremony started, but I did not notice much of it as I was working on my entries for the game development competition. Yes, two entries - since Kojote had told me he doubted my maze game would get a good ranking, as the graphics were pretty poor, I decided to make a new version of my magic cube game, which had 3D graphics, and release it as well.
A hour later Bombe started his DJ performance, a bunch of loud music accompanied by demo-like effects on the bigscreen. At 1:00, the wild demo compo was supposed to start - but it did not, as there had been only one entry. That was the instant when I decided to take a nap at the hotel.
Next morning I woke up at 11:00 and thus arrived at the party place short before the executable music competition was scheduled (12:00). With only two entries it was a bit meager. The oldschool graphics and streamed music compos had more entries. At 15:30 the unofficial tracked music compo was held. Thereupon Nuance prepared meat outside the party.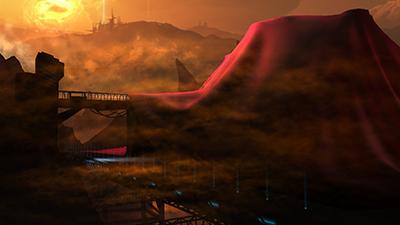 On IRC, someone commented on the modern-tool graphics compo: "The artists can be easily guessed because of their style."
Food ordering via the party network worked very well - I got my pizza margherita without problems. You marked the food you wanted to eat in your WWW browser, then you went to the kitchen and paid. A hour later, the food would arrive.
At the party hall entrance there was a poster advertising Scamp's Viprinet company, showing a man in bed with six women. Somebody (rumour has it that it was a certain Swiss diskmag editor and party organizer) glued a photo of Scamp's face on the face of the man. I was also given two Viprinet posters by the organizers, as they apparently had no use for it. Well, I have no idea what to do with them either - so they are probably still located somewhere in my house.
At 16:35 the loop competition (looped music, max. duration 7 seconds) started. Most of the tunes were quite annoying.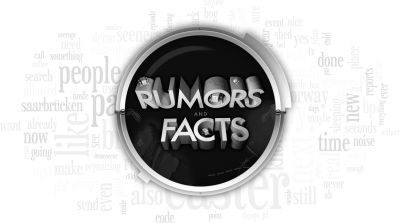 The first fun compo began at 17:45. Within 15 minutes, the three contestants, two boys and a girl, had to model something from clay that followed the theme "traffic accident caused by snow". The girl (mouldyCat) won, and Topy44 (one of the boys) was obviously very sad.
The theme remix compo started at 18:45. Like most of the music competitions it was well supported with entries.
At 19:20 it was time for me to get to the beam team, as the game compo was going to start, for which I had submitted two entries. Mine were shown as first (cube) and sixth (maze), and I had about three minutes to demonstrate each. I made full use of the time limit, which made a couple of visitors sigh with boredom. Later on I was criticized for not having made a mistake when demonstrating the maze game, and thus having left open the question of what happens when you make a mistake. The other contestants also had some good ideas. Widdy's game for Wii was very well designed, though I guess few of the audience understood how it was supposed to be played (me neither).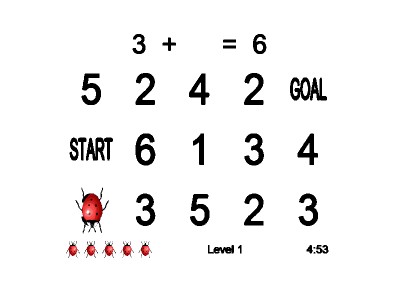 The game compo was followed by a very short 4k procedural gfx compo with only two entries, which were not as brilliant as e.g. iq's procedural graphics. One of them was submitted by the infamous BITS club, and it did not even seem to be the worse one - although it placed second, as one might expect considering the "popularity" of BITS among demosceners.
Then there was a good liveset by "Ewald and Bernd". At least I thought it was good - others said it was "gay".
At 1:20 the demonight started with only three low-end productions and three high-end 4k intros. Since there was only one high-end 64k intro (by ctrl+alt+test), it was merged with the high-end demo competition. That compo was clearly dominated by Farbrausch, whose demo Magellan requires a Quad core CPU and looks stunning. People I talked to wondered what Farbrausch would be going to show at the new big party in Easter after showing such a piece at the rather small tUM party.
From time to time there were live video conferences with prominent sceners such as Sir Garbagetruck and Okkie. They tried to arouse people's excitement for the upcoming Easter party. As it was revealed during the demo night, this new party would be going to take place in Saarbrücken, south-west Germany, and would be organized by D.Fox (who was the main organizer of tUM as well) and StyX (who had previously organized the 0a000h parties). The demo by Rebels was the official invitation to this new grand event.
After sleeping a bit at the hotel, I came back to the partyplace on Wednesday just in time to get some of the remainders of the breakfast, organized by Unlock. Free orange juice! The final event, the prize giving, was delayed more than just a bit, but it finally ended just before I had to leave in order to catch my train. As expected, considering that I am not really a popular person among many demosceners, my two games got the two last places. The maze game got significantly more points than the cube game, although the cube game was technically far more sophisticated. (It had been quite a lot of intellectual work figuring out how you could efficiently keep track of the rotations of the cube and store the current positions of all of the fields.) It seems like the idea counts more than the coding. Saga Musix' game "Return to Castle tUM" even got 2nd place, with only a few points less than Widdy's game, which placed first. This made me a bit sad because Saga's game was very simple, programmed in Basic, with text hardly readable on the big screen. Others whose games got worse places had most probably invested much more time and effort in the development of their games.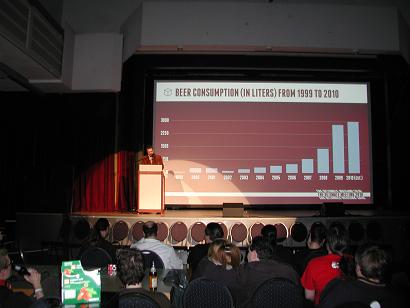 Before leaving, I bought the "Demoscene - art of realtime" book at the counter; during the party, I had also bought the Freax art album. Now I probably have all books related to the demoscene that have been written so far (Freax, Hackerland, PC Underground,...). (Well, at least I have them - but the actually relevant question is where I have them, considering the unorderliness of my home, hehe.)
When I arrived at the train station I noticed that I had forgot my suitcase at the party place, so I walked all the way back. Of course it was still there. That's something that popped in my head during the party: Demosceners are treating each other in a fair manner. You can place your computer on the table and go away - you need not worry that somebody will use or steal it. That's great.
So I had to buy new tickets, and finally I arrived in Vienna after midnight via Stuttgart and Salzburg.
I had already been at tUM once, it had been in the year 2005. Not much had changed since then - the party place had remained the same (the Festhalle Durlach), and everything was well organized. At the whole party place there were some scattered tables with items from previous tUM events and pieces of paper describing them. Some of the tUMs had special themes to them, e.g. tUM 2005 was supposed to be a "pirate-style" party. This time the 10th tUM anniversary was celebrated.
Well, in the days of the Internet it does not matter as much as in the past if you are at home or at the party place. If you want face-to-face communication, you can do that with a video conference as well. And yet, travelling to the party place alone is often an experience well worth making.
tUM 2010 competition results
Photos courtesy of Slengpung.com.
Supervillain vs. Superhero - the Ultimate Meet-thing
Written by T$ of Alcatraz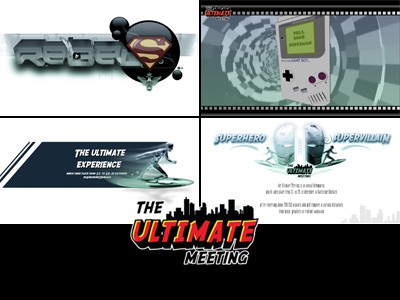 As we already know from previous years any ultimate scener is getting his real xmas present one day after the official holidays: This year, the Ultimate Organizers turned the same cozy location from previous years into the arena where the battle between good and evil would take place.
Right after arriving and meeting the first sceners outside you instantly felt comfortable. Starting from homemade cookies, a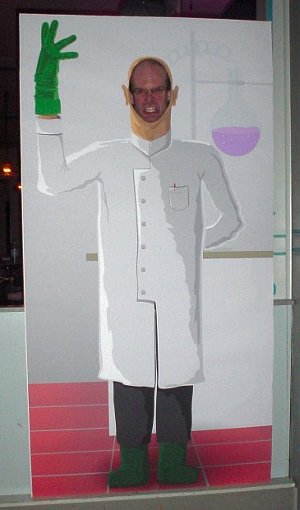 flipper machine, free tea and coffee and low-priced nifty metal cups up to the security measure of using differently coloured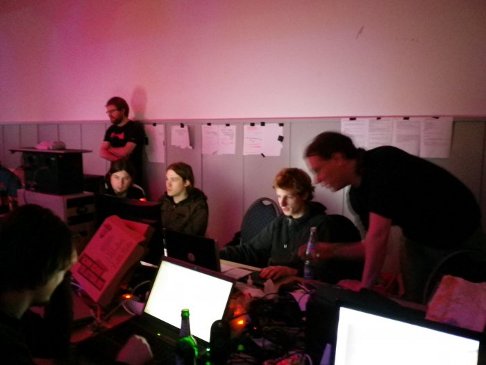 wristbands to distinguish the honourable and the villain part a lot of care was put into every detail. Interestingly, there seemed to be a lot of undercover people around, as both sides joked heavily about how the early visitors would be thrown out for having to pay a second time for getting their stuff back. Later on, the entrance area was also the place where Ragnarok opened his 'retro blowout', giving away all his unused vintage hardware for free.
Only a few visitors decided to dress up according to this year's theme, however any scener without a costume could still check out whether he would be more sucessful as an evil scientist with a really nasty glove or more as a spandex superhero by just sticking his head through one of the handpainted cardboard photowalls.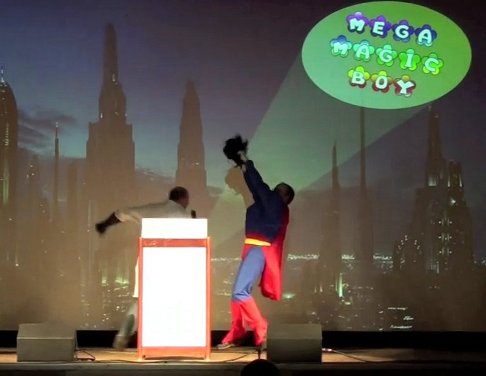 The opening ceremony told us how Tum City was saved by Mega Magic Boy's brave and successful attempt at defeating Dr. EvilFox by grabbing his mojoic hair wig. But as we learned later on in the wild compo this was not the only threat: Faque and ATW documented how Topy44 saved the scene just by coming late due to his 601 and useless babble, m0d pointed out in his gorgeous entry what KGB Russia had not told us so far, while downloards indicated the real challenge might be next Evoke.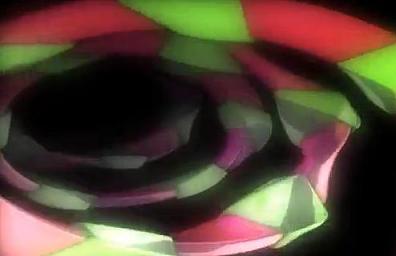 Another remarkable entry was mitchen from nonsense, similar to JCO's VATTAOT frm MS2001, but made entirely with kitchen stuff instead.
The first day ended with a smooth wubbwubbwubb mix from Knoeki on the tables, boozing or in some cases also partycoding, thus saving energy for the upcoming challenges.
As usual, the official food support concentrated on pizza waves with limited options, which is far from great if the omnipresent cheese is not for you. However, the inofficial food supply compensates that a lot: Nuance provided yummy Superschnitzel vs. Schurkenwurst from the outside BBQ, the Buenzli crew awakened your senses with a delicate breakfast, and in the meantime Mercury-sponsored mulled wine as well as egg liquor provided by a fourth group boosted your powers to the max.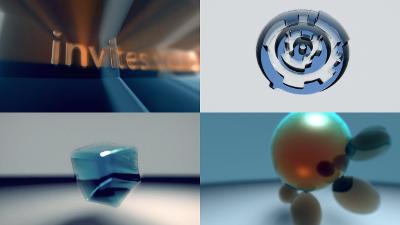 Prepared like that, the compo day could safely arrive, starting with the music competitions which contained quite a lot of decent tracks, yet no outstanding ones. This applied to most of the gfx competition with quite a lot of proper entries, however 'The Kids won't understand' from mbb/tum is worth mentioning for its idea as well as 'Invasionszentrale' by Prince due to its excessive details. Prince also provided a poster for display with small parts as a giveaway, which were quickly called 'kunst-stoff' (which originally means 'plastic' in German, but might also be interpreted as 'art fabric') due to the material it was printed on. He also told us about his working style and astonished us quite a bit with his high output of pictures drawn in short time.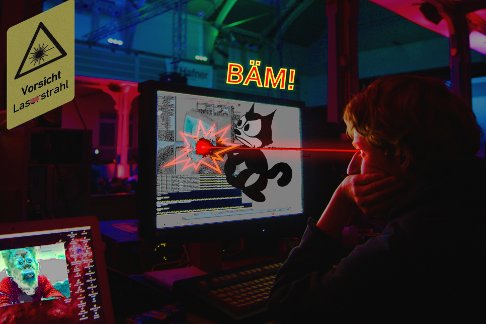 In the few hours not spent partying and compowatching some final adjustments for the Composed Dreams music disk were added, and later on a fast entry was produced, turning a picture from Mercury's main coder into Las'r Superhero while they were concentrating on getting the Easterparty invitation ready under the strict quality control surveillance of D.Fox. Note that like a professional group they were using advanced pen&paper whiteboard technology for timeline and greeting, which was then spammed due to the lack of effective access control by passing sceners on their backs.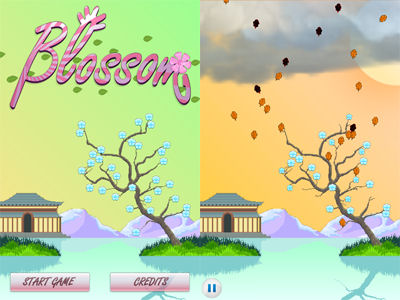 The game compo contained a surprisingy high amount of quality entries: 'Blossom', a relaxing game originally intended for touchphone devices but also working well on a PC, the 'Unnamed Monkey Game' which was declared as semi-final but turned out to be an already very playable gameboy-style jump'n'run, and the third part of the extremely well crafted Sqrxy jump&puzzle game. Two speccy games also looked interesting, but they were hard to judge, and Nuance finally got the audience by their 'Ironing maiden', where a wiimote was put into a toy iron in order to remove the wrinkles from your party shirts, listening to metal music and with te proper mess in the background. Kojote also introduced me two of his helping hands in the game which he brought to the party as well, claiming that this time the game was way less difficult than the first two ones. Luckily, their artist showed me the entire slides thus I was able to enjoy them a well.
Those who preferred analog hardware could test their faith in the bobbycar race prior to the intro and demo competitions - which was even more challanging for the eyes of the spectators watching them.
With a few weak entries the oldschool platform competition wasn't that interesting. Things got better starting with the 4k compo where hArDy+tEiS showed that tunnel loops can still kick ass even today.
Then, the 64k compo got back to its old strength, starting with shader galore in Mercury's epsilon, bioplanetary design from Brain Control & Still, and electrifying effects in Bozon by Rebels. Not to forget Objektgeballer5 by never, which showed again that solid code and demoscene generics combined with non-design can form appealing releases admirable for their intrinsic irony.
As the wild competition deadline was too early the Alcatraz musicdisk was presented in the demo competition, thus suffering a bit from the limited time frame available for a slow-paced ambient disk. SquoQuo, the guys who were partying hard using their Krawallanlage, presented with 'Mein Zahnfleisch brennt' (my gingiva burns) a demo with sweet sync and pumping cubes. On the other side the TokyoDemoFest 2011 invitation raised the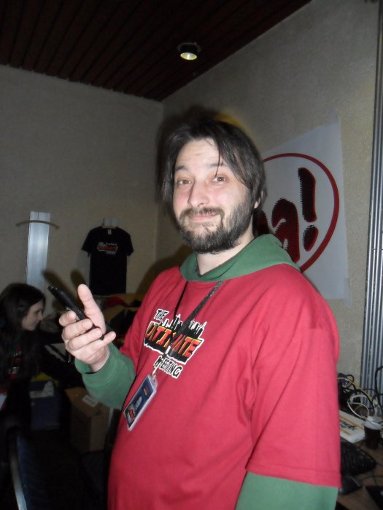 overall JDance and color variety level. 'Suxx' from Elude got famous not only for its tough appearance but also for being the release which finally made the compo orga drop a rant about demomakers who should stop using stupid startup presets as the bigscreen capablities had been published for months. Winner of the <3 however was 'Hey Verschdl' by Metalvotze, Faque and Speckdrumm, which teased a familiar never member until his head eploded. As we see, other groups can make 'minus' entries, too!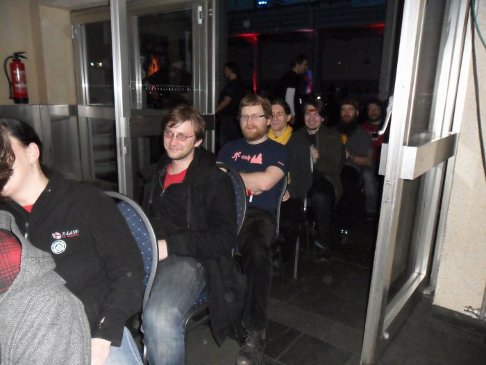 This year, the voting system had been modified so that votes were valid instantly without a final confirmation and the usual votekey rush. However, some strange thing happened instead: More and more sceners started to queue up behind Sir Garbagetruck in front of a screen near the infodesk, all sitting on their chairs. Quickly they filled up most of the entrance area, and when he finally noticed the Truck train started to move through the whole party hall right in front of the bigscreen, where Bombe was already busy on the turntables, ready for making the crowd move.
The remaining time between dancing and breakfast was filled with a Super 8 movie selection out of Topy's jumble box treasures, perfect for starting to chillout before breakfast and the final prizegiving.
In the end one can say for sure that it is hard to determine whether heroes or villains had won, but for sure they know how to party on!
T$