Viva Amiga Party 2012
Background information and invitation for the Viva Amiga Party held on the 7th of April 2012 in Holland
By Magic of Nah-Kolor

Prologue
Viva Amiga is a movie project by Zach Weddington (Producer/Director). He is making a documentary about the Amiga computer. For the movie he is shooting on several locations around the world. On April 7th he will be in Holland and on April 8th on Revision 2012. The Amiga community in Holland at www.amigascene.nl was already thinking to held a party again after the succesful 'Amiga 25th Anniversary Party' in Holland, July 2010. (A report of this party can be read here -ed) So with the coming to Holland of Zach, The Viva Amiga Party became a reality. For more information in the Viva Amiga Movie project check out the official website here.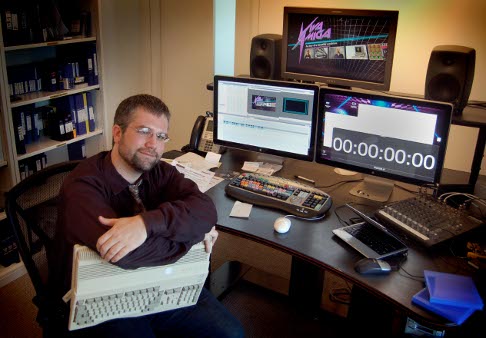 Do you want to visit the Viva Amiga Party? Make a reservation in advance!! On the 6th of April 2012 or before. No sign-up means you can't enter! Full = Full. Why a signup in advance? Main-organizer Rayon explains: "We need to know how much food, booze and stuff like that we need to buy but more importantly we are more or less responsible for what happens at the party. As organisers we have the obligation to know how many visiters will more or less show up."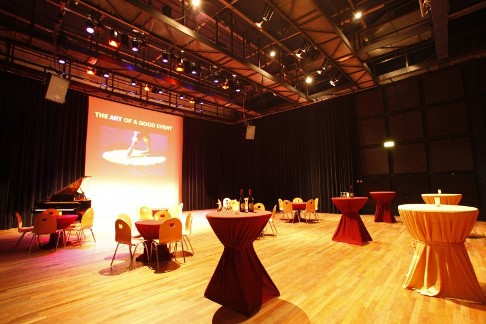 About the party and how to sign up
Main-organizer Rayon who also is running the www.amigascene.nl website explains the story behind the party and gives the e-mail address to sign up if you want to visit! "The Viva Amiga Party is centered around the film shoot of Zach Weddington who is making a documentary of the Amiga, its history and how it's used nowadays. We will have several guests who are going to tell about the Amiga era and the demo scene will be a special part during this show. Beside that we will have people like the publisher of our most famous Amiga Magazine, people from television production studios that used Amiga will be there and as well the creator of PFS 3, Michel Pelt. The location we have found is perfect for a demo scene setup (big screen + perfect audio system + tables in front), and the facility also offers many other rooms for doing video shoots. We also have a very special guest RJ Mical, who is coming over all the way from California (US). He is one of the persons that stood next to Jay Miner in creating the Amiga. He will be going to tell about the history of the Amiga and how he experienced the whole birth of the Amiga. And of course Amigas can be signed with his signature, so bring your markers... ;-) Beside that we will have lots of Dutch demos from the old days, new demos, (Dutch) video games, (Dutch) commercials where Amigas played a role in creating, and lots more. People can bring their own content to present", Rayon explains and continues: "To apply for the party people can send an email to party@amigascene.nl. The enterance fee is 20,- EUR, this is including a lunch. Location is at CKC, Leidsewallen 80, Zoetermeer, Netherlands. Date/Time 7th April from 10:00 to 22:00. See you all there..."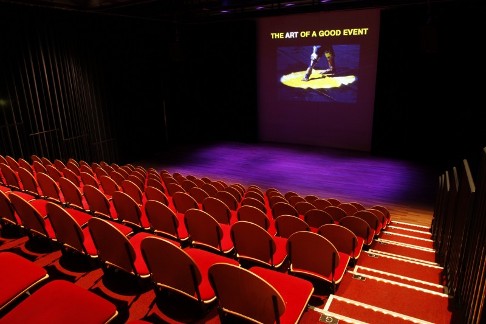 Special Guest: RJ Mical
RJ Mical, one of the creators of the Amiga, comes over from the USA to the Viva Amiga Party in Zoetermeer - Holland. RJ Mical is the man behind the Amiga GUI system also known as Intuition.
He has a nice trackrecord in the gaming industry. Started at Williams Electronics, later Amiga, after that started a company with Dave Needle and created the 'Handy' that later became the Atari Lynx. He also worked on the 3DO of Panasonic and he did a lot of work for the Sony Playstation platform.
For more information about RJ Mical check the wikipedia website here.
One of the visitors of amigascene.nl, Marvin, portal discovered he has a uncle living in the USA just 20 minutes from where RJ Mical lives. His uncle was kind enough to drive by the house of RJ Mical and bring him a small but typical Dutch present: A Heineken beer! If this was the last thing or not to convince RJ Mical to visit the Viva Amiga Party we do not know. But it sure was a nice thing to initiate!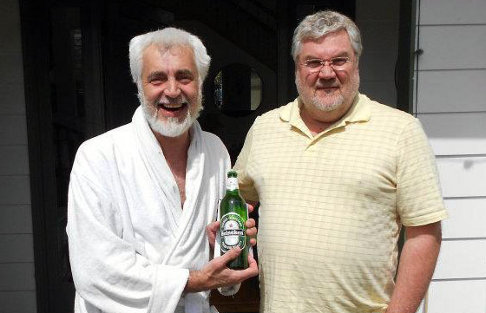 Here is a personal invitation from RJ Mical himself (Note: he says Amsterdam instead of Zoetermeer. Can happen...)
Zach Weddington about the Viva Amiga Documentary and Party
Just before the release of our new issue I got hold of Zach per e-mail. What can he tell you our reader about the Viva Amiga Project? How did it start, what's the current state today, what exactly will be in this movie? And what is timepath until release? How will the movie be distributed / sold when it's finished? Where can we watch it? A lot of questions just popped out of nowhere. Zach smartly points out to a website for some of this information. Zach: "Here is an article which has a lot of info about the film, how it got started, etc. We are still exploring all of the different possibilites with distribution. It will air in television here and in Europe, and will most definitely be for sale! In the fall of this year, we expect to have a rough cut, and a final version in Spring of 2013.
Does Zach have any expectations about coming to the Viva Amiga Party in Holland on April 7th? A Party named after his Movie project! "I expect to get lots of great footage, interviews and also to have a lot of fun at this party", Zach comments and continues: "I can't wait to meet everyone."
Last but not least we wanted to give Zach the oppertunity to say something special to our readers and the (possible) visitors of the Viva Amiga Party! "I'd just love to tell everyone attending the Amiga party that I think it's amazing that the Amiga is still alive in 2012. Without the Amiga platform, my career as an artist and television produxer would be nowhere near as far along as it is now", Zach comments and concludes: "We should continue to strive for alternative methods of computing, because each different method requires different ways of thinking."
Epilogue
At the last minute the cinema/theater CKC also became a sponsor of this party. We thank them and all other sponsors to make this party a reality and in keeping the entrance fee low. If you want to come don't forget to sign up in advance on or before the 6th of April 2012.
Viva Amigaaaaaa!!!!!
Links related to this article
Zach Announcement Coming To Viva Amiga Party
Zach's Schedule
Viva Amiga Party Preperation. Testing the Amiga hardware on the big screen at CKC Zoetermeer. Rayon on the keys.
Viva Amiga Party Preperation. Showing the screen size.
Viva Amiga Movie official website
Dutch Amigascene Portal
Magic