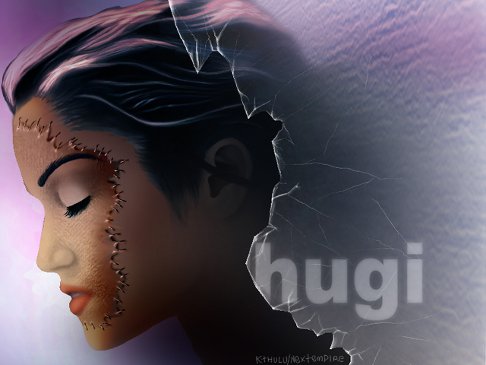 Hugi #22 was released in April 2001. Some of the news from that issue:
256 byte demo page. "Justin Walemark aka Insomniac of Matrix-1995 recently put up a new page entirely dedicated to 256 byte demos. It's a fine catalogue with relatively long descriptions and even screenshots of most of the intros. The URL is www.256b.com."
3ds max 4 out now. "Discreet has shipped 3D Studio Max 4. Here is a snip from the press release: '3ds max 4 delivers a new and extensible character animation architecture, advanced game development tools, and extensive rendering productivity with ActiveShade, Render Elements and unparalleled support for new Direct 3D technology. These advancements give animators a flexible and realistic working environment for rich media content creation - whether for motion picture special effects, 3D Web production, or next-generation game development for PC game titles or gaming consoles such as Microsoft Xbox, Sony PlayStation 2 or Nintendo Gamecube.'"
Access Denied: Working on Scenial #5. "Scenial is not dead: The fifth issue, which is currently in development, is supposed to already contain more than 140 articles, embedded in a new interface coded by Spectre." It was never released.
Addict: Planet #2 is out. "The demogroup Addict released the second issue of their 'world chartsmag' Planet. More than 100 voters (mostly from Poland but also from other countries), a big variety of categories, and great design & music are waiting for you."
All your base are belong to us. "If you wonder where this quote that has recently become popular comes from: It appeared first in the intro of the European version of the game Zero Wing for Sega Mega Drive, released in the early 90ies. Obviously the Japanese producing company had some really bad translator."
Farbrausch: .the .product final. "Farbrausch released the final version of .the .product, the stunning 64k DEMO first presented at TP2k. Many compatibility issues were fixed, many more camera movements were included, and a hidden part was added. And yet, the size of the final .exe is only 63.5 - 512 bytes smaller than the party version."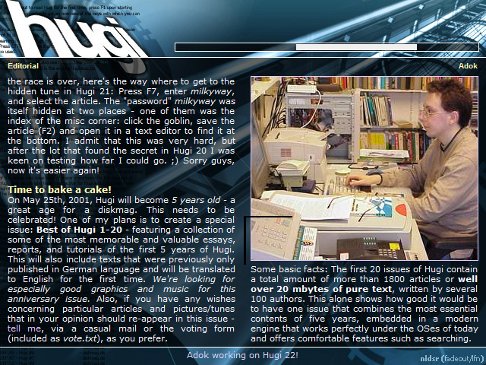 Hornet: No longer available. "Let's pause for a minute of grief. The Hornet FTP server is no more, as its hoster Simtel.Net has dropped it, and Hornet CDs are no longer sold, either. However, the complete Hornet Archive is still available on the Scene.org FTP server."
Hungarian Scene Page: New domain. "The Hungarian Scene Page (maintained by Trajic of Rhyme) has moved from scene-hu.com to demoscene.hu."
Rebels: Back to scene. "Yes/OJ is happy: M:ET, Jake, Static, Vandal, Droopy, Conan, Nick, Oliver, Mogwie, Heatbeat, Zaxxan and Dragon are back to the scene!"
Scene.org: New Design. "In February a web design competition was held - and the winner is Jokke! His new design is now used at Scene.org."
Scenery: The Scene's History Book. "The fourth update of Scenery, a real history book about the Amiga scene (more than 2 mb of text - history of all important groups with members and releases, reviews,...), is available online and for download at its website. SceneryC64 and SceneryPC are also planned - please contact the author (Glenn Lunder) if you're interested in participating!"
The HaVoK free Scene radio station. "dEF bASE, maintainer of The Havok BBS since 1993, has started the first information-focused scene radio. The first broadcast happened on the 12th of January 2001, and since then The Havok has been on air every second Saturday afternoon. Apart from fresh news and discussions you'll get live interviews with sceners done over the Net, and you can actively participate yourself during the broadcast using IRC & NetMeeting. The Havok can be accessed using the Internet and an audio player that supports Shoutcast."
Wild Bits: Wilby #6 released! "On April 10 (one day before this Hugi issue) Wilby #6, the 4096 bytes diskmag, was finally released. It also took part in the 4k intro compo of the Xuventude Galicia Net Party 2001. Not much content this time, though."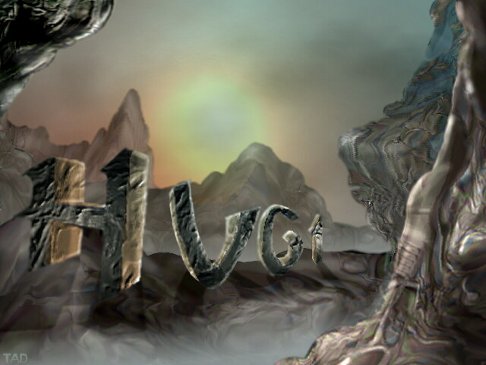 WildMag: Issue 4 coming after Mekka. "The fourth issue of the German-language diskmag WildMag will be released shortly after Mekka & Symposium 2001. Contrary to original plans, this issue will not be dealing with the topic 'pixel graphics' as the staff did not receive enough articles on it. Instead, it will be a 'Mekka 2001 Special'. Mad/os and The Update are planning to do a lot of interviews and surveys at the party. There are going to be live reports and probably a lot of spontaneous ideas. All in all this issue is supposed to become more wild than its predecessors - whatever this means."