Blast from the past:
Mantronix of Phenomena
Written by Magic of Nah-Kolor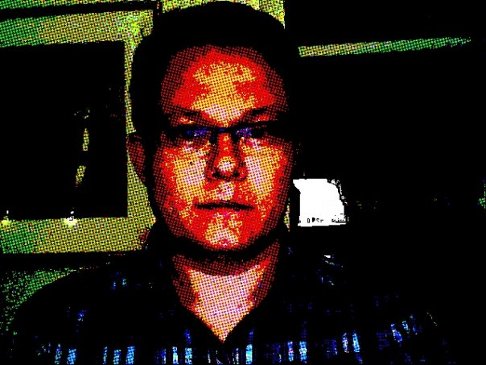 Magic:
Please introduce yourself. What did you do on the demoscene, which groups have you been in and what is it you are doing anno domini 2012?
Mantronix:
Hi everyone, I am Martin 'Mantronix' Wall, an Amiga demoscene musician, most active 1988-1992. I was a member of groups like Warfalcons, Fairlight, Razor 1911 and ended up in Phenomena, which is the group I was in when I left the scene. I was perhaps most known for being half of the musician duo 'Mantronix & Tip'. I also created and contributed to a few Amiga game soundtracks. In 1994 I went on to start an audio production studio while studying at the university, and I kept on doing music, but in a more 'real' setting, i.e. sequencing instead of tracking. I produced a couple of sample CDs, among others 'Dance Tools' for Ensoniq, did various studio recordings, and high-end audio editing of classical music. In 1998 I closed down the studio, graduated from university and started working. But I kept making music, and was in a band for a little while, which in the end did not lead to anywhere. But we had a lot of fun. Then I guess life took over in and after a while I was pursuing a career, starting a family, got mortgages etc. etc. I now have a wonderful family of 3 kids, 8, 6 and 4, and live happily in the southern part of Sweden. Last year I also invested in a home studio (iMac, Cubase and various audio software and virtual instruments). So I am back to making music again, for strictly my own pleasure, and I am still learning to handle my equipment. The first track I made was released on 'Sound of Scenesat 2', called 'Neutron Chase'.
Magic:
If you have a homestudio for strictly your own pleasure what job do you fullfill to earn your income? Could it be a possibility you will earn a living in music one day?
Mantronix:
To be honest, I do not expect (nor aspire) to making a living from music, but would not say no to creating additional income if the opportunity presented itself. I have tried doing music and audio production full time when I had my own company, and by doing that some of the joy and pleasure was lost. At the moment (and I don't expect that to change) I compose and produce music for two reasons: my own pleasure, and to (possibly) please others. Being a family man I need stable income. During my professional life (outside music) I have moved in different directions. I have had various jobs within IT and HR. At the moment I am combining both IT and HR at Sony Ericsson (soon to be Sony) in an interesting way, but I am (soon) on my way to new challenges at Alfa Laval.
Magic:
You mentioned Neutron Chase as the track which was the first one you made since your 'comeback'. What can you tell us about the process of making this track?
Mantronix:
Well, I recently (beginning of 2011) set up a home studio, after being without music gear for a long time, apart from my piano. I was quite MIDI-savvy back in 1995, and used only out-board gear at the time, but I never got into the whole DAW/VSTi thing until now. It is not much different from using outboard gear (and I think I had a lot of benefit from previous experience), apart from the fact that the possibilities today are almost infinite, which can be daunting sometimes. Actually the harmonies in 'Neutron Chase' were originally composed with an Amiga module in mind a long time ago (like 20 years). But I never managed to get that down and into something for the Amiga. I remember that I was particularly pleased with those chord progressions and part of the arpeggios at the time. When starting to learn using my new music gear I just re-used it to get something going. One thing led to another (it sort of happened by itself) and out came this song. I spent quite a lot of time writing the melody (which is new) and producing the track, but the composition was like 50% finished in my head when I started.
Magic:
You told me earlier that you live in the southern part of Sweden. What's life like there?
Mantronix:
Life is really good actually. We have lots nice nature, and the cities of Malmo and Copenhagen closeby if you need big city life. Swedish society is not perfect, but speaking to my international colleagues and friends I get a feeling we are a bit ahead when it comes to living standards, economy (at least at the moment), work hours, equality, freedom to roam, diversity etc. I spoke to a good friend who has lived in the US for 10 years, and even though he makes a lot less money than he would have if he stayed in the US, he still feels his quality of life is so much better here. Also, someone told me the other day that they read in a book that for an "optimal life" (whatever that is) you should be born in Scandinavia, get your education there, then move on to Asia to build your career, then to the US to harvest money, and as a final step when starting a family etc. move back to Scandinavia. I believe this to hold some bearing. My biggest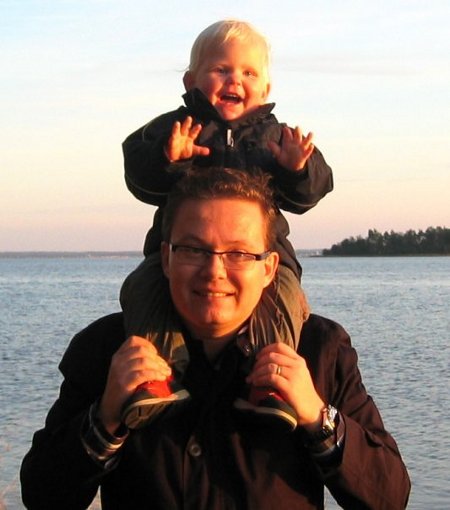 objection to life in southern Sweden is the climate, we get too short summers usually, and a bit too long winters to my taste.
Magic:
How would you describe a normal day in the life of Martin Wall?
Mantronix:
Ahh, I guess it is very typical for a parent of small children with a career. We get up at 06:30, get the kids ready, I usually drop them off at school and kindergarten. Then it's on to work, which is a 30 min drive. After work there is often a kid-related activity to happen (like sports or choir) before dinner time. When the kids are to bed there might be time for some exercise, TV, musicmaking or Xbox. Sounds pretty boring, but it really isn't :-), quite exhausting sometimes though. I try to maintain a healthy work/life balance but it is hard at times. Most of us need a combination of family, friends, work and recreation to feel well, and that goes for me too.
Magic:
How would you describe the cooperation with Tip back in the old days?
Mantronix:
It was a great co-operation, based on close friendship. Robert (Tip) was and is very visionary and experimental, I was more traditional and perhaps technical in terms of musical harmony and production techniques. In other words we had different takes on things, and that is something that I think we both benefited from. When I think back on it, we almost never made a track from start to finish together, but we were always giving each other feedback and ideas. We cooperated on many tracks, but most tracks were either more 'Mantronix' or more 'Tip'. We had a gentlemen's agreement to release all tracks under our co-operation name.
Magic:
The music inside the Voyage demo by Razor 1911 and inside the Joyride demo by Phenomena: More Mantronix or more Tip? Please comment...
Mantronix:
Voyage demo by Razor 1911: This track is 100% done by me, but was released under the co-op due to our agreement as previously explained. It took me roughly two months (in my spare time obviously) to create it, and to get it under 200kb which was the limit for the Voyage demo.
Joyride by Phenomena: This track is 100% Tip, and again released under the co-op. If I remember correctly the samples are pretty much borrowed from Bruno, but I don't remember the title of his original track. Robert used them and created something quite different, with a very nice ambience and feel to it I think.
Magic:
How come you didn't cooperate with Tip on the track used in perhaps one of the best Amiga 500 demos ever, Enigma by Phenomena?
Mantronix:
Good question. I think I was still in Razor 1911 at the time, and I know this track was started by Firefox. He did the first up-beat part, but without the lead voice. Tip did the slow part almost in whole, and maybe (not sure) the funky final part was more co-op. When it came to lead sound for the up-beat part I remember Tip tried a lot of sounds, but ended up using a lead sound that I created and used in one of the songs of Crystal Symphonies 1. I believe that mod was called "Hidden Truths". So that is my share of the 'A Final Hyperbase' module. This is of course subject to partial memory loss, since it was a long time ago.
Magic:
Looking back on your demoscene years, which memories directly come to mind? Please share them!
Mantronix:
Sorry, but I am bulleting this:
* All the friends I made, some very special, and some of which I still keep in touch with, Facebook has helped there...
* Being part of true computer love - a special kind of love shared by all sceners, starting with the C64 and continuing on to the Amiga.
* The times spent in my and other peoples places watching demos, making music and playing games.
* All the fun, excitement and crazy times at the many parties I visited.
* The competitive component of the scene. Some highlights for me: Razor's Voyage finishing 3rd in the demo competition at the Party (which had fierce competition), and also winning the music competition at the Party 1991 with 'Overload'. Being at the top of the Eurochart at one time was also fun.
To sum it up, it was a fantastic time in my life. A combination of friendship and different artistic expressions through the computer that was appreciated and shared by many people, which made it even more rewarding and inspiring. No regrets!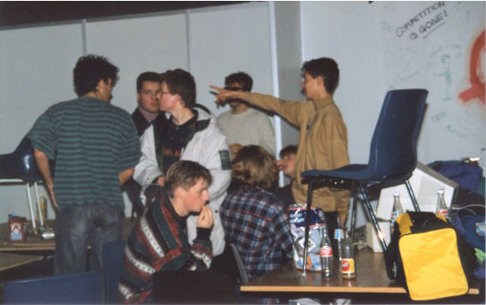 Epilogue
Magic:
Are you still in contact today with members from your old groups like Razor 1911, Phenomena or Maniacs of Noise?
Mantronix:
Not to a large extent during my absent years, although Facebook has changed that quite a bit. I am part of some FB groups that cover the Amiga/C64 scene and that is a lot of fun to see. Also, I have quite a few old sceners as part of my FB friend network. Me and Robert (Tip) have also stayed in touch, although less frequently. It's been a few years now since I last saw him, but we exchange a few e-mails now and then. In my last e-mail I brought the Renoise software to his attention :-)
Magic:
Please use these 15 minutes of demoscene fame to air whatever you want to say, greet or tell. You have the keyboard now. Use it in your advantage!
Mantronix:
I won't mention names, but I have met some totally amazing people through the scene. Either amazing in their brilliance, weirdness or sociability, usually in a combination of these. I just want to say a big thank you for all of their contributions to my scene experience, which goes on...
Links related to this interview
Neutron Chase track by Mantronix on soundcloud
Voyage by Razor 1911 Amiga demo from 1991
Joyride by Phenomena Amiga demo from 1991
Mantronix Amiga modules
Magic