The Dynamic Duo: GRX and Zonbie of PandaCube
Hugi has an exclusive interview with the main coder and graphics artist of the demogroup that won the Revision 2011 PC demo competition.
Interview done by Magic of Nah-Kolor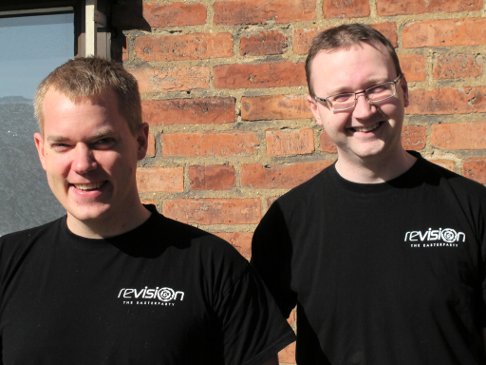 Magic:
Please introduce yourselves. What's your history on the demoscene?
GRX:
Hi, I'm GRX, from Germany. I'm the programmer behind PandaCube. I first found out about the demoscene sometime in the mid 90's. A friend of mine showed me some impressive Amiga Demos. Back in those days, I was thinking about visiting different demo parties, but in the end it did not work out, because I could not afford the train tickets. About 1998 I started to program graphics effects on PC (DOS / Win95) myself. I kept my interest in graphics programming and loosely followed the demoscene. In 2008 I had the opportunity to visit my first demo party: Breakpoint. I really enjoyed my time there and got motivated to take part in the PC Demo compo the next year. I had been releasing some code samples under PandaCube and asked Zonbie to help me out making the first real PandaCube demo: PC-03: On/Off.
Zonbie:
I'm Zonbie, from the UK and the main artist for PandaCube. I got interested in the demoscene way back in the DOS days, and have kept watching throughout the years. (I watched a lot of the PC Demo and 64K demos.) When GRX said he wanted to make a demo for Breakpoint 2009, I was very interested. I like the scene, so to be part of it, is great. The first demo we did was really simple, after that, with Breakpoint 2010 we did more, although I did not attend the party (wish I had!). So when Revision came up I went along, and enjoyed it so much, I want to go back this year!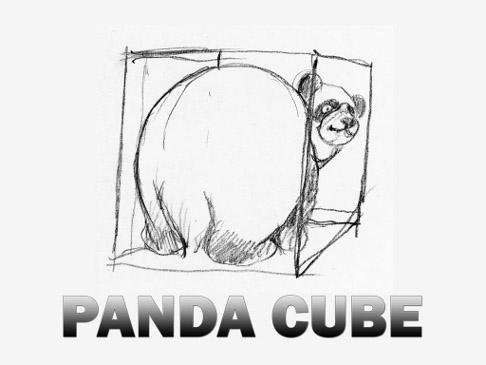 Magic:
You are members of the group PandaCube. What is this group about?
Zonbie:
PandaCube is all about making fun demos, we like doing more upbeat, art heavy demos with a more classic (and loud!) demo style soundtrack. We are also trying to push new ideas for each demo, expanding on what we have. The tech is evolving from year to year, and for art I always create something new for each demo, often with a central idea. We seem to enjoy the "flyby" style approach.
GRX:
A lot of demo groups nowadays try to make very artsy and stylized Demos, with slow and melodic soundtracks. I like my Demos to be fast paced and exciting. I remember clearly, how some people cheered for our first demo. I think they really liked the pumping trance style music. For our Demos, I try to adapt the newest available graphics technology and play around with new effects every year. Up to now we have been releasing one Demo per year.
Magic:
What's the origin of the name of your group? Why PandaCube? What do guys have with pandas?
GRX:
In 2004/2005 I studied Computer Science in the USA for a year. I wanted to visit the E3 Trade Show in LA, but as this is a games industry only event, only gaming press or employees from the games industry can get access. So I decided to open up a games company to get access. In a brainstorming meeting with a couple of my college friends we tried to find a name fitting a games company. This is how PandaCube came into existence. I have been using the name ever since and asked a friend (a very talented graphic designer) to make me an Icon for the PandaCube name. This is where the pencil drawing of the fat-ass Panda within a Cube comes from. I like Pandas. They seem to never get stressed about anything.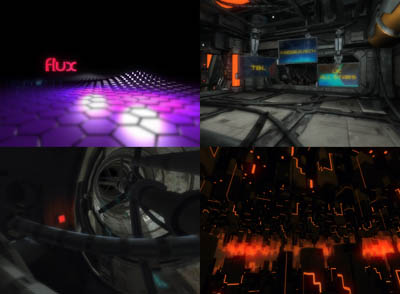 Magic:
PandaCube won the Revision 2011 PC demo competition. What can you tell us about this demo and victory?
Zonbie:
It was absolutely brilliant to win, we pushed right through the weekend, trying to finish, but in the end, the party release was in an unfinished state. All the elements were there, but we had no time to polish. It was fantastic to win Revision. We did a post party (PPR) release to finalise the demo (and fix a few errors!). It was a great party, and fun to be a part of, to win was the icing on the cake!
GRX:
After reaching the 3rd place twice in 2009 and 2010, it was a great achievement to win the PC Demo compo at Revision 2011. The push for finishing the Demo at the Party was very exhausting though. I barely got any sleep last year. This year we will come to Revision again, hopefully I will be able to sleep a bit more. If you have only seen the party release, you should get the PPR release from pouet.net (final version link). The quality difference is substantial.
Magic:
Any new PandaCube demo in the making for Revision 2012? What can you tell us about this demo?
GRX:
We are currently crunching on the new Demo. The plan for this year is to have a fully polished release on the Revision party, not 5 weeks later...
Zonbie:
We have some new tech and some new ideas to try out (including some new authoring techniques). I don't want to give too much away, but we have a new musician for this demo, a new theme, but it's too early to say much else other than it should be great!
Magic:
On Pouet.net I can see the three PandaCube demos: PC-03: on/off, PC-04: partycle and PC-05: flux. What can you tell us about PC-01 and PC-02? And why are they not added to Pouet.net? :)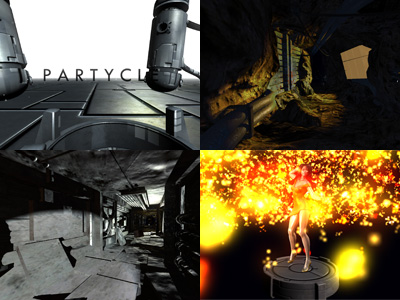 GRX:
PC-01 and PC-02 are not Demos. They were coding samples, which I used when I applied at different companies during my job hunt in 2008. For that reason, they are not on Pouet, but they are still available on our Website PandaCube.de. Unfortunately our website is not kept up to date. We are planning on redoing the whole webpage design though.
Magic:
How do you guys make your demos? Do you for example have your own demotool like a lot of other groups e.g. Farbrausch and Braincontrol have?
GRX:
I built the PandaCube framework from scratch for PC-03 and have been expanding the functionality since. We are using a couple of external packages like FMOD, zlib, tinyxml, but the rest is written by me.
Zonbie:
For the theme and design of the last few demos, I have come up with a base idea and then we expand and add. Everyone gets involved. I build all the art in MAX and export it with Collada. Collada is a big help, since on our first two demos we used OBJ – and so we were restricted to one UV set. Having multiple UV sets has opened up possibilities on the effects side. I often plan out how each scene will look, work out how to best get it in the engine and then optimise as much as I can with the time allowed. We currently switched to a new materials system, so it is much faster for me to edit and tweak settings in the engine. I built some scripts to reduce export times. Finding solutions for realizing concept ideas and optimising art assets are big parts too. The engine is pretty fast, but it always helps to try and squeeze the last bit out of it, so that it runs on slower hardware as well. I also do some storyboards and some concepts. We also have Miguelito and Bianca to help out with concept art where needed. We have also had a couple of other artists help out on some of the demos too. I tend to help getting their stuff into the engine.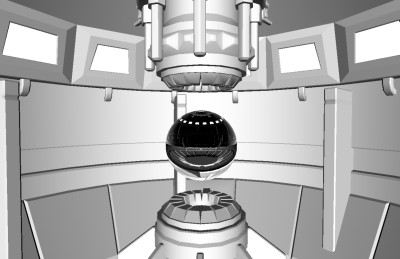 GRX:
We also build our splines (for cameras or moving objects) within the framework. A lot of our systems can be reloaded, while the framework is running, cutting down on turnaround / loading times. Some systems are clunkier than others, but overall I am really happy about the quality of the framework.
Magic:
I noticed above that Zonbie lives in the UK while GRX lives in Germany. How did you guys team up in PandaCube? Do you guys meet in real life as well? Finally how does this distance interfere with working on a demo?
GRX:
I guess, I need to clear this up: Both of us live in Malmö, Sweden at this time. We do work for the same company, so we meet every day at work. Obviously that helps a lot when organizing and synching a production for a PC Demo.
Magic:
What you think about the demoscene of today compared to the demoscene you guys have known from the 90's?
GRX:
It feels like the demoscene has matured and professionalized. The quality of the top productions has increased immensely. At the same time, the quality expectations have risen as well. This has raised the bar to enter the demoscene quite a bit. We got a lot of negative comments on our first demo, which we proudly display in the loader for PC-03 On/Off Redux (final link on the PC-03 release on pouet.net). We showed PC-03 Redux out-of-competition on the big screen at Breakpoint 2010 and got a lot of positive feedback from that.
Zonbie:
The scene has always shown some big ideas and put them out there, but more recently, as GRX says, the quality of the demos has risen considerably. I think for PC Demo, people are getting more and more ambitious about the scale of their productions, and a lot of groups put out some really polished visuals and design works. Having said that, 4K and 64K intros in particular have done so much more recently. They are always very impressive. I think the trend is more towards quality then quantity, and I think it's a great way forward for the scene in general to further raise the visual and technical bar.
Magic:
You guys have won the Revision 2011 PC demo competition. You are now part of a select group of sceners who won this competition at easter. Which groups or sceners do you look up to in the demoscene anno domini 2012?
GRX:
I have always been a fan of Farbrausch and Fairlight. The FR-041 debris demo still stands out as one of the best demos I have seen to date. What I like about Fairlight, is that they seem to think about the next cool effect that they want to make and then build a demo around the tech. Smash's blog is a very interesting read. I think PandaCube has still a bit of catching up to do, until we can compete technologically with an A-Level production of any of these groups. Having said that, our ambition is to match and exceed the quality of any established demo group in the years to come.
Zonbie:
I always liked Farbrausch, Fairlight, ASD and Conspiracy for the 64K and PC Demos. I really like Cubicle's 4K intros. My favourite recent Amiga demo was "We Come In Peace" by Elude. (Read the Making of 'We Come In Peace' elsewhere in this issue -ed) It is always interesting to see what new demos come out each year at the parties. I try to watch as many as possible.
GRX:
Beta from Still is probably my favourite Demo of the last year. It has a very nice concept and is executed extremely well.
Magic:
We have now reached the last question of this interview. Thank you for participating! Do you have anything to say before we close down?
Zonbie:
Hope to see you all at Revision 2012!
GRX:
If any of the readers want to meet us in person, just come around and say Hello. We normally sit next to the Abyss / Nuance guys.
Links Related To This Article
Official PandaCube Website
PandaCube channel at Youtube
PandaCube releases at Pouet.net
Magic