Adok, Magic and kas1e present you a new edition of Diskmag Galore - the collection of reviews of recent diskmags.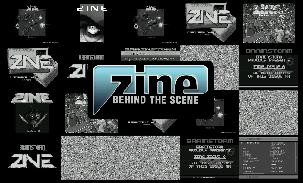 PC: Zine #14 (Adok)
The latest issue of the big magazine Zine came out in August 2010, more than two years later than originally planned. For some reason the former engine coder Smash was no longer available, and since the magazine staff was not able to create Zine with his pieces of code without his help, they were in need of a new coder. FishGuy876 is the name of this new coder. He re-built the engine from scratch, alas technically it is not quite as sophisticated as the previous engine since it uses bitmaps instead of scalable vector graphics, which is the reason for the huge archive size (140 MB). The engine simply displays screenshots of preformatted articles. Navigation is similar as in the previous issue and graphics and music are nice. The content is also interesting, including among other things an interview with academy award winner Kevin Mack, making-of reports of 'Linger in the shadows', 'Rupture' and 'Happiness is around the bend' as well as articles on the history of the scene in Portugal, Russia, Austria and Hungary. What a pity that the font is so small and hard to read, which has had the effect upon me that I tended to skim through the articles rather than read them thoroughly.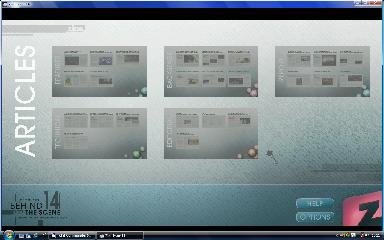 PC: Byteshop #1 (Adok)
This magazine from September 2011 is the first issue of a project closed had announced at pouet.net a couple of weeks before. Originally aimed to be a 4k diskmag, it turned out to be a bit larger, but still within the 64k limit. The engine is very simple, displaying the articles as a contiguous text file in text mode. The contents are not really outstanding, but at least the magazine contains fresh charts, which we have not seen in the PC demoscene for ages.
PC: Mudia Art #4 (Adok)
Two years late Mudia Art #4 appeared in October 2011. Like the previous issues the focus of this magazine is with art and music. It contains a good graphical user interface with a decent soundtrack and reviews of a couple of artpacks/musicdisks as well as interviews with the three main featured artists of this issue, Jester, Bridgeclaw and Jazz. The interviews are quite interesting, so it's definitely worth reading.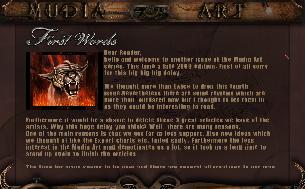 C64: Vandalism News #58 (Magic)
Vandalism News is being released since 1990 until this very day! Vandalism News #58 was released at the Syntax 2011 party in Australia in November 2011. It was the fourth issue released in 2011! This alone deserves a lot of respect. The issues don't a huge content be the decision to release 4 issues in one year (instead of for example 1 big issue per year) is probably a good one. (But we don't follow this concept anyway :))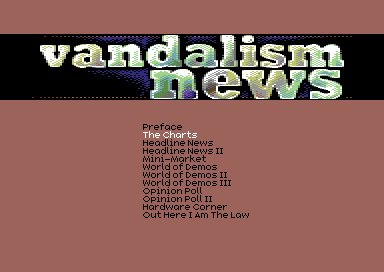 Vandalism News #58 starts with a very nice intro! Multi-layer futuristic landscape with scroll text. The graphics are fantastic. The intro was made by Pal of Offence. After pressing space the magazine loads and starts with a great Vandalism News logo!
Read here the exact credits for this new issue. It's to large to mention here in full.
Vandalism News brings the latest party reports, nice interviews, hot news, information about released demos and much much more together. And this issue is no exception. I admit I read this issue in WinVice emulator. Imho the loading of an article takes just a little too long but who is counting anyway. The contents are varied and very nice. Also graphician Joe who has been supporting Vandalism news for some years now is back with some great graphics! Other articles worth reading in this issue are: Silesia 5 report, Interview STE'86 and Headline news. On a personal note the adverts article was nice to read! Anno 2012 there are only a few real addresses noted in the adverts. (Like Jazzcat of Vandalism news with POBOX 738.) But mostly it's just e-mail adresses or websites.
All in all a great package of gfx, music and contents. We hope to read Vandalism News for years to come!
C64: Attitude #12 (Adok)
Attitude by TRIAD and Oxyron is a diskmag made in Germany that comes out once to twice per year or so. The latest issue, #12, is from July 2011. The magazine deals both with the cracking and demo scenes on C64. The types of contents are similar to PC diskmags: editorial, news, charts, party reports (this issue: Datastorm 2011), various articles ("causeries", this time including an article on graphics on C64), opinions, tutorials, interviews and an address list. In some of the sections, such as tutorials and interviews, there is only one text in this issue.
The magazine starts with a little intro (scroller with background graphics). Then you get to the menu where you select the section on the left and the article on the right. The articles are displayed in a rectangular frame with the height larger than width, which makes reading easier than what it would be if the full width of the screen were occupied with text. There are six different background tunes from Avalon, Ne7, Dalezy, X-Jammer, Wiklund and Magnar. All in all a nice little issue.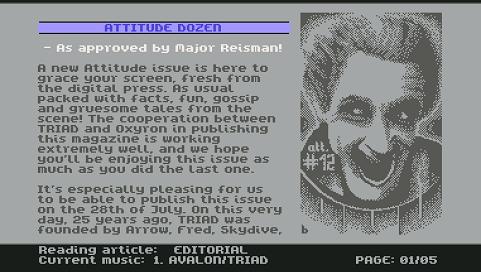 C64: Scene World #18 (Adok)
Scene World, of which issue 18 was released in March 2012, has some things in common with Attitude while in some other respects it's different. What's similar is the style of the intro, a scroller with some background graphics. Content-wise, the similarities comprise editorial, news (although they are divided into PAL and NTSC news), interviews (including John Draper aka Captain Crunch in this issue, the legendary phone phreak), party reports and charts. What's different is that there are also game-related articles in this magazine and the control of the magazine is quite different. While in Attitude you easily navigate through the menus and flip pages using the cursor keys, in Scene World there is a mouse cursor which you have to move. Scrolling is done by moving the mouse cursor to the upper or lower half of the text window and pressing space. The farther away you are from the center, the more it will scroll. Like in Attitude there are several background tunes. The number of articles is moderate. A nice issue overall.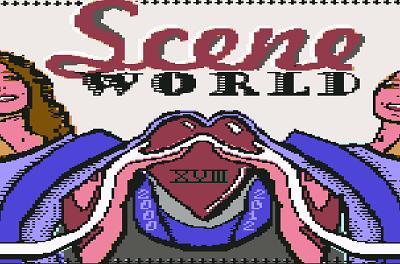 Amiga: Versus #6 (kas1e)
Amiga diskmags have something. Looking back in time they belong to the best known and the best ones. Can you remember master pieces like RAW, SeenPoint, ROM and others? Diskmags started on the Commodore 64, still, on Amiga they got most attention, and over the years a lot of diskmags have been released on the Amiga.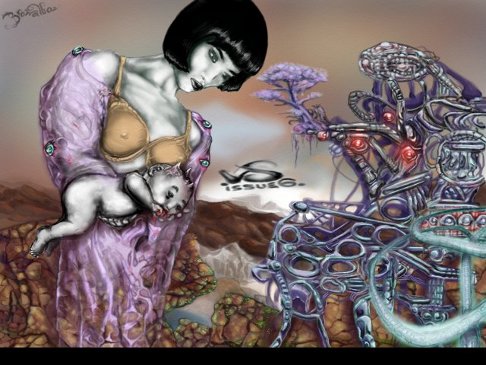 Of course, as the world changed, the interest in the demoscene and diskmags also changed a bit (especially when the Internet went global), and you could not find tons of new and old diskmags released every week on any of the platforms. There are still some "monsters" alive, like HUGI and ZINE on PC, but from time to time, even on AmigaOS4 some diskmags get released. Like for example The Vague, Panorama engine to handle HUGI diskmags as well, and, for example, Versus, about which we will say a few words.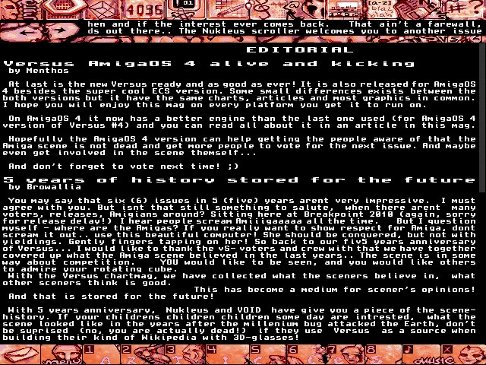 Versus mostly covers OSC and very old Amigas, and the contents of the previous issues were debatable (Versus didn't get too many positive repsonses from the Amiga community, maybe because of the different way of writing articles), but the latest issue (number 6) is worth checking. The real reason to check is because that issue is available natively on AmigaOS4 and has related content. It also comes with a new engine for os4 done by Menthos, called The Torth (you can read about the engine on Menthos's site here). The idea behind The Torth was to make something like Panorama, but for amigaos4, with usage of OpenGL (currently MiniGL on os4), so anyone can use it to make aos4 diskmags.
But let's get back to Versus itself. This is the main site of the diskmag, and here you can download it. The Amigaos4 version of issue 6 supports two kinds of resolution: small one (640x480) and big one (1280x960), so it somehow even fits modern standards. The design is "OK" (of course something like HUGI with real art is much better), but still it reminds me a bit of old diskmags from the past, so it can be intersting for some, and the music is nice (module done by CurtCool).
Versus itself has the usual contents like charts, articles, reports and other stuff. And while the previous issues sometimes weren't very interesting content-wise, issue6 is an exception to the good side. There is not a lot of small articles like before, there are fewer, but they are more matured compared with previous issues.
Issue 6 came out in in April 2010 (so exactly 2 years ago), and we can hope that there will be another one. It's always interesting to see some content done especially for Amiga and modern AmigaOS4.
Adok, Magic & kas1e