Screen it! - Demo Reviews Part 1
Reviews written by KeyJ of Kakiarts and Duckers of Outracks
Screenshots taken by KeyJ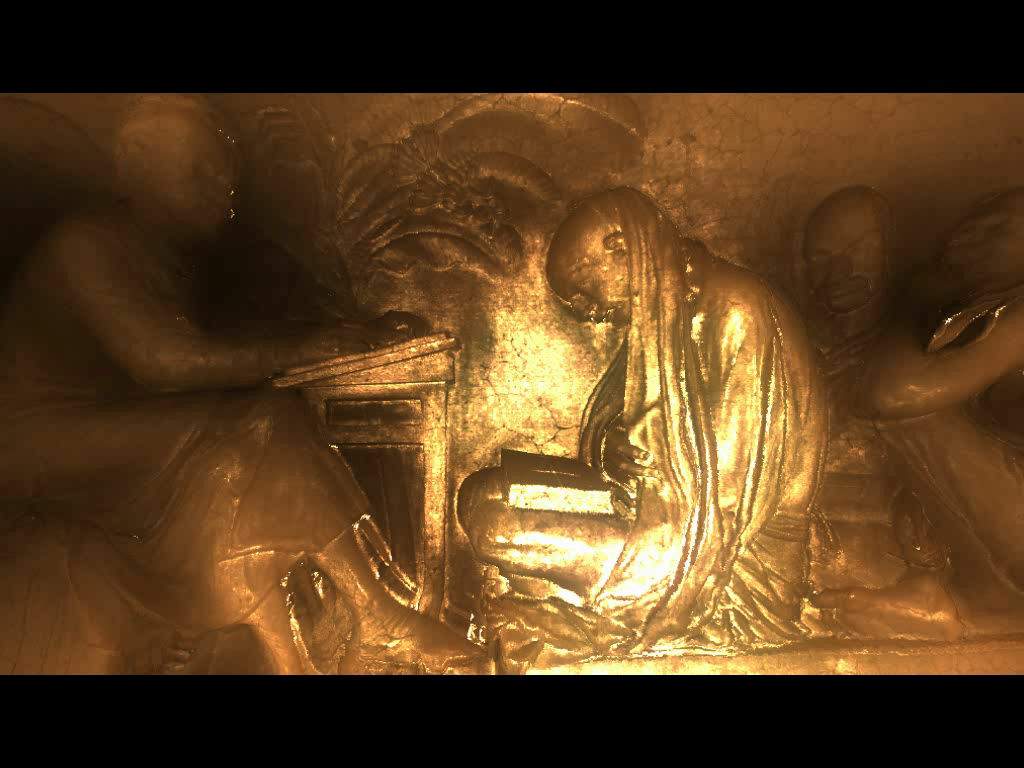 KeyJ:
Every once in a while, ASD makes not only a great, but a truly epic demo, and this is one of them. The direct successor to 'Iconoclast' is a journey through all aspects of life and then some. It has been criticized for being too pretentious, so the concept is not everyone's cup of tea. The sheer amount and quality of content, however, certainly is. In the artistic department, there's a very elaborate soundtrack and beautiful 2D graphics; only the modelling is a bit crude in places. But the really stunning part is the code: Not only does it run smoothly on slightly older hardware (it was even developed on a measly GeForce FX 5600!), it's also completely hand-written. This means that no scripting tools or similar were used in the production process, which is quite astonishing. On the other hand, it's perfectly feasible that tool-based approaches maybe wouldn't have worked for 'Lifeforce': The demo isn't just an isolated set of static scenes, there are complex transitions everywhere. There's also permanent movement, but mostly not of the 'translate and rotate object' type that could be scripted easily -- instead, there are growing objects, objects following these growing objects, objects interacting with them and so on.
Graphics:       5/6
Music: 	        6/6
Effects:        5/6
Concept:        5/6

Overall:        6/6
Duckers:
We can't say with a straight face that we watch a new ASD demo with the same expectation level as a demo by any other group. Not anymore, we don't. They brought this on themselves by taking the rest of the scene with our pants down serving us a completely breathtaking risky planet some four years ago. Then ling up industry-leading demos which felt like tasty follow-ups such as 'Iconoclast' and 'Animal Attraction', and some very different, innovative and greatly executed demos: 'Beyond the walls of eryx' and 'The evolution of vision'. 'Lifeforce' adds another eight and a half minute to the never ending ASD-trip (slight fun intended) through loosely connected scenes with smooth and, at times, completely orgasmic transitions. Navis proves once again that he is the unparalleled king of not making you notice he is actually showing you various scenes with no logical connection whatsoever, and still amusing you and filling you with awe... and confusion. Luckily, it comes with a manual to help you comprehend what you just experienced at a spiritual level. Not all drugs do that. To be technical: It has some awesome graphics, it has some disgustingly ugly graphics. Music is partly great, partly somewhat boring. It has some brand new effects, but also some heavily recycled ones. It's original, yet it's basically just more of what you have already perfected in your previous works. We all know you are tops of the pops, having pulled original, sexy and brilliantly executed concepts out of your magical hat for years. I think the life experience from this demo is: Maybe you should try to cover a slightly smaller concept than 'all of life' in a demo. It's a bit too personal, a bit too complicated, and a bit too big, even for the big screen. In the demoscene, falling cubes are often enough to touch the audience in a highly emotional way.
Graphics:       5/6
Music: 	        4/6
Effects:        6/6
Concept:        3/6

Overall:        5/6
---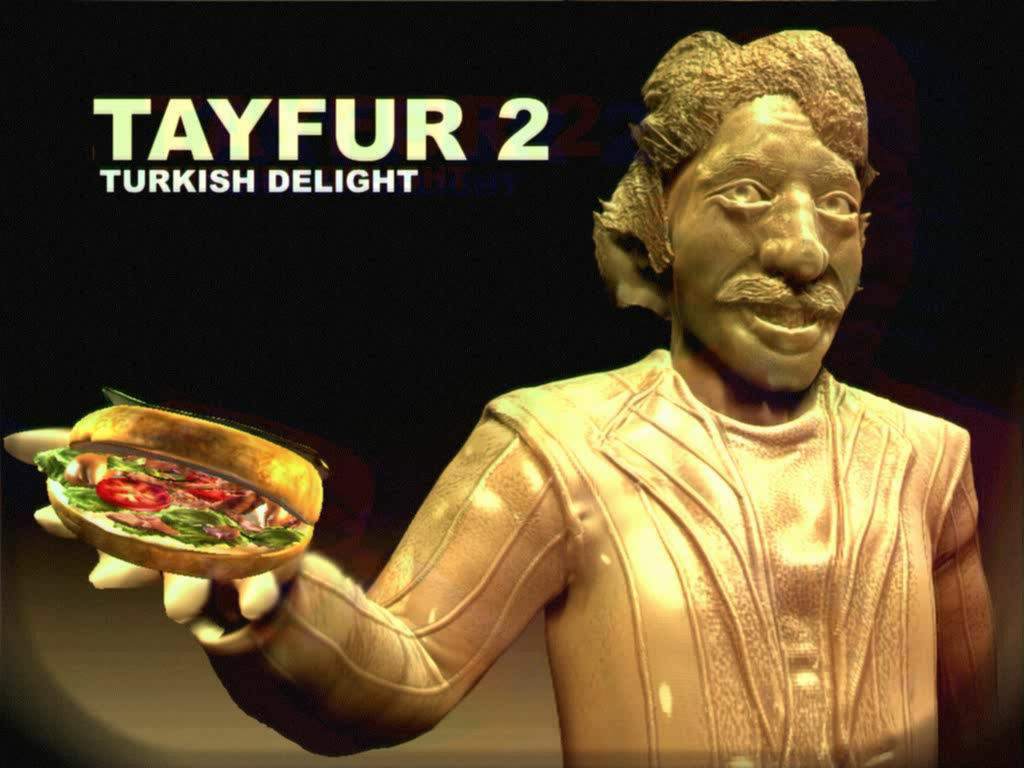 Turkish Delight by Speckdrumm [Direct3D]
KeyJ:
I still can't tell if this demo is serious or not ... given the group's reputation, it's perhaps a little bit of both. Anyway, the quality of the production is unquestionable -- there's a clearly defined theme, a fitting soundtrack and really gorgeous 3D graphics. The models are easily on par with current commercial games, except maybe for the chef. The same goes for the materials: The textures and shaders are of outstandingly high quality. They might not be completely realistic, but they look very convincing. In particular, the statue at the end looks absolutely gorgeous. I still couldn't figure out if it's a high-poly 3D model, a low-poly model with good normal maps, or just a plain 2D perspective displacement mapping effect like in 'Lifeforce'. However, I want to criticize that the content is generally quite static and the animations are just standard scripted stuff for the most part. I also miss the awesome comic look shader/postprocessing stuff of the two 'Unreasonable' Speckdrumm demos.
Graphics:       5/6
Music: 	        3/6
Effects:        3/6
Concept:        4/6

Overall:        4/6
Duckers:
We know Speckdrumm for their tasty alternative approach to demoscene funprods, where humor doesn't necessarily comprompise the technical, visual, or artistic (for that matter) aspects of the demo. Their latest installment from tUM07 is no exception. 'Tayfur 2: Turkish delight' takes on a ... Turkish theme, all complete with slightly up-bassed yalla music, kebab, shisha and envmapped shoes. It's actually fun, original and good looking, featuring shiny, bumpy surfaces and a cool, variated art style. It deserves kudos for doing something completely different, and doing it well. Allthough I certainly hope this isn't the beginning of a new era of Turkish-inspired demos.
Graphics:       3/6
Music: 	        3/6
Effects:        2/6
Concept:        3/6

Overall:        3/6
---
KeyJ:
The dormant group Rebels has been resurrected about two years ago and now they are back, delivering demos of good quality to a party near you. However, with 'good', I mean exactly that: 'New World' is a solid, good demo, but I found nothing in it that made me really cheer. But there's nothing bad about this demo either. The effects are decent: There's a 3D IFS fractal, a nice water surface shader, a nice (but slightly too long) tunnel scene and some other stuff. Oh, and it's multiplatform, which I think is a nice thing :)
Graphics:       3/6
Music: 	        3/6
Effects:        3/6
Concept:        3/6

Overall:        3/6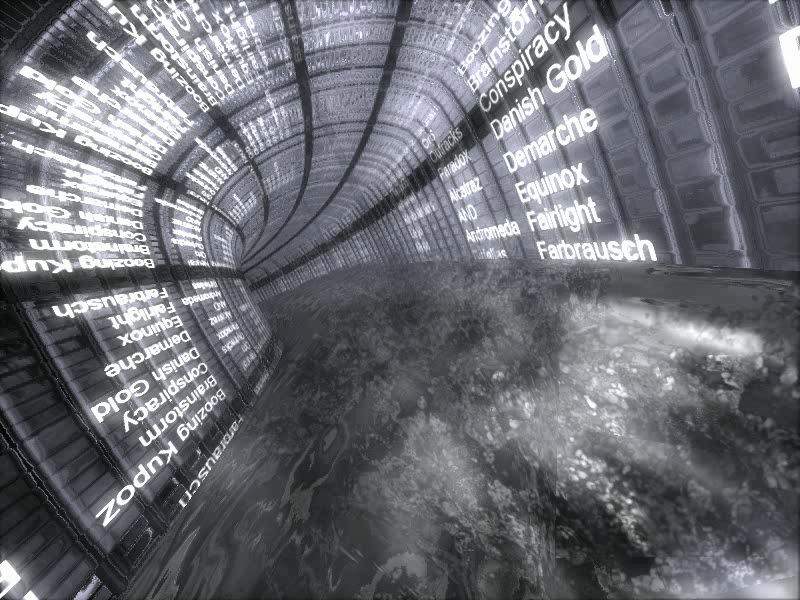 Duckers:
With fresh blood from the Norwegian demoscene, the old legendary group Rebels arises once again. 'New world' is obviously backed up by some strong artistic muscles from the old group, and thus the skills of the coders vamecum and mrwb (previously known from groups such as Boozing Kupos) are finally justified in a decent looking prod. It has some neat shading effect and is pleasantly composed. There is not much content, really, but it's okay because of its laidback and chillout attitude. Allthough it doesn't break any technical barriers, it's a great step up for the involved coders. Worth a watch, and we are certainly looking forward to more rebellious productions.
Graphics:       2/6
Music: 	        3/6
Effects:        3/6
Concept:        3/6

Overall:        3/6
---
Media Error by Fairlight [Direct3D]
KeyJ:
This demo is really controversial: There are people who absolutely love it, and there are some who heavily criticize it for being a perfect example of inconsistency. I belong to the latter group, but I absolutely acknowledge the fact that all the single components this demo is made of are absolutely top-notch. There are great models and graphics, fantastic character animation and decent overall design. The same goes for the code: the only thing that's not perfect about it is speed. The demo is made for high-end machines, and it shows. But other than that, it's just awesome. There's the best fisheye effect I have seen, there are very nice clouds, and then there's the smokebox effect which is inspired by a nVidia techdemo - except that it also runs on older hardware, albeit with a lower resolution. Finally, there's some nifty postprocessing, including depth-of-field blurring and some deliberate RGB distortions.
Graphics:       5/6
Music: 	        2/6
Effects:        6/6
Concept:        1/6

Overall:        2/6
Duckers:
Fairlight has been around for about as long as the demoscene and should need no introduction. 'Media error' is another newschool breakbeat and grafitti-themed demo from this legendary group. It starts out with some really fresh distorted grafitti and 'growing geometry' scenes, which look really great and sound catchy. The effects are seen-before, as Fairlight holds the legal copyright for them and has already exploited that in several killer productions. The following scenes are somehow less consistent, although some cool 2d overlays keep a red (orange) line throughout the demo. Two coder-porn simulation effects are also stuffed in, but they feel somehow out of place. The demo ends abruptly with no worthy conclusion. However, 'Media Error's' strongest card is its stylized attitude and composition, which makes it feel coherent and massive. Quality as usual by Fairlight. I wonder where all those 58 megs go though.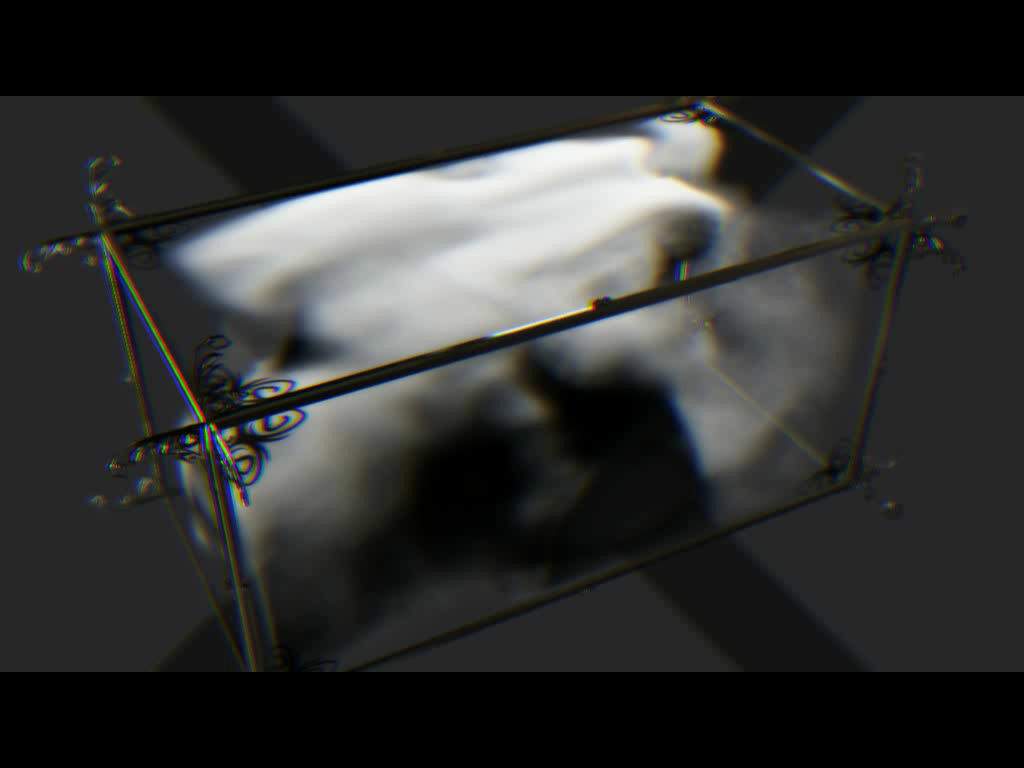 Graphics:       4/6         Concept:        5/6
Music: 	        4/6         Overall:        4/6
Effects:        4/6
---
KeyJ:
When the graphics card vendors introduced Shader Models 2.0 and 3.0, I knew that raytracing demos would inevitably come. In fact, there have already been some (more or less real-time) raytracing effects in demos and intros, but this one went far, far beyond all my expectations. So, what do we have? It's per-pixel raytracing on implicit surfaces, implemented using Pixel Shader 3.0. This sounds rather technical, but it definitely doesn't look this way :) In fact, 'tracie' manages to create incredibly smooth images with surprisingly few artifacts. Of course, a good graphics card is needed to enjoy this at a decent frame rate that does the smoothness justice, but it must be remembered that in this intro, really everything is rendered completely by the graphics card itself. And here we come to the best part: It's a 1k intro! With sound! OK, the music is a really, really simple MIDI tune, but anyway, I'm awestruck.
Graphics:       5/6
Music: 	        2/6
Effects:        6/6
Concept:        4/6

Overall:        5/6
Duckers:
What the...? Holy..! How did you..? Fuck you!
In other words: An AWESOME effect in nice colors; by all means the best 1k ever and compareable to good 4k's in quality. And they even managed to squeeze some music in there!
I give up. You win. This is simply impossible to compete with. Congratulations.
Graphics:       -/6         Concept:        -/6
Music: 	        5/6         Overall:        6/6
Effects:        6/6