Immortal 3 CD Review
Written by Bobic / back2roots.org & 4Sceners.de
Translation from German by Adok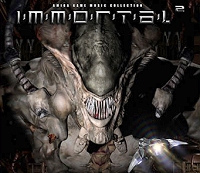 Videogame soundtrack CDs are not a short-lived phenomenon. Established shops such as Synsoniq distribute the acoustical pleasure, such as the sampler Immortal 3. Two CDs contain fantastic music in modern, lavishly produced versions from almost three dozens Amiga games, including unforgettable classics such as Turrican 2, Agony, Pinball Dreams, Ambermoon and Speedball 2. We'll explain what fantastic pleasure is waiting for you, what surprises this album contains and how it is related to the demoscene.
Music for computer games has meanwhile become more lavish, more complex and more diverse. Grandiose arrangements alternate with calm passages, perfectly accompanying the current situation in the game. There is hardly any game that comes without massive orchestral music or a licensed soundtrack. However, the musical score in XXL Hollywood format also has a disadvantage: it has become replaceable. The music of Call of Duty 2, for example, could be used in any other war game as well. Unforgettable melodies have become rare.
Gathering of the Stars
A bit more than 15 years ago, the situation was different. In the times of the 16-bit computer Amiga music artists such as Chris Hülsbeck, Richard Joseph, Jason Page and many others produced catchy tunes which brought them and their games cult status. Often you would spend days humming the melodies or buy a new game only because your favourite musician was involved. The recently released sampler Immortal 3 catapults the sound orgies of the past into the modern age. The soundtracks of 35, partly unforgettable Amiga games can be found on the two CDs with a clearly polished look. Most of these tunes have been mixed and arranged by their original composers! Producer Jan Zottmann got almost all of them back into the studio. Not only the aforementioned three musicians, but also Olof Gustafsson, Allister Brimble, Tim Wright and even Jochen Hippel gather here.
Silver disk Nr. 1
The first of the two audio CDs starts with a drum-beat. Chris Hülsbeck's Apidya Suite celebrates an enormous play. Played by a real orchestra with the appropriate emotion in every part, this masterpiece conveys a sensational atmosphere and perfectly gets you in the right mood for the next tune. Similarly great is the Pinball Dreams medley, which was created by Olof Gustafsson in person. If you know the original tune, you will recognize many elements and samples, but they have been enhanced and now sound much more modern. Hülsbeck sets new directions with his music of the second and third Turrican games. Although these tunes could be already found on his brilliant Turrican soundtrack CD and on another sampler, the master has managed to give the tracks a special touch.
The opening melody from Agony which casts a spell upon the listener with its wonderful piano sounds is almost the same as the original version, and yet it sounds great. Some other tracks, on the other hand, can hardly be recognized. This applies, for instance, to Ghouls'n Ghosts, which would fit perfectly in an Irish pub. The Castlekeep theme from Defender of the Crown, in which Jim Cuomo himself plays the woodwinds, is one of the most unusual tunes with its jazzy interpretation, and you need a while to get accustomed to it.
Unfortunately, Immortal 3 also has its weaknesses. For example, the remix of Bitmap Brothers' classic Gods sounds weak. Especially the vocals are much too soft - a more aggressive organ and most of all more powerful beats would have been a good thing. The title music of Disposable Hero has never been a catchy tune since it lacks a thorough melody. The remix itself sounds more like a technical playing-around than like real music, but it has some atmospherical moments. Another bad surprise is the remix of Fire & Ice, which not only lacks Cool Coyote's funny barking but also in general sounds weaker than the original version on Amiga 500!
Among the true miracles are the piano version of Ambermoon, played by Matthias Steinwachs, and Mike Clarke's Threatre of War, which is less known. To this category also belongs the soundtrack of Death Mask, one of the most diverse and best tunes of this sampler. The first CD also contains remixes from Alien Breed, The Chaos Engine, Aquaventura, Lotus 3 and The Plague, which sound pretty good.
Silver disk Nr. 2
The second CD contains two tunes by Jochen Hippel. He is considered the best German game musician next to Chris Hülsbeck, but he left the business already in 1992. After his surprising comeback on Immortal 2 with Lethal Xcess he dedicated himself to his masterpiece, the soundtrack of the shoot'em up Wings of Death. His arrangement of some of the best pieces from this game is very close to the original and very catchy. Happy whistling is granted! Technically this medley might sound a bit weak, but Hippel's melodies are still among the best of all times. His other work is the opening music from Amberstar. With its slow, emotional nature this piece already enchanted its listeners back in 1992, and after about five minutes its atmosphere was fully created - the musical climax was reached, and the listener was spoilt by a melodic passage with a degree of harmony and emotion which made one even forget the beautiful beginning minutes. Unfortunately this very part of the tune is missing in the remix, but apart from that the remix is really well done.
Similarly surprising as Jim Cuomo's appearance on the first CD is the appearance of a musician of whom one has not heard anything for a long while: Darius Zendeh. He wrote the music for the shoot'em up classic Katakis and remixed this piece for Immortal 3. This remix, however, cannot be regarded as a timeless classic, just like the original cannot. Everybody should also decide for themselves whether they like the heavy metal version of Speedball 2. In general, the tunes on the second CD make a heavy use of guitars. In Cardiaxx you hear electrical guitars wailing, Leander is a bit more rock-like, and in No Second Prize funk is ruling. Barry Leitch's Super Cars 2 partly sounds as if Bob Marley himself had been involved in it. Whether you like it, depends on your personal taste of music.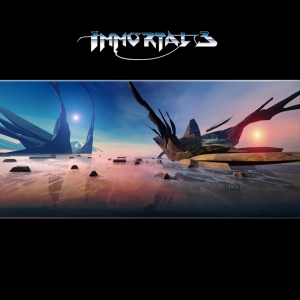 Probably the best song of the second disk, if not even of the whole album, is from Olof Gustafsson. With Pinball Fantasies the Swedish composer celebrates an electronic play of high class, with massive beats, top modern electro samples, mixed with typical Amiga sound, and he never forgets to think of the melody. Atmospherical moments are reached with Tim Wright's Shadow of the Best 2, while the music from Uridium 2, Overdrive, Obsession Pinball and also the Ork soundtrack by Tim Bartlett belong only to the middle class. For fans of hard music there's the technoid Elfmania soundtrack. The childish pieces from Brat and Trolls certainly don't fit every mood.
Conclusion
Although the music on the second CD is not always brilliant, Immortal 3 is a must-buy for all lovers of game soundtracks. It's not necessary to know the original pieces to realize with how much obsession and love for details the musicians have worked. Most tracks feature timeless, ingenious melodies. Moreover, Immortal 3 is different from many other released albums with retro-remixes because it's mostly the original musicians who worked on their tunes and so it isn't just a collection of fan-remixes. The artistic design of the booklet is also worth a praise. It is the graphical style of the fantasy artist Roger Dean who used to design almost all game packings by Psygnosis.
Distributor: Synsoniq Records
Price: EUR 24.95
Internet: http://www.amiga-immortal.com
Contents
CD1:
01. Apidya "Suite" (Hülsbeck)
02. Gods "Into the Wonderful" (Nation 12)
03. Theatre of Death (Clarke)
04. Ghouls'n Ghosts (Follin)
05. Turrican 2 (Hülsbeck)
06. Turrican 3 (Hülsbeck)
07. Fire and Ice (Page)
08. Pinball Dreams (Gustafsson)
09. Disposable Hero (Hoekman & Holt)
10. The Chaos Engine (Joseph)
11. Agony (Wright)
12. Death Mask "Something Evil" (Owens)
13. Defender of the Crown (Cuomo)
14. Lotus 3: The Ultimate Challenge (Phelan)
15. The Plague (Klaren)
16. Alien Breed (Brimble)
17. Aquaventura (Wright)
18. Ambermoon (Steinwachs)
CD2:
01. Wings of Death (Hippel)
02. No Second Prize (Steinwachs)
03. Speedball 2 "Brutal Deluxe" (Nation 12)
04. Brat (Lynne)
05. Amberstar (Hippel)
06. Shadow of the Beast 2 (Wright)
07. Uridium 2 (Page)
08. Cardiaxx (Simmonds)
09. Pinball Fantasies (Gustafsson)
10. Elfmania (Eeben)
11. Overdrive (Brimble)
12. Ork (Bartlett)
13. Leander (Simmonds)
14. Obsession "Desert Run" (Almered)
15. Katakis (Zendeh)
16. Super Cars 2 (Leitch)
17. Trolls (Nixon)
Info: The predecessors
Under Ruben Monteiro's leadership, the first Immortal CD was released in 1999. Monteiro, back then one of the few still active musicians in the dying Amiga game market, used this opportunity to publish his remixed versions of the soundtracks of Shadow of the Beast. In addition, the CD contained sound from games as Gunbee-F99 and The Final Odyssey, which were current but not highclass. With two pieces of Barry Leitch (Harlequin, Utopia), a bonus track to Alien Breed 3D and Monteiro's version of the Turrican theme, the start was successful, but from today's point of view it sounds a bit outdated.
Immortal 2 was already arranged by Jan Zottmann, which made the series more professional. It was him who reactivated Ron Klaren and Jochen Hippel in the new millennium. Their modern interpretations of Battle Squadron and Lethal Xcess are the climaxes of this sampler. Also X-Out, Lionheart, SWIV and James Pond contributed to the high quality, the last being in a sensationally unusual arrangement!
Info: Immortal 3 and the demoscene
Many musicians involved in this sampler made their first musical steps in the demoscene before they entered the game business. One of the best known ones from among them is Olof 'Blaizer' Gustafsson, who is working for Digital Illusions and is still active in the demoscene even today. The soundtracks for the last three Amiga demos of The Black Lotus (Silkcut, Requiem, Starstruck) were made by him. Equally deeply rooted in the demoscene are Matthew '4-mat' Simmonds, Bjorn 'Dr. Awesome' Lynne and Aleksi 'Heatbeat' Eeben. Jochen 'Mad Max' Hippel was mostly active in the Atari scene. Our Welcome to 4Sceners.de musician Fabian Del Priore also contibuted to this project. He created the remixes of Gods and Lotus 3.
Bobic
This article was originally published on www.4sceners.de in the German language. Thanks to Bobic for allowing us to publish his review in Hugi#34.