Diskmags Galore
Written by Adok and Magic
Prologue (written by Magic)
The year 2007 gave us the following magazines: Incube#4 (Russian/English), Savage#9 (Polish), Hugi#33 (English), Savage Charts #2 and #3 (Polish), Zine#12 (English), Hugi Special Edition #3 (English), and Pain#59 (English).
The languages have been mentioned on purpose in order to show you that English diskmags have become rare on the PC. A good thing is the newcomer on the PC platform. Zine has been released in 2007 after it was well promoted, Zine has a editor-in-chief with much experience in real life journalism, which can be noticed when reading Zine. Zine has a (more) professional approach not to be seen in any released diskmag till date. Zine's strength is also that every article features a good topic how small (or big) in size the article may be. Don't get me wrong. In my humble opinion Pain is still Pain, although Pain issue #59 wasn't as good as previous Pain issues (or perhaps according to the scene's expectations of Pain), Hugi is still Hugi and Savage is still Savage. There should be a place for all four magazines. It's nice to see Zine entered with such a good debut. My only 'concern', if I may speak in a term like this, is that I really hope Zine doesn't attract all good support that used to (partly) go to, for example, Pain and Hugi. (The release of the not so well supported Pain issue 59 could point in this direction.) But perhaps I am just totally wrong.
In anyway, the Hugi staff gives a warm cheers to all sceners active in the 'diskmagscene' and in 'demoscene journalism' and hopes to see a lot of great work by all of you in the future. Now this being said, we can finally start with the reviews.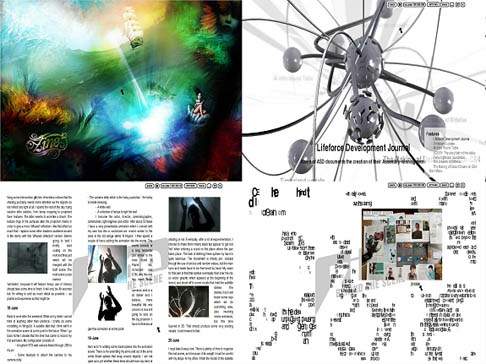 Zine#12
Reviewed by Adok with comments from Magic
On 20 August 2007 the wait was over: Zine #12 was released. It's the resurrection of an old Amiga diskmag from the early nineties. 16 years passed since issue 11. Now the first issue on PC has been released. From the old staff, Axel of Brainstorm is still there, taking over the editor-in-chief position. Gloom of Excess is senior editor, the interface was programmed by Smash of Fairlight with some additions by Hyde of Andromeda and Pantaloon of Fairlight. The music comes from Virgill, Lizardking, Radix and Scorpik. Magic comments: "The music is ok, but somehow it isn't the sound of the 'present', more of the 'past', which doesn't mean it isn't good of course. I dislike the fact that the first track by Virgill is repeating itself instead of the engine automatically playing the next track. Perhaps this can be adjusted in the future." The interface graphics were designed by Critikill of Brainstorm, and the title picture was Facet's work. Magic adds: "The picture is a typical pixelled piece by Facet. I recognize this from a lot of other pictures he painted. You can even recognize the dragon right in the middle of the picture which was used in Legalize It part 2 (the ancient Amiga musicdisk from 1992). I regret that the title picture did not get much screentime though. It is gone too soon in favour of the magazine itself." The most innovative component of Zine #12 is its graphical user interface. The main menu is a kind of interactive demo, you see morphing spheres symbolizing sections and articles. With the cursor keys you can rotate them and select the article to read. When the article is displayed, no buttons are shown, you move using the cursor keys or the mouse. The transitions are nice, for example the text is zoomed in and browsed at high speed. The size of photos and other illustrations can be increased by means of a mouse click. Escape makes the interface return to the former level. The look-and-feel resembles that of a real magazine with its proportional font and column-layout. The magazine archive is more than 42,000 kb, which comes from the music and the images. It's a big download. But it may be worth it as the zine features interesting articles such as the Lifeforce Development Journal or a long interview with KB. Axel has been working as a professional journalist for some years, and the quality of articles is good indeed. It's a nice read all in all. The graphics aren't too appealing in my eyes, they lack colours, but the music and the contents are okay. Magic concludes: "Once you have adjusted to the Zine engine and how to use it in a fast way it's a good read for sure! Zine issue 12 has been the best diskmag release of 2007 and perhaps even ever. I hope they can continue to release it as long as possible."
Pain #59
Reviewed by Magic with comments from Adok

1 year and 1 day have passed since Pain issue 58 and now at The Ultimate Meeting 2007 Pain issue 59 is finally released. What strikes me is the aweful music it starts with! Why wasn't track 5 by Sir Optic & Lord Teis chosen as the opening track? (This is the only good track which belongs in a diskmagazine from all seven tracks included in my humble opinion.) The music did not leave any impression on Adok: "If the music was really good or really bad, then it would have left an impression on me." Anyway, a good thing is that Pain is now using the 800x600 resolution. But I don't like the new colour scheme. Too much white. Perhaps a choice between the old and new colour scheme / layout should be implemented (like we have in Hugi). Personally I like to read pain with the drawn background like for example in Pain issue #58. Contentswise I expected really more! Though we are all getting older, and with an older age comes less spare time (unfortunately that is) this should not be an excuse for the poor contents in Pain#59. Don't get me wrong, there are great articles inside, but compared to earlier issues the contents aren't that good. Perhaps some regular writers support Zine now? On a personal note Adok comments: "What would be interesting for me is technical articles, e.g. about game programming." So perhaps this can be included? :) The articles that I (Magic) really enjoyed were YouTube Exploration#2, Sceen#2 review, Gina interview, the closing words (what is described in the closing words is the case every year, you only have to fill in other names for productions, sizes, specs, platforms and parties. It's written on experience and knowledge which is good), and the news section in general. The graphics I liked in this issue too. And last but not least I like the way Sir Garbagetruck writes in general (from his own huge experience and in a direct way, well argumented, keep this up! :). I hope Pain issue 60 will have the contents the demoscene is expecting and used to from Pain. Adok: "According to the comments at pouet.net the readers expected more." Especially since Pain stated in the news section about Zine: "We salute our competitors and are happy to finally have someone that drives the diskmag business together with us". Stating that Pain is 'driving the diskmag business' at this point in time is wrong in my eyes. But perhaps Pain can prove us wrong with the release of issue 60. As Adok concludes: "Seriously, it's simple: get better material." Though we know from experience that this can be a hard task we wish the whole Pain staff good luck for releasing its 60th (anniversary) issue.
Update: On the 30th of January 2008 Pain#59 final version was released. With two new interviews, two new party reports, some very nice reviews, some more other articles, some bugs removed, massive spelling corrections and some more stuff. All in all this does improve Pain#59 in general but not our already layed out positive criticism. We still wait and wonder on issue 60! Cheers!
Mudia Art issue 1 and 2
Reviewed by Magic with comments from Adok
Mudia art issue 1 by Alcatraz was released on the 11th of August 2007 at the Evoke 2007 party while Mudia Art issue 2 was released on the 27th of January 2008. Its concept is a mixture between a diskmag, musicdisk and a slideshow. When I started Mudia art issue 1 I got a smile on my face. It totally looked like an Amiga release :) The opening music is a well known Amiga tune also if my memory doesn't fail me. Yes it's the track by Chromag from the 1994 Rebels Amiga demo Switchback ;) Graphics and layout are done by Noogman and Sting is the main editor. (Read the alcatraz article in the headlines section for more info on Mudia art -ed)
In the first issue the charts included are not real. They are introduced how they could look like with the request to vote. And so I just did on the Alcatraz website :) Contentswise there are not many articles. Spiv (gfx) and Chromag (msx) are interviewed, there is a editorial section and an ending section though the ending section is called miscellaneous. Adok comments: "It is a nice idea that has also been implemented quite well. But I'm unhappy that four months after the release of Mudia Art #1, there's still not a second issue. The concept of Mudia Art cries for fast-paced, regular issuing. One artist and one musician per issue isn't much after all, so there should be many issues as a compensation."
The engine made my computer a little bit slow with running other programs but that doesn't really bother me. Finally I discovered two buttons. With the first one you can choose some other music, the other one gives you some graphics which Spic has painted in the past. For a first issue I like it! I am curious though how Mudia art wil evolve for the next issue(s) - more and better contents? Unreleased music and graphics inside? Not counting the great new artwork by Noogman ofcourse.
Adok comments: "To improve mudia Art a better, more legible font and a higher contrast to the background image is needed for better readability. Also when you click the forward or backward button, it shouldn't respond just to one click but continue scrolling as long as you keep the mouse button pressed. Third, the artwork should perhaps be displayed in a lower resolution, otherwise it's a bit small."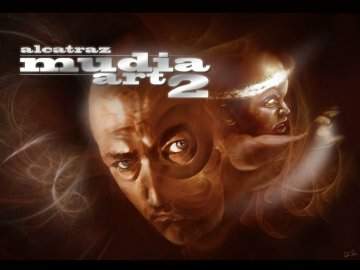 Critikill/Brainstorm's titlepicture opens Mudia Art #2. This time, on the graphics side, Raven of Nuance and Gfx Twins are interviewed while Jogeir and Ne7 are the musicians in focus. The charts section is based on too few voters in my opinion. I hope they will get some more voters for issue #3. A nice surprise is that Sting brought Mop back in a diskmagazine! (You might remember Mop from the Amiga diskmag Rom.) And he sure didn't forget how to write some quality articles and his usual wise words. To put an example Mop wrote: "Scene times change, and so do we, the revolution of evolution for you and me." Nicely put :) The code and engine have been improved in alot of ways, which is very good! Anyway, time will tell what Mudia Art issue 3 will look like and we will keep an eye on it for sure! We wish Sting and Mop all the best with it!
Links related to this article
Adok & Magic