Music makes the world go around: Demoscene Podcasts
Written by Magic of Nah-Kolor
Featuring Vincenzo, Pohar and Nuke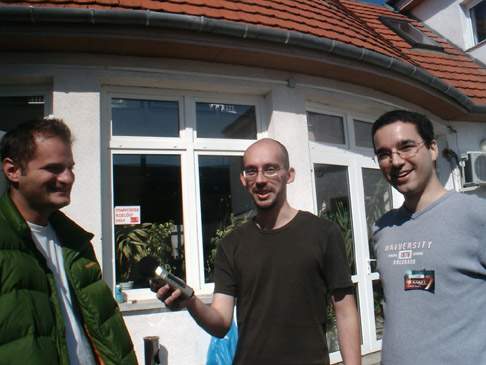 Prologue
Demoscene music mixed into one big mp3. This hype is spreading fast on the demoscene. Many were already doing it. But with Nuke of Surprise Productions and later on Vincenzo and Pohar of Rebels for Bitjam on www.bitfellas.org the trend was definately set! What is a Podcast? On bitfellas.org the following can be read: "It's thought that the term podcast comes from the combination of the words iPod & broadcasting, but we'd rather define it as an offline radio show." They describe it as a 30-40 minute show of demoscene music that you can listen to anytime, anywhere. The MP3 format enables you to play it on your computer, portable media player, or burn it onto a CD; so you can enjoy it at home, in the office or whilst traveling. As the tracks we use are free and our work is free too, you also get it for free."
Vincenzo, Pohar and Nuke were so kind to answer some questions about demoscene podcasts especially for Hugi and of course for you, our reader. We will end this article with some interesting links for you to download the best and most known demoscene podcasts around. Enjoy!
Hugi:
Please explain the sceners what a podcast is and where the word originates from.
Vincenzo:
Podcasts are somekind of radio-music-shows, but pre-recorded, pre-mixed. You can bring the episodes with you on your Pocket Mp3Player, or burn it to CD. The point is to select the best tunes - not only the well-known ones - and mix them together.

Pohar:
If I am right then the official version is: iPOD+broadCASTing. We rather say that it is an offline, pre-recorded radio show. There are different demoscene podcasts, we usually make a (bi)weekly 30-40 minute nonstop mix. Sometimes even with an announcer. Our latest feature is making interviews, so we still suck in it :)
Nuke:
A podcast is a digital media file, or a related collection of such files, which is distributed over the Internet using syndication feeds for playbackon portable media players and personal computers. The term, like "radio", can refer either to the content itself or to the method by which it is syndicated; the latter is also termed podcasting. The host or author of apodcast is often called a podcaster. The term "podcast" is a portmanteau of the words "iPod" and "broadcast", the Apple iPod being the brand of portable media player for which the first podcasting scripts were developed (see history of podcasting). These scripts allow podcasts to be automatically transferred to a mobile device after theyare downloaded. Though podcasters' web sites may also offer direct download or streaming of their content, a podcast is distinguished from other digital media formats by its ability to be syndicated, subscribed to, and downloaded automatically when new content is added, using an aggregator or feed reader capable of reading feed formats such as RSS or Atom.
Hugi:
In retrospective, how did you guys start with making podcasts?
Vincenzo:
Pohar asked me: "Do you wanna make a podcast?" - "Yeah, why not? But what is a podcast?" Then we started.
Pohar:
I came up with the idea when I spent hours travelling by bus and I was bored. Then I found some podcasts to listen to new music every day. Very soon we decided to make our own show.
Nuke:
Well generally I had the idea myself because 1) I have a really huge musicarchive and 2) I have some server space left and of course I like mixing demoscene musics. I simply started experimenting and mixed some test podcasts, after I got some inspiration from TMB (blibbblobb podcasts).
Hugi:
Vincenzo and Pohar, how did you guys became involved with making podcasts with Bitfellas.org?
Vincenzo:
We released 20 episodes of Hardread podcast, when Alien of Bitfellas asked us to make an exclusive episode for advertising Bitjam:Solaris. They liked the quality of our work and offered a long-time work @ Bitfellas :)
Pohar:
We made 20+ shows of HARDREAD Podcast, then Alien of Bitfellas asked us to make a special edition based on the music of BitJam musicdisc. He was so satisfied with the result, that he asked us if we would like to make BitJam Podcast every week. We said yes, because with all the bitfellas behind our back we can make even better quality. We have many contributors, including not just musicians, but graphicians too. I think the greatest thing is the live premier every Sunday evening. It really has got some kinda 'magic'.
Hugi:
What programs do you use and how time consuming is it to make a podcast issue?
Pohar:
(Vincenzo will answer the technical side.) I just use Google to find information about music. And sometimes a hexeditor to hack some demomusic out of the datafiles ;)
Vincenzo:
Xmplay is the mod2wav converter, Adobe Audition is the mixer program. The biggest part of the work is to select the best tunes, mixing them is not too hard. If you choose tunes which are great for your taste, that doesn' mean that other ppl will like it in a longer mix. So you need to select the music carefully. One episode contains ~10-15 musics, selecting them is ~2-3 hours, mixing together ~20-30 minutes. Upload with my 128kbit internet speed: .....a lifetime...
Nuke:
To convert the different formats to wav/mp3 I tend to use deliplayer and xmplay. The time that I need to make a podcast varies, it all depends on the selection, the mixing, the conversion, the length etc..

Hugi:
Nuke, can you explain step by step the making of a s!p podcast issue and what programs you use to make it?
Nuke:
The first step is of course to select the titles, this is the most timeconsuming part of the process because I have to listen to many tunes and then decide which ones I'll mix in. After I have decided on the selection of songs, I need to convert the different formats (like xm, mod, sid...) to wav/mp3. Next I decide if I need any new jingles and if I do then I have to make them. Whenever i want some new jingles I collect voice overs from different sceners. Finaly I'll mix all this together to one podcast and upload it to the server. For mixing, I use audition, for the next issue I will be switching to the new version of audition which supports 64bit and I will use brand new hardware which arrived here this week.
Hugi:
Where do you get inspiration for a theme?
Vincenzo:
Pohar, Alien, and the others are coming with ideas, and I am the slave who realizes them :)
Pohar:
We usually make very standard themes like: c64 music, 64k intro music, etc... At HARDREAD Podcast we tried to follow the life of Hungarian demoscene too, so we had some shows dedicated to local musicians, parties.
Nuke:
When I have free time to listen to music it inspires me to make a new podcast, when life is busy I guess I don't make anything for a while :)
Hugi:
Do you get any reactions from active and non-active sceners? Please share some nice ones..
Vincenzo:
We got some email but not too much. Yet, nobody said that "Your podcast suxx" :)
Pohar:
After more than a year of podcasting we still didn't get our 10th fanmail :) Some musicians are really happy about we often play their songs, and there was only one, who argued about we did not ask for his permission. From the beginning it was the part of our concept that all scenemusic is free, until we don't make profit out of it.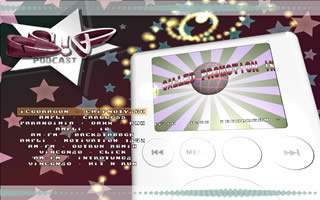 Nuke:
"Love yer work! Keep it up. Love listening to it here in westernaustralia and lots of my friends that are ex-amiga sceners love it too! Well Done!"
"Hi dude !Alwas nice to hear some of my stuff in some podcasts ;) Keep on this great work Bestmoonove"
"Good morning Nuke, My name is Luisa Acosta, press enquiries from Barcelona for the composer Marta Abelló. After checking your work I believe you might be interested in Marta's original music composition for your upcoming features......."
and lots of other e-mails I received..
Hugi:
Vincenzo and Pohar, how do you guys like the s!p podcasts?
Vincenzo:
I like it :) I know Nuke personally, and I know he has good taste to collect the good tunes for each s!p podcast episode.
Pohar:
We like them, as they are almost Hungarian demosceners :) Sometimes we make messages to each others' show, etc.. We often meet at parties and once they have even invited us for a BBQ :D (Thank you s!p guys once again!) Luckily they play a different style, so we both have our listeners.
Hugi:
Nuke, what do you think of the Bitjam podcasts on Bitfellas.org?
Nuke:
They are great. I listen to every episode. I have known Pohar & Vincenzo personally for years and they have really good taste in scene music! Greets :)
Hugi:
Do many people listen to your BF podcasts? Please share some numbers of listeners and downloads.
Vincenzo:
I don't know exactly, because Alien is the head of the admins @ Bitfellas, you should ask him, he knows the numbers. He told me once (around episode 5 or 6) we had 34 online listeners and 180 downloaders.
Pohar:
I don't really know download statistics, but the Sunday live premier has about 30 listeners every week.
Nuke:
That varies, but I get at least 300 downloads per month.

Hugi:
Which podcasts you guys have created do you like the best so far?
Vincenzo:
Huh, hard question... I don't know. Maybe the Hardread Podcast #20 jubilee episode is my favourite.
Pohar:
I like the anniversary HARDREAD Podcasts the most (#10 and #20), as well as #05 - "Best of 64k soundtrack". I also recommend Antique toY podcast. It is made in Russia, they are playing ZX Spectrum music. And they even have English subtitles for mp3 players! Check out this thread for more info: http://www.bitfellas.org/comment.php?comment.news.1891
Nuke:
I really like all the podcasts because they have the songs I love, if I had to choose the ones I really love the most I'd say "the trilogy", those were Surprise!Podcasts #13-#15.
Hugi:
What do you want to tell sceners who also want to make their own podcasts?
Vincenzo:
Choose the tunes carefully!
Pohar:
Don't start a podcast if you will stop it after 4-5 issues. Find a good musician and a good server. Select music with care! Try to be different from other podcasts. And don't mess with us! :D
Nuke:
Try and do something different, it's important to find your own way of doing them!
Links related to this article
http://www.bitfellas.org/page.php?100 (Bitjam)
http://www.binaryzone.org/podcast
http://www.gamewavepodcast.com
http://surprisepodcast.blogspot.com
http://www.amigademopodcast.com
http://blibbblobb.untergrund.net
http://c64takeaway.com
http://8bitmayhem.untergrund.net
Magic of Nah-kolor