Demoscene.tv - You make it, you read it!
Written by Magic of Nah-Kolor
Featuring Dax, TSR and Bunny of Demoscene.tv
Photos kindly provided by Bunny (thanx!)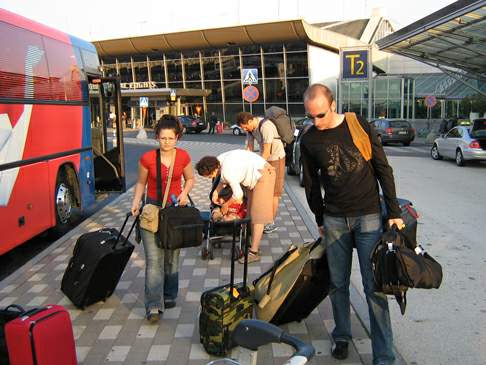 Demoscene.tv - Introduction and History
Who could have imagined, in the old days, that your own demos and live party coverages could be broadcasted right into your own home? In my personal opinion www.demoscene.tv was and still is a good and innovative initiative for the demoscene. Watch your own demos live on the internet and even better watch live broadcasts from demoscene parties all over Europe. As stated on their website: "Demoscene.tv strives to share and broadcast artwork urging from demoscene artists and stakeholders. TV offers a video stream (via Winamp and browser) and associated services to allow groups belonging to the digital artscene to diffuse their creations." Hugi flew all the way to France to have a talk with some nice sceners from demoscene television. How and why did it all start? Dax explains: "At the beginning, we are a French demo group called WIPE. We produced different things such as demos, music, graphics, and wilds (mostly short movies). This demo group gave birth to ADAN, the organisation handling integrally demoscene tv. In short this is our history. In 1998 the demogroup WIPE got founded. In 2002 the ADAN organisation got created. Finally, in 2004, Demoscene TV was founded. It was the opening time for the '.tv' and Dax saw that demoscene.tv was still free and asked the Wipe team if they would like to start the demoscene web tv. We thought that instead of letting anyone taking the domain name and do crap with it, we might as well use it to be a place where we could show some demos. When DTV started to have some success, which began to ask for a huge amount of work, we went on searching for some financial help in order to keep on going with the project. At the beginnings, we were in the expectative, we were wondering how this action would be seen by the rest of the demoscene community. We thought that they might all want to kill us because the broadcast quality was not showing the real production quality. We wanted to give the demoscene better access to a wider public and share with them our passion for demos and for the demoscene world."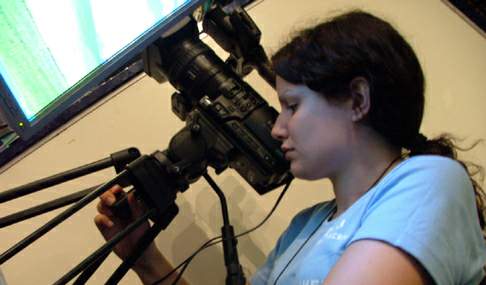 Demoscene.tv - Staff and their motivation.
Behind the curtains a lot of people are active to manage demoscene.tv as well as possible. As Dax told me the active team consists of:
Tsr: content manager, technical platform development, live streaming
Dax: founder of the project, live director, general manager
Bunny: international relations, dtv releases production (editing, directing), camera, project coordination
Gol: DTV video design, website design, camera, live director, DTV releases
Coyhot: DTV video design, creation of DTV Tour's jingles.
Metapat: DTV presenter
Occasional helpers and former team members:
Belette: developed the basis of the technical platform
Unison: created the oldschool channel
Ozane: camera, photos, translations
As TSR explained to me he, Dax and Bunny have their own motivation for actively participating to demoscene.tv: "We like to be kept informed about artistic innovations, which is what we find in the demoscene. Feed the need of spreading these talents and all these artworks and to show without any filters the atmosphere on demoparties during live coverage. For Dax, it is more like a way to flirt with Fashion J while for Bunny, it is also to show the other side of the moon and another view than what the live coverage can show, with making documentary."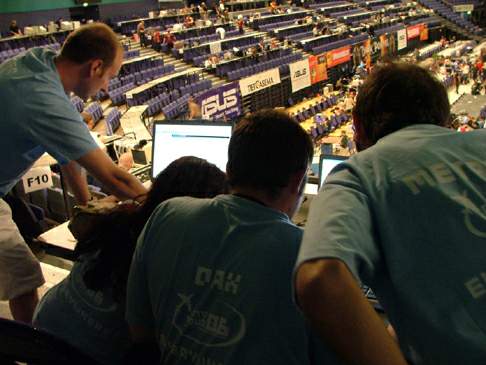 Demoscene.tv - You make it, you watch it!
The website in general has four channels divided into a low and high quality channel. The channels are DTV Realtime (all realtime production types like demos, intros, 4k and 64k), DTV Oldskool (oldskool productions and alternative platforms), DTV Wilds (alternative productions like 3D animations and freestyle compos) and DTV Releases (for example Scene.org Awards and Party Reports). And of course a channel for live party broadcasts when available. Next to this it's possible to request a video on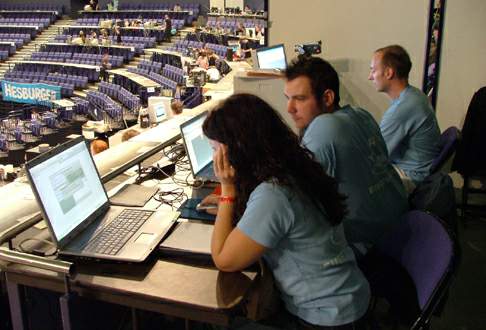 demand. You need an account for this, but it's very nice to choose yourself what you want to see. Keeping an internet based television station up and running and making on the spot live coverages takes quite a budget: "DTV costs for a year are about € 20000 and the DTV Tour 2006 costs were about € 25000", Dax comments and continues: "We wish we could make the DTV Tour every year. Sadly for financial reasons it is impossible nowadays. We are actually searching for private sponsors who could make the annual DTV Tour possible." In anyway it's our opinion it's money well spent! After all a demoscene tv station on the internet is a major benefit for the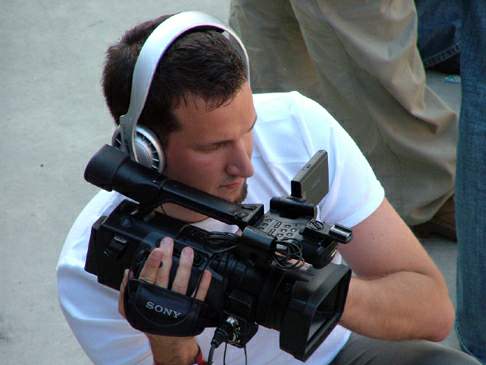 demoscene. Curious as we are about the DTV statistics (number of visitors and their origin) we asked Bunny of demoscene.tv if she could give us some information about this: "We always keep an eye on statistics which are for us a source of information concerning modifications and events held on DTV. We have about 15000 visitors per month. The top ten of visiting countries are: Germany (representing half of visitors), France, USA, Finland, England, Poland, Hungary, Switzerland, Netherlands and Italy." Finally we asked Dax for some reactions and anecdotes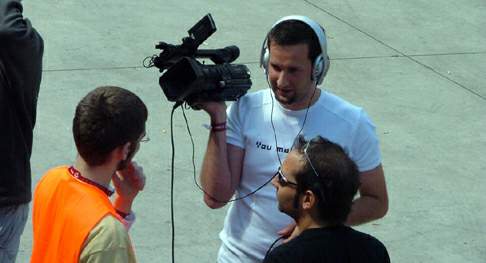 he got from some demoscene.tv viewers. Dax: "They suggest some improvements and ideas. We also got several thank you messages from people who could not join a demoparty but could follow it live on the website. For anecdotes, it will be more about moments we lived during DTV Tour 2006, such as interviews with some drunk sceners.. We had a hard time to get some words out of them. On one occasion we found out after filming several interviews with sceners during the Buenzli demoparty, that we had no sound at all, because the microphone batteries were empty. We also have a lot of good memories. Meeting sceners at Boozembly for example. There are also people coming to us to show some support during demoparties live coverages, and these moments are particularly nice! This way we can see that there are actually real people watching our web tv. One last positive thing I would like to mention here is this demomaker who lent us a sound card during Buenzli 2006 so we could make the live coverage work (and by the way, we thank him a lot again!)."
Epilogue
And here we leave the demoscene.tv crew and fly all the way back to Schiphol airport in the Netherlands. Before we departed we asked Dax how he sees the future of demoscene television: "We started with shoutcast technology (nsv nullsoft streaming video) as a broadcast system as only purpose to be seen into the web tv list and give the demoscene some visibility. Today we are going through changing all contents into flash format, to get a better accessibility. Tomorrow we would like to enhance the website accessibility to show the best way of productions running on demoscene tv. Demoscene tv will remain as the demoscene television. The first goal of this project is to broadcast this scene and its production to the public and in order to follow this aim, we are now working on the launching of an IP channel television dedicated to artistic creations. This channel will offer 4 big themes: digital art, music, animation, short films. DTV means for us the backup of demoscene heritage. We ended 2005 with 600 productions, we had 1200 of them at the end of year 2007 and we expect 3000 more in 5 years! All we wish is that people keep on expressing themselves through their creations, now as in 5 years, we will still be here to broadcast them in a way or another. The digital world is coming close enough to our consumption world, the demoscene remains a trend showing that one can still be involved and be creative. Thus, to DTV visitors we say: show everything you appreciate, get really interested in the spirit going on behind the sound and image and get interested in each other!"
Magic of Nah-kolor
Links related to this article