4Sceners, the German demoscene portal
Hugi puts the 99% German demoscene website www.4sceners.de under the magnifying glass.
Written by Bobic & Magic
Prologue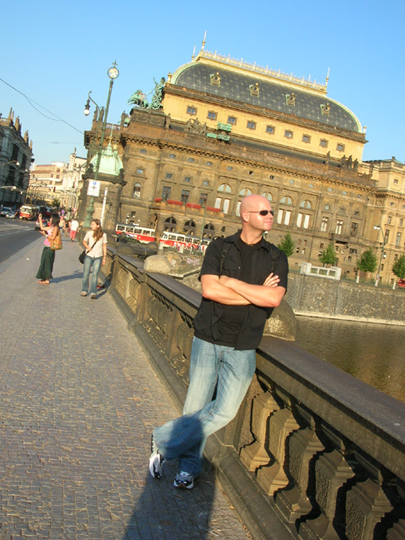 Running for approximally two and a half years now, the German demoscene portal www.4sceners.de has become a great archive for demoscene related news and material. For the sceners who can read the German language we recommand this website for some visits. Hugi had a talk with Bobic who is responsible for the content on www.4sceners.de to see what this portal is all about. Bobic introduces himself: "Hi, my name is Juergen Beck, also known as Bobic, and I'm meanwhile 32 years old. I started to watch and fall in love with demos back in 1991 on Amiga. In 1998 I founded the Amiga software archive "Back to the Roots" (www.back2roots.org) and maintained it together with some really nice guys for the following 6 years until we took a break. It's now back online with full power after two years of silence and will see some new stuff at the end of this year again. I also made a few articles and interviews for Jurassic Pack and Pain diskmags."
The beginning of 4sceners.de
As already said the portal has already been up & running for about two and a half years now at the time of writing this article. To learn about the history of 4sceners.de we asked Bobic to share with us some background information about the start and early days of the 4sceners.de project. Bobic: "Everything started a while after 'Back to the Roots' (BTTR) went down. I was always interested in introducing the scene to new audiences, as there's so much talent and creativity in it. In early 2005 Paul Kautz from 4Players.de asked me if I wanted to start a website about the demoscene for them. Paul and myself knew each other for a long time, as he liked BTTR a lot and is also a demo freak by heart. He also knew that I'm writing about games for a German Mac magazine in my spare time and therefore would be able to write some articles for that site, too. The whole team from 4Players.de likes to watch demos and sceners are often associated with the games industry, so a website like 4Sceners.de, hosted by one of Germany's leading gaming websites, would be perfect to bring both worlds a bit together. I liked the idea offering selected demos, videos and graphics there like we did at backtotheroots. Also it wouldn't be as time consuming as the massive BTTR was, as we're all getting older and real life, family, friends are getting more important during the years. So I agreed as it wouldn't be a problem to bring news, articles and downloads to people (especially gamers) who don't know much about the demoscene. With time goes by we all know now that it was a good decision, as there are some nice folks out there who really enjoy what we do, who don't want to spend ages on the big scene websites for finding a good demo or who like to read some background information about the scene." To promote the 4sceners.de website a demo was released called "Welcome to 4sceners.de" by Marshals, Merregnon Studios and 4sceners, which won the Buenzli 2005 PC demo compo. As illustration you can find a storyboard of this demo (thank you Bobic!) and of course some screenshots of the finished demo. At the end of this article you can find the pouet download link.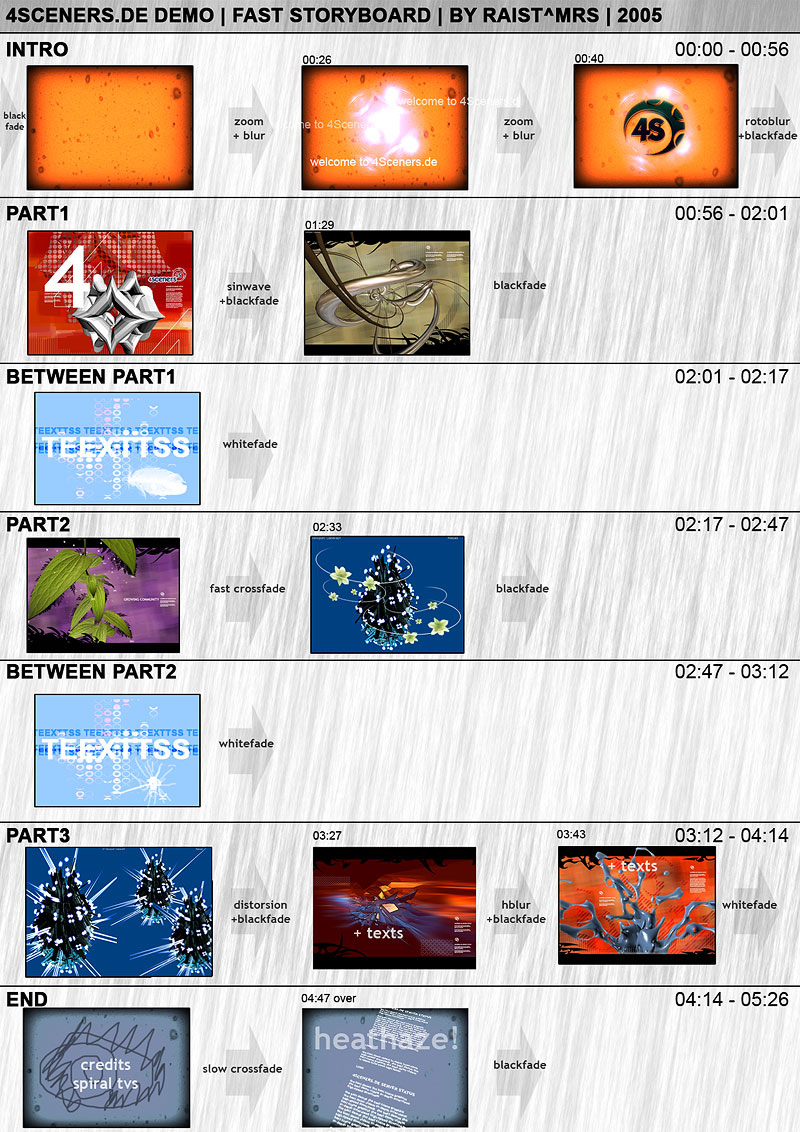 4players and 4sceners
The website www.4players.de is hosting www.4sceners.de as they are related to each other. "4players.de offer us webspace and traffic. They're doing it completely for free, without any adverts now, and of course they don't pay me. :) 4Sceners.de always was a hobby project and everyone who thinks that it has a commercial background is wrong! It's just done for the fun and, as said, to attract new people to the scene. 4Players.de are just happy in offering their visitors additional and exclusive stuff with such a sub-website, or do you know any other gaming websites that take care about the demoscene? 4Players.de is a big entertainment family. They're mainly writing about the games industry, but also want to cover other aspects which are related to computer art or games. As their mother company is the big freenet AG (one of Germany's leading internet providers) and they're also cooperating with AOL.de they can bring their articles and news to a huge bunch of people, not only the ones who're visiting 4Players.de. That includes everything on 4Sceners.de as well", Bobic comments and continues: "4Players.de did the layout and programming for 4sceners.de, while I'm responsible for 99% of the content. Paul Kautz sometimes translates an article into English (yes, we do have some English articles online!), as he's a professional games journalist and can do this in a much better way than I could."
German vs English Language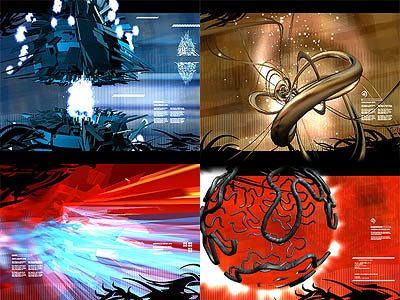 The wole 4sceners.de portal is in the German language only. Which of course limits the number of visitors. Most people learn German at school anyway but still - why was the decision made to make 4sceners a German website? Bobic explains: "It's simple. It's a sub-website of 4Players.de, which is a famous German gaming magazine. Most people who're visiting 4Players.de are speaking German and will come from that place over to 4Sceners.de. As we want to show demos to people who don't know much about the scene or who don't follow it regularly, it's OK to have it in German only." But Hugi learned there have been considerations to make it in English. Bobic tells us: "Yes, there were plans but it's too time consuming. My (and even Paul's) spare time is unfortunately extremely limited and translating everything into English in a good way is therefore impossible. Also it's hard to find someone who would do that translating job for free. It's the same problem Hugi has, or any other diskmags. It's hard to find someone who's motivated in writing articles without having to kick his ass ever and ever." And here we agree with Bobic as today's demoscener has less and less spare time to spend on the demoscene.
Bobic's Motivation
Hugi asked Bobic what he likes most in maintaining a website like 4sceners.de or in other words, what is his 'drive' to invest a lot of free time in 4sceners.de? "Of course in getting positive feedback. It's always nice if you have found the time to write an article and people are telling you they like it. Or if you notice how fascinated gamers are by watching fr-041: debris or Lifeforce from ASD and they eventually forget to play their games. :) It's nice to see how many people read an article or how fr-041: debris broke all download records in the first week after its release. Honestly I have to say that a real scener doesn't need 4Sceners.de. All what a scener needs is Scene.org, Pouet and BitFellas, maybe Slengpung as well. 4Sceners.de was made for other audiences, for waking the interest of people who don't know much about the scene or who don't follow it frequently. Anyway I know that some famous sceners are visiting this website and that makes me happy, of course. It's also funny to hear that Smash/Fairlight uses Babelfish to translate the site, as he's interested in reading the reviews of his demos. I also know that others don't like it as it's in German or still think it's a commercial site. I don't care about that. There are enough people out there who like it. :) There's also a bunch of so called elite sceners who think that the demoscene must stay underground. But look how many new talents appear in the scene, how many new faces do you meet when you go to a demo party? We have to do something against this lack of new talents or supporters appearing. Many scene projects try to gain attraction from somewhere else now. Take ZINE for example, the Digitale Kultur e.V. who talks about the demoscene often in the public, those animation festivals that now show demos, too? Respect to Alien/Bitfellas, who's one of the longest active sceners and who is such a wise man with lots of excellent ideas to keep the scene alive and to bring it forward!" Bobic comments.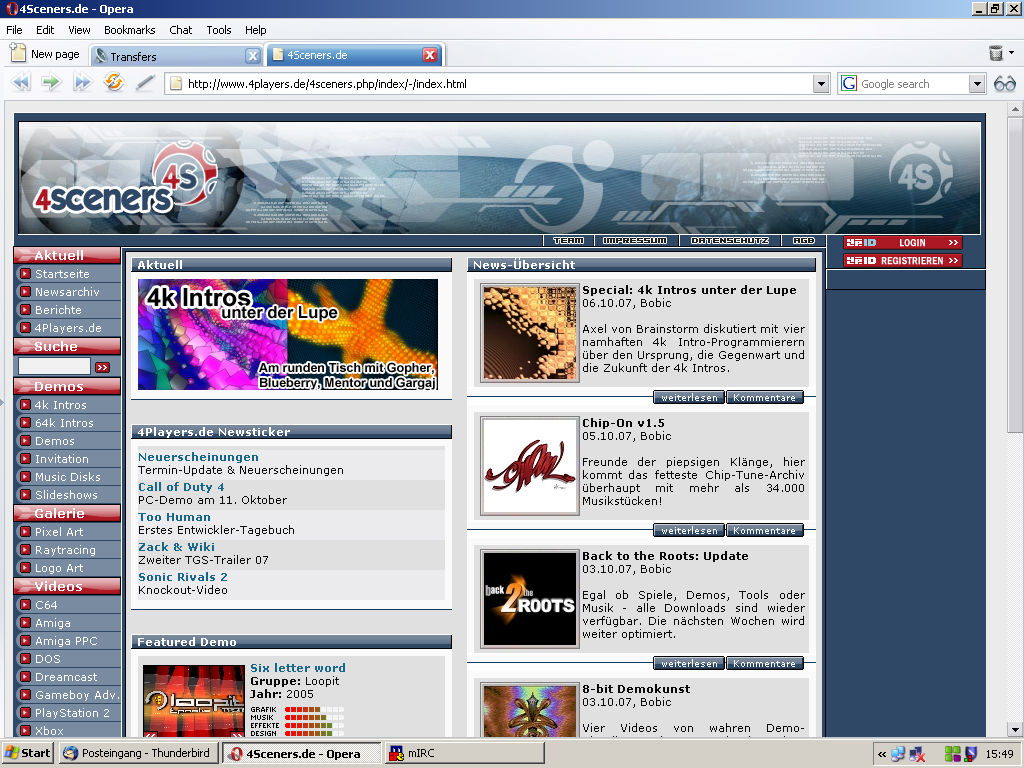 Epilogue
If you have some free time left visit www.4sceners.de once in a while. It offers some really nice news and articles and has some great content for you to download in the form of demos, graphics, demo captures. Some nice galleries are online as well (pixel, rayracing and logo art). Hugi asked Bobic what can be expected about the future of 4sceners.de in lets say 5 years from now. Bobic: "Well, I'm happy with its current state. I only wish to have more spare time in writing more articles. At the moment I try to write one big article every month, but as I said above my spare time is limited. Helpers are welcome, of course! I hope 4sceners.de will still be online in 5 years from now. I've been interested in demos for such a long time now and I can't think that I will ever lose this interest. But nobody knows what the future will bring. Family is more important than computer stuff, of course, but there should always be some time to keep 4Sceners.de up – as well as back to the roots!" Hugi wishes Bobic, 4sceners.de and 4players.de all the best for the future. Bobic ends tihs article with a one-liner:
"Stop making maps and mods for games, start making demos! ;-)"
Links related to this article:
Welcome to 4sceners.de demo by Marshals, Merregnon Studios and 4sceners:
http://www.pouet.net/prod.php?which=18629
Welcome to 4sceners.de on Youtube:
http://www.youtube.com/watch?v=NKgDHhfn_L4
4sceners.de oldskool demomaker Intro:
http://www.pouet.net/prod.php?which=20559
4players.de teaser by Conspiracy:
http://www.pouet.net/prod.php?which=18768
Bobic & Magic