Block Party 2007 report
By Polaris / Northern Dragons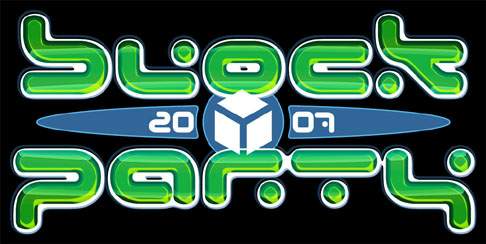 Sunday, April 29th 2007 – 4:30 PM CDT - Prologue
So, I have just finished another demo party. I am sitting in the Cleveland airport terminal with Blacklight, waiting for an airplane to arrive. I figure it's a good time to start documenting the party experience and share it with all the Hugi readers. I hope that it may inspire more people to attend the event and to inform you as well on what the event has to offer.
The "Block Party" demo scene event has been highly anticipated throughout the end of 2006 and the beginning of 2007. The website updates were frequent and the pre-organization felt crisp. The event was supported by the Northern Dragons with an invitation production released at the Numerica demo party event. Some started calling it the "rebirth of the North American scene".
The focus on organization gave travelers and participants a really good feeling that this event would be well put together. The website was complete, but also showed when a page had been edited. People were able to easily tell when rules changed or when more information was added.
The founders Radman and Jason Scott of Block Party teamed up with Notacon. The best description I heard about Not-a-con is to call it a "poetic hacker conference". The events shared the same audience, the same facility and in many ways the same goals. As a result, this party report is a report about Notacon as much as it is about Block Party.
My Block Party story begins back at home in Canada. I was heading into the office, taking the escalator towards the office building. Suddenly it hit me – tomorrow – I'll be in Cleveland, Ohio. Work had been busy enough; I found it hard to imagine that I was going to be suddenly "gone".
Thursday, April 26 2007
The following morning, I took a cab to the airport. I passed through border control without too much difficulty, the only thing I really had to do is take my shoes off so they could scan them. I wasn't asked to turn on the laptop. They asked me about my purpose and I said it was a computer conference. I was told to "have fun!". It was quite a contrast to a few years ago when traveling for pilgrimage and I'm not complaining about that.
The Winnipeg airport isn't that large, but flights to the United States tend to be limited to their own small departure area. They are currently building a new airport, however that won't be in use for several years. I had some time to kill as I had made good time getting to the airport. I completed the 4kb presentation I would be giving at Notacon and moved around the airport terminal. I was mentally lost in thoughts about pushing the 4kb framework down in size even further. I didn't notice when I dropped my boarding pass, so I was surprised when the airplane staff paged me and returned my pass to me.
Soon we were boarding a small (very small) airplane. Shortly after boarding, to my amazement the stewardess announced over the intercom that there were too many people at the front of the plane. Four people would have to move from the front of the plane to the back. "I'm not kidding" - she said, with a voice resonating in urgent determination. I was amazed as I have never experienced this on any airline before. I have since learned that this isn't too uncommon for United Airlines.
I arrive in Chicago O'Hare airport, with determination to shrink our code in the 4kb presentation even further. When I leave the airplane and enter the airport – I'm amazed at how overwhelmingly packed it is. Checking into the next counter – I discover that the 3:10 PM flight is delayed until 6:10 PM. Since I'm hungry, I wander around and buy some "authentic deep dish Chicago pizza". I take the pizza around with me and eventually find an electrical socket along the floor in a corridor. Setting up "camp" with electricity and food - I boot up to work on the 4kb presentation some more. Jackpot! A new build using triangle fans leads to a further size optimization.
Satisfied, I call Guybrush's wife to leave a message with her that I'll be delayed 1-2 hours. She tells me that s_tec is also delayed. Terrible thunderstorms are "pounding" the Midwest. In the end, the flight departure was delayed to 8:15 pm. My 9:15 PM arrival – turned into 11:30 PM.
The flight arrived in Cleveland without incident, but I will say – that the regional jet had less leg room than the small Canadair Jet. This left me wondering about progress in the airline comfort. I finished off the slides with the revised sizes and for all intensive purposes I'm ready for the presentation.
Tired and wanting to get to the hotel as soon as possible, I skipped the free shuttle and took a cab to the hotel. I believe this was probably a mistake as I'm pretty sure I spotted the free shuttle as soon as we pulled out of the designated taxi area. I didn't mind too much as I enjoyed some great conversation after asking about an Egyptian ornament hanging from his rear view mirror. It turns out the driver was from the Sudan and well versed in Islamic religion. The cab ride took 33$.
I was greeted immediately by Guybrush, Blacklight and s_tec upon arrival. Apparently they all had been there for a few hours. I get in touch with Jason Scott, whom helps us with the room booking. I'm sharing a room with s_tec. We learn from him that Radman was having a hell of a problem with airlines. Jason tells us how he's paid for an entire new set of airline tickets and a new flight plan to get Radman to Block Party by 6:00 AM instead of 3:00 PM the following day. This is the first of many "first class" actions that we see both Jason Scott and Radman do – in order to ensure Block Party as a successful party. I believe the new airfare costs somewhere in the range of 600$. They are not sure they can get refunded for the other tickets or the other connections that become unused as a result of the change in plans. Impressive for sure and Jason didn't think it was "a big deal".
Jason takes all four of us on a tour of the facilities. The hotel is reasonably well appointed and nice (think of your standard run of the mill Holiday Inn type of place). The rooms are already setup with chairs and audio video equipment. There is a massive schedule posted on the wall of what will be happening for the next several days. Posters are everywhere. Advertisements for "hackers on a plane" and so forth. This is what the venue looks at midnight – and the event doesn't even start until 11:00 am the following day.
I bump into Trixter in they lobby and help him move some equipment. He has driven into Block Party from Illinois. I top off the evening spending time reviewing productions and plans for the competitions with the other Dragons members. As luck has it – our rooms are directly across from each other.
Friday, April 27 2007
We decide to walk around the area and find breakfast the following morning. The downtown area is a fairly standard urban concrete jungle. It's clean and safe. There are a surprising number of hot dog vendors. Most restaurants in the area are closed, but open later in the day. We take notes for next time and eat at an "a-la-carte place" called Au Pain.
We start at the registration desk once we return. They are well organized and each registration kit includes a fair bit of freebies - bumper stickers, pens, notepads and printed booklets. There are printed badges with awesome lanyards. The badges remind me of the kind of gear that rock and role concerts use. Most importantly there is a forty page booklet dedicated to the event. It includes maps, schedules and information on every contest and speaker.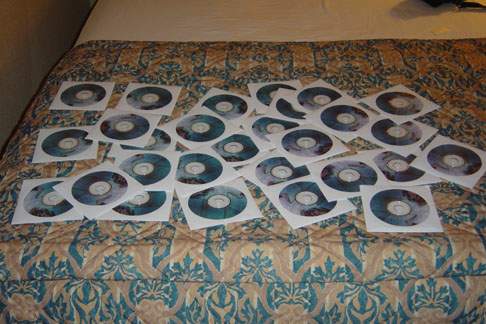 When we return to the party place, we begin our festivities by handing out Northern Dragons buttons. K9D did an awesome job on these and everyone really enjoyed them. I also distributed issues of Hugi 33 "MP3 Power". These were an exclusive run of printed CDs, bringing the "Disk" back into Disk mag. It was a nice way for me to earn my keep as a member of Hugi Staff. Most people knew about disk mags, but a few were new to the demo scene. It's wonderful to think that this issue of Hugi might introduce them into disk mags and the history of the demo scene.
The kick off began at 12:00 noon. What I took from it, was really – the intensity of the desire of the event organization to establish the event as part of a larger community. The second theme is that there are demo sceners present at Notacon, that don't know they are demo sceners yet. Immediately following the kick off were several speeches and lectures. Throughout the event, speeches were always paired together. Guests always had a choice between two speeches at any time.
The first one we attended was "Andy Voss" with a introduction to the demo scene titled "Allow me to demonstrate". He had a good sense of humor and some nice lines such as "In the beginning there was a pixel". His content showed great diversity, including material on C64, Amiga, PC, dos, PS/2 , TI-83 and so on. The rooms were setup with wireless mikes and each speech was filmed by a local camera company.
These videos become publicly available after a period of time, or you can purchase them for a few dollars at Notacon. They are not individually expensive, at 15$ per DVD – it adds up very quickly. The cost of the DVDs offsets the cost of recording. The videos are shared afterwards as well in the Notacon Archives – so I think this works for everyone; except the broke and impatient.
The second speech we attended was given by Jason Scott on the "great failure of Wikipedia". Jason is a natural presenter and the talk was poignant and had excellent flow. It was hard to tell if it was a stream of his consciousness, or if it had been prepared in advance. It simply flowed so well! There were no slides, no hand outs, nothing except for Jason capturing our attention on stage and talking to us.
We took a few moments after the presentation to access the Internet and work on our production. The event has free wireless Internet – but it isn't encrypted. I suppose that it is more sensible to have unencrypted traffic as the folks here know that wireless encryption can be compromised.
Some of the Notacon folks notice us and ask about how to make productions. They are Linux geeks and are interested in knowing how to make a production for Linux. I realize that we are far enough along in our productions that it looks like magic and yet – you have to start somewhere. Perhaps next year we can run some kind of demo scene camp to teach folks like this, as I had such little time to be able to help them. I decide to suggest this to the organizers after the event.
The third speech we attended was 8088 corruption by Jim Leonard. The presentation was exciting, as it would give us an inside view of what he had done for an amazing wild production released at Pilgrimage. The lights dimmed, the computers whirred and then suddenly – the power went out.
This meant that a good portion of the production was done without power. The video file has a severe gap, which Trixter has fixed up and posted on his blog. Still, without the slides to consult during the presentation the atmosphere became more intimate and more conversational in its style.
His presentation makes me think a lot about what could be done in TMDC. So far, I believe most of the TMDC productions use things like aaLib (etc). However, with a good frame rate – it could be possible to improve results by pushing / correcting errors across frames. Perhaps someday I'll be able to implement this.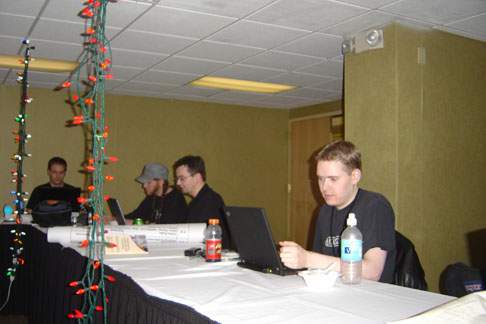 We skip the last presentation slot to make our way up the to Block Party lounge. The lounge has been powered with lights set up by IC and "glowed". The tables were set up in a square making me think of the "knights of the round table". Unfortunately, it's a bit difficult to navigate around the room as well as access power. However – and let's be honest here – we have Internet, we have desk space and we have power. How sweet is that!
It was set up right next to the NAC – a hub with beverages and snack food. I think this even included some of the "super energy drinks" such as Monster or Rock Star. The table arrangement however, made it a bit tough for people to mill around. It worked amazingly well for folks working on productions, but I felt badly for people that came into the room, observed a dozen people madly trying to finish things and then left.
Perhaps next year we can put a projector into the room and setup DemoShow or something to create a conversation piece.
The staff of Notacon did a great job keeping the NAC well supplied. I think it even included fruit cups at one point. It did however, have a lot of junk food – and I don't think I spotted a single thing that included protein. It was well stocked with all the really scary stuff that catches up with you when you turn thirty :O.
We grabbed dinner in the hotel bar. There was a single waitress for the entire bar. She did an awesome job waiting on all the tables given the overwhelming number of people. We were joined by Radman, Sphinsane and Tfinn (as well as a variety of other sceners [sorry I didn't get all your names down!]). The food was decent and we didn't have to travel far to get it.
I attended the lecture on "Open source intelligence" by Vladis Krebs on my own. This is the first lecture that I attend that isn't given by a demo scener or is about the demo scene. I do this alone as s_tec and the Northern Dragons members aren't interested. The presentation is OK, however it talked more about the content of his deductions and not his technique. I suppose that the technique is proprietary to his company. This makes his presentation feel more "corporate" than the others.
Luckily, this is the most corporate the event becomes. It was wonderful to hear someone say "nodes" and use other formal computer science terms. Working for one of the largest technology firms in the world means that I am more likely to hear the term "return on investment", or "cost take out" as opposed to "predicate calculus" or "node".
The following presentation was the best in the show. Or at least, that's how I'd like to remember it. I teamed up with s_tec to provide an explanation of 4kb intro techniques to the masses. There was certainly a mix of demo sceners and others present. We used PowerPoint, however there were a few muck ups in relation to the video files. We weren't the only ones struggling with this. Trixter had problems with video files in 8088 corruption, as well as Radman in his ASCII art presentation. PowerPoint is evil... I would have used Open Office – however it has similar problems with video presentations at the time we were presenting as well.
The 4kb intro presentation was the last speech in the room. I had lots of questions asked afterward, including some requests to show parts over again. I really enjoyed answering the questions and helping people along. Trixter was very surprised to learn that 4kb's often simply render all their audio into a single audio buffer and play it. No memory swapping, just relying on new PCs massive ram stores. I think in some way he was both amazed and disappointed. It is never easy when you see a something magical revealed to be very simple overall.
Nullsleep arrives after the presentation. It's wonderful to see him as it's been over a year since we've last met up with him. The last time he worked with us on the PSP player production. We all head upstairs to the Block Party lounge. We hit it hard, working on things until roughly 3:30 in the morning. I'm mostly lending emotional support for the production. Guybrush is using my laptop – and I'm using his Mac Book. Santa has to buy him a Intel laptop for Christmas I think :-).
I continue on with my laptop, powered by Monster drinks and processed foods to try to put something together for the Flash competition. The room erupts in a chorus of "beer!", "malt", "HOPS", "water", "beer!", "malt" etc. You'll have to check out post party blogs for an explanation of that one.
Eventually, learning that I won't become a Flash programmer overnight - I go to bed at 6:00 AM. (In the end this is a good thing – as the Flash competition doesn't have enough (any?) entries and is canceled.)
Saturday, April 28 2007
On Saturday morning we get up and have breakfast at the hotel. S_tec is not operational (he pushed on past 6:00 AM). We have a few hours before presentations start. I believe at this point, the deadline is in three or four hours. The laptop comes back to me from Guybrush, but it's cranky. It turns out that after a diagnosis that it was a combination of installing Open Office and windows update pushing an update for Visual Studio Express. What a pain!
I attend the DIY Green Energy project presentation. It's OK, but for some reason I was expecting more to hear about the logistics of getting green energy in your home. Instead it was a "case study" on installing outside lights that use green energy. None the less, it was well discussed and it was great to hear about the logistics involved.
Null Sleep's speech drove home that chip tunes are "not a genre". He shows nostalgia for old audio chips and synthesizers, which is in direct contrast to the presentation Necros gave later on. The two speeches balanced each other in interesting ways. Anyone reviewing the presentations should watch both together for some fascinating contrasts.
We leave the presentations and go back to coding. As I pass by the front desk - I realize that Notacon is really a culture experience. It's been a long time since I've felt that. Among the T-Shirts with slogans like "RegEX" (as opposed to FedEX), there is something special happening here. There is a meeting of minds and technology here which is well worth visiting.
Radman's speech on the ASCII / ANSI art scene has been given a few times before. It's a stock standard presentation and was well executed and attended. Powerpoint lead to it's usual problems of course, however Radman was able to run most of the videos manually. People struggled to understand the different between ANSI and text mode demos – but they were curious and trying very hard to fully understand. It was also very very cool to see Signal To Droids, used as an example text mode production.
The final presentation was given by Necros and was amazing! It could have been better attended [if only they had an idea how amazing it was]. Perhaps next year they could show him live making music in a non presentation forum. [stick that man on a big screen]; some kind of live concert type of thing. His ability to hook things together in Buzz and make a song... it was remarkable. For a coder, it's was really neat to see the domain of an artist at work. Be sure to check out the Notacon archives for this!
We continue to work on the demo compo. We were extended the chance to test on the compo machine. It had monstrous horse power, including a few cpus and some crazy gfx card. However, it choked on our production. The same production that worked fine on our laptops. What the hell?
In the end, some video tweaks were made to drop some extra quality settings (env mapping?) and everything was fine. We figured there must be something in the driver causing the problem, but we can live without the feature.
I missed the free pizza while working on the ASCII art / nfo file and making the final package. I don't mind one bit as it let me contribute a little more to the production. We finish everything, back it up into three different USB disks and submit it via partymiester. There are a few bumps in the submission system – but it eventually works out.
Three of us eat in the hotel restaurant while s_tec continues to work. Oddly enough, we meet someone talking about Narcisse Manitoba. (which is quite close to my home). Narcisse is one of the largest breeding grounds for garter snakes. We enjoyed good conversation and I had good Irish beer again (I had one as well last night). I'm wondering if it hasn't had it's alcohol removed like they do in Salt Lake City (where Pilgrimage was held).
We've noticed that there are things to see in Cleveland. Next year we'll have to spend a little more time here to check out the local events. When we return to the party area we learn that there is no fast music or Flash competition. It's probably good that I didn't sink a lot of time into the Flash compo then. We get seated for the demo viewing and catch the rest of "who's slide is it anyway" . The players in the game are being a playful and a little raunchy as well and everyone was having a wonderful time. These people know each other well. It was however a bit of a surprise when coming into the game without having seen the start.
The game ended and Jason Scott presented his MemeDump 2007. This collection of Internet videos were put together in a artful and fun way and he had us laughing in no time. The strongest of these memories was from "lol, Internet". I think we were all singing along with that one at one point.
After the MemeDump was the main demo event. Two hours of everything from wild competition to the demo competition and music. People milled in and out during the compo entries; mostly I think this was because the music compo ran long. I appreciated that the organizers kept the songs to a maximum of three minutes. This was controversial with some musicians.
The demo competition had a few surprising entries, including some very strong 4kb intros. It's hard to see intros included up against full size demos. The organizers were good about telling people the size of the production. It would be great that if in a year or two that 4KBs and 64KBs could be split out into their own competitions.
Most notably was how the "wild compo was truly wild". I think the European scene could take a page from this – as wild has become the same as saying "video clip" in their scene. This year notable entries included someone playing through the first level of Gradius without being able to see his player or missiles, a 4kb gm.dls extractor to help make music for 4kb intros, a music disk made of c64 sid tunes, and even home brewed beer!
The ASCII and graphics compo were OK, but needed more entries to be truly notable.
Over all, the viewing went very well. There was one terrible demo that Jason Scott danced on the stage to; in order to liven things up. I believe it might become a consistently submitted production in the future – as a reoccurring joke. What made all of this especially fun, was the fact that Jason was wearing formal clothing – right down to the top hat. I believe this earned him the affectionate title of "Circus Ringmaster" for the evening.
We went to the Block Party lounge after the production viewing. We partied and talked until about 4:00 in the morning. Blacklight calls it a night and the rest of us go to tfinn's room. We watch Tron and Jason and Radman show up. This is awesome; as they don't even need to count votes!
Eventually although I have no idea when – we call it a night and get some limited sleep.
Sunday, April 29 2007
The following morning some of us check out the "Anything but Ethernet" contest – which showed T1 over barbed wire!
Finally it was the prize ceremony for to competitions. The prizes were generous and we were delighted to get them. We added several Mind Candy DVDs and Dark Domain DVDs to our collection. This was a common prize from Pilgrimage 2006, so at this point I believe every ND member has a complete set! Thanks!
We also must note that the prizes for the wild compo were fantastic. IC made them and went as far as having a hard disk platter professionally engraved. I believe it would be fair to say – that these could have / should have been entires into the compo in their own right!
After the prizes were given out and acceptance speeches made... it was time to go home. We had a final lunch at the hotel – and then caught the shuttle to head to the airport. This time I think it was about 10$ each. Quite a savings don't you think? :-)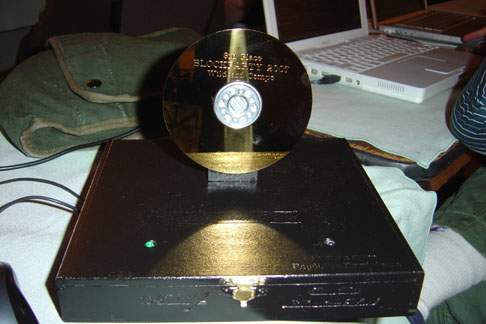 Many thanks to the Notacon group for giving a wonderful home for Block Party and many thanks to the Block Party organization team for making a demo scene event. They ensured that sceners were given space, food and perks that made it well worthwhile for them to come and participate in the event. Critically the organizers promise at least five events. I hope this will mean that other groups will pour effort into making productions for Block Party in the following years.
Naturally readers will be wondering how Block Party compares to the Pilgrimage event over the last few years. I sincerely believe this first event was better than the Pilgrimage at it's peak. Mostly this is due to organization that considered the needs of it's audience. There were maps of the local area for anyone that needed it. There was food on site, space, power and Internet. No one shut down a party area abruptly. It didn't feel like a event put on in Ohio for people in Ohio. It was an event to bring people from all over the world together in a shared environment of common culture and interests. Many of the successes of Block Party are the successes of Notacon. However combining forces with Notacon is a really excellent way to share in the experience and ensure for an amazing party.
Epilogue - Sunday, April 29 2007
Blacklight and I were lucky to both head home via Toronto together and left Cleveland on the same flight. We were able to kill some time with discussion of future productions and demo ideas. While waiting in line at Tim Horton's, a young child overheard our conversation – and began asking us questions with wide eyes.
Blacklight and I explained that we did stuff in "computer graphics" and had just returned from a competition. We gave the kid a Northern Dragons button, which he was delighted with. His Mom asked us what company we worked for – and we explained that it was really a "very expensive hobby".
She looked at us, blinked and then said "yeah, but you can make money in it right?"....
We explained further, talking about how we do it for pleasure and are blessed to win some prizes occasionally. Again, the conversation looped around saying "but there is money there?"
We had to give up trying to explain and said "um, yes you are right"... there is money in it.
Blacklight and I just looked at ourselves afterwards and laughed. Perhaps one day, this boy will enjoy this "expensive hobby". Who knows? Perhaps he will even make money at it.
Blockparty official website:
Polaris