Assembly 07 party report
Written by DiamonDie/Hugi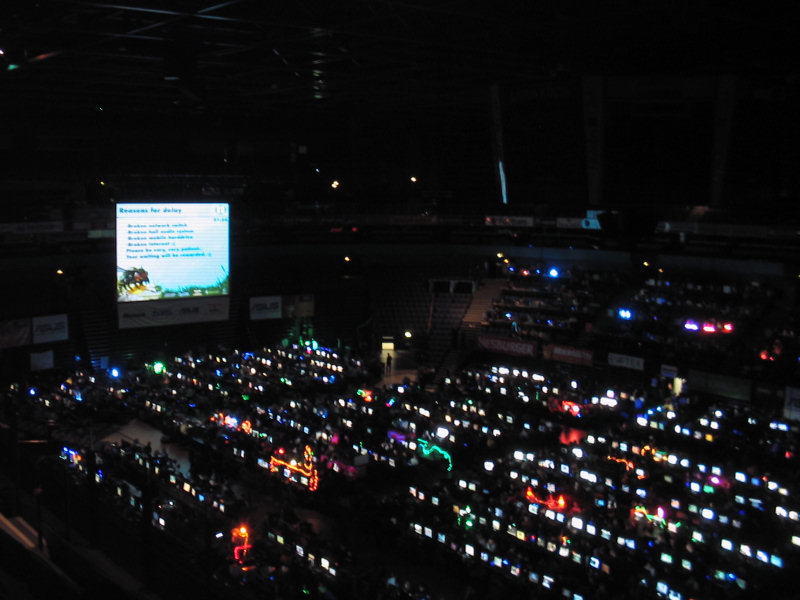 Assembly brought two fairly big changes for sceners this year, even though most non-sceners were probably blissfully unaware of them. First of all, "the real" Boozembly was actually held two weeks before in a fancy restaurant, because the Boozembly rocks had been demolished. I wasn't there or even in the country at the time so I won't comment on it any further. Of course there was still boozing near the Areena during the party. The other change was that the oldskool area was moved to the hall level, so I sat in the main hall for the first time since 2001(?). Oh, and there's also a second Assembly now, Assembly Winter, which is a gamer event, but it's not like gamers have migrated there from the summer event.
The party was held at Hartwall Areena from 2nd to 5th of August and like in the past six or so years, the weather was great. I took a tram to the partyplace at about 15:00 and surprisingly I still had to queue for a while. I settled in between my friends huhta and kiirala, even though my computer place was in another table. Kiirala was working on a 4k intro, quite a bit more stylish than his last year's RGB-colored Mushroom. I entered all my entries to PMS (the appropriately(?) named new Zepo replacement) so that I wouldn't have to worry about it later.
I, huhta, Luscinia, Kiirala and ld0d took a little trip elsewhere for some food and came back at six-ish. The opening ceremony started a bit late after 18:30 with a bright colored trance-themed opening intro. The ceremony was as usual, Abyss's hyping how this party would be better than any previous party. He also hyped ADHD, Assembly Demo HD(TV) system, which supposedly meant better image quality on the bigscreen. I'm not sure why the opening ceremony has to feature a bunch of PowerPoint slides, though.
There wasn't much else to do in the evening - I don't count the inane SMS chats running on the screen. What were the AssemblyTV people thinking? I chatted with ankkalaps and lemonade and wandered around the partyhall with Deep-Blue, checking out the scene booth and IRC-galleria's stage. Fast graphics compo theme was given out at 20:30 and it was "Natural Extremes". At first I couldn't really think of anything. A friend suggested I draw John Holmes, but it didn't seem like such a good idea. I started to paint mountains as I couldn't think of anything else, and added some lighting too for good measure.
I met and greeted Navis on my way to the bathroom. It's annoying that there are no toilets on the arena level. Some people couldn't even leave their code - my friend said he couldn't go to the bathroom even though he needed to, because he had matrices on his screen (err, right). On the next seat ld0d was coding a mini-intro to be shown on the grand stand displays. Some guys were playing the most horrible music in the true Assembly tradition, everything from Crazy Frog to Boten Anna and Finnish Idol winners.
The start of the gamedev compo provoked a huge yelling match. We also got to see a new Kill all audio and lights video, with a car theme this time. The compo had a whopping 19 entries. Overall I think the quality was fairly high, though I would have left out a few entries. Bouncing balls were a common theme (in four games, I think), as were board games. There were also several space shooters, but they are always popular. Many games had a heavy soundtrack, perhaps inspired by last year's winner Frets on Fire. Plenty of melodic trance too, but after the compo I could no longer remember which game had which music.
A Tribute To The Rolling Boulder was an Indiana Jones themed platformer with pretty good graphics. Apuun was a nice-looking space game, but on the screen it looked a bit too monotonic. Balls of Fire and Bounce were both ball-bouncing games, the former in 3D and the latter in 2D. The weirdest entry had to be Cellfite, which was based on the game of life. On the bigscreen, however, it looked like a random, slightly pulsating texture. People started yelling all sorts of things (like "duck!") and applauded when there were big changes in the texture.
Centripetality was a simple yet stylish, even somewhat original space shooter, whose authors had paid a lot of attention to creating an excellent introduction video. TAAt had a musical puzzle Cinnamon Beats which I didn't quite understand. Dicewars was a Risk-like Nintendo DS game, which looked very puzzling on the big screen. People just saw blocks and numbers changing rapidly, and then "you lost". Extreme Wheelie Biker borrowed from Across, and it too provoked huge applause when the player managed all kinds of "fancy" tricks on the bike.
Flaming Space Balls was yet another space-themed shooting game, which I found a bit too cacophonic both visually and aurally. Unique's 3D jet racing game JetOut provided eyecandy with kickass music while appearing like a good game to play as well. Kuula was a 3D arcade game where you tilt the board to guide a marble through a maze. It also had amazingly ugly typography. There was also a table hockey game titled Mad Stick. Interestingly there was even one adventure game, PlayDetective Heartbreakers. It featured isometric pixel graphics, and several in-game mini puzzles.
Sylph Winds was another good-looking shoot 'em up. Waboga showed us a board game in 3D. Wonders of the seven seas was an online game about battling ships in 3D. Xcene Table Soccer was table soccer on steroids. The actual game appared quite boring, but it had been fancified with a stylish interface and (annoying) speech effects. Fingersoft's Zompie reminded me of Alien Phobia, but in 3D. It wasn't that appealing visually, but the authors had obviously focused on the soundscape.
I wandered into the seminar hall at 1 where Re-Pulse was playing a gig. The music sounded good, but not to my tastes at all - I'm not into metal that much. They had a woman as the lead singer. There were only about 20 people watching. Funnily enough the place was decorated in Flowers of Life's wonderful bright-colored psy decos, as it was to host the raves of the night as well. Sadly they didn't start until 3:30 and I really needed some sleep, so I had to head home. Luckily there were raves both the other nights as well. We could have walked home, but since we could get a ride we settled for that.
We got back at Areena at about 15 on Friday. The outdoor compos were running at the moment, sometimes I go watch them and sometimes I don't. This time I didn't bother, since CD throwing, floppy throwing, basketball and football are pretty much the same every year. I found out that my oldskool graphics had qualified for the bigscreen, but my fast graphics entry didn't. I had certainly expected it to, because I was actually quite happy with the picture, but it wasn't the first time the Assembly juries disagreed with me.
The Fennogrid demo started at 17. The name was a bit deceiving, as of course this wasn't a demo-demo, but a grid calculation project. The download package was merely >200 megabytes. It had been spiced up with some kind of a multiplayer space shooter game with prizes awarded to the winners, I guess as an incentive to get people to participate. This game was even shown on the screen.
Before the fast music compo I went to check out sponsor stands again, eg. the completely stupid one with cardiac health education from a Finnish heart association. I noticed that Altparty was having a compo "draw scene" (with pencils) so I decided to participate. I tried to keep tabs of the fast music compo, but I was trying to draw so I think I missed a lot of it. Not very easy drawing in the dark partyhall using your laptop's Notepad as a light source, by the way. Chocolate Chips at Assembly was a funny vocal tune sung in a deep male voice. Koli-mela-Samulin melan kolina was a lovely uplifting and catchy chiptune.
I went upstairs to be able to work better on my rubber ducky drawing. I bumped into partycle who had just arrived and he was obviously saddened to hear that he had missed all kinds of wonderful programmes, such as SMS chats. I found a nice drawing corner on an inflatable chair in one of the sponsor stands and doodled for a while, until I had to go to the AssemblyTV compo studio to comment on the fast graphics compo. It was more than a bit disappointing to see messy doodles get shown when my own work didn't look like a quick sketch. But I think I did a decent job as a commentator together with MacGywer and Libanon.
There were some great entries too, and some cool concepts. Quick brown fox flies over the lazy dog was the only vector entry in the compo and I liked the style. Funnily enough it was shown with a wrong title on the second showing - but the new title fit it even better than the real one. Hermit was an atmospheric picture with a lot of attention paid on textures. It could have easily won a normal graphics compo.
The audience seemed to like Luomu, probably because of the grossly massive pair of boobs in it. The woman had a fairly pretty face, but other than that I didn't like the picture at all. I liked Tornado Surfers because of the dynamic composition and the tornado in the background - and besides, who doesn't like flying sheep. Over the Edge looked much better in the entry preview poster than on the bigscreen, I realized that the horse in the space had much more detail than I had thought.
I again headed upstairs and talked to Rigi on the Star Wreck stand. I met Olli-P and juhovh who were queueing for the Axes Denied gig. I thought what the heck and joined them, but when the gig was delayed I got back to drawing again. An interesting moment was when I was hanging out at the scene booth and someone asked viznut if they sold WOW shirts (as they were selling Alt shirts). Like the kind person I am I explained that she could probably pick them up at the Dark Portal stand. I went to check Axes Denied as well, and this time the hall was packed full. I guess I should have queued after all.
Back to the hall I noticed that ld0d's multitunnel effect with a neat scroller had made it to the grand stand screens. The instrumental music compo was about to start as well. It started off with an interesting tune, first organs and than heavy metal. Overall a bit too progressive for my tastes. Surprisingly Sleep, Sleep My Darling was one of the most interesting (and least sedative) tunes in the compo. I liked Rotterdam '87's sound as well, but the fade-out in the end was a bit awkward. Unssi came to talk to me and showed the painting program he had on his Nintendo DS. I wasn't aware that the console had pressure sensitivity, but apparently many others don't know it either.
Drawn themed compo had three themes: admiration, 360' and remix. You were allowed to use more than one. But like it often is in themed compos with a few entries it was difficult to connect them to the theme. Some of the entries I felt to be quite low in quality, but many were excellent and most of the concepts were rather creative. Eg. the first entry, Goldfish Summoner was just what its name implied.
The audience had most fun with "Don't take my precious, teh guage is legal", a picture about a gamer trying to protect his computer from an evil authority figure. Red Dawn was another crowdpleaser, which might have had something to do with the pair of tits in it - but it was a lot better than the boob entry in fast graphics. My TOP-3 entries were shown consecutively and others seemed to like them too - Mom, look what was under my bed! Can I keep it?, Musiikkileikkikoulu and Grumpy Giraffe. Aunt Lily's place was also quite an impressive scene.
We headed to the grand stand to watch the 4k compo. On the way there I bumped into a friend I hadn't seen for years and when we got seated I realized I was sitting next to another guy I know but hadn't seen for years. The compo was again the most interesting one at the party. It's funny how the 4k entries are moving away from the abstract into pieces with a concept or even a storyline.
The compo started by Organica, which would have been cool otherwise, but the design was so-so. Northern Dragons had a cool SOTA/9 fingers inspired intro with both the dancers and interference circles - and WingDings graphics. Unknown Artists' Bully was a grayscale 3D scene with cars on the road. Kartoonikum made the audience clap to the tune of the bright-colored story
I have to say RGBA's Stiletto has to be the best scene prod I've seen which makes unashamed use of the female body. The animation was quite impressive and the concept was funny too. BC!'s Maakaasu was all about some kinds of waveforms or strange attractors, but the lack of audio meant the audience wasn't so into it. It was dedicated to the memory of xaztur who passed away just days before the party. Loonies' Clusterstorm was all about the combination of dark 3D scenery and rumbling audio.
TAAt had a bright-colored disco-like entry and PuavoHard's intro reminded me of 90's demos - it even included a "jizzing clown" sprite fountain. Kiirala's Tsunami looked rather good on the bigscreen, but it lacked a gag that many of the other intros in the compo had, no clapping >from the audience during the show. Candystall was candy-colored like its name implied and I couldn't decide whether it was cool or ugly.
I was going to go to the rave after the 4k, but again I bumped into a friend and his girlfriend. And then the oldskool music compo started. The first tune was very 80s-like. LUKE's MOD tune was played next, he got his song qualified for the first time after about ten tries. Sweetness was a nice, appropriately named SID tune. Hammers was a tune for the VIC-20 and a good one at that.
I finally got to visit the rave, and it was pretty awesome. Decos, scanners, strobes, visuals, glowsticks, lots of UV active gear. The DJ was spinning breaks and people were really having a blast. Leia was bouncing like an energizer bunny and many others were flailing around as if possessed, or convulsing towards status epilepticus. In 2002 and 2003 I danced for most of the raves, but last year I missed all them because they were all set in the early morning hours. Luckily not this time.
I've always lived a walking distance from the party place but this is the first time I actually opted for the walk, as it's almost 3 km anyway. But the night was warm and pleasant and I got home a little after 3. I didn't get enough sleep though and in the morning I felt like I had had an encounter with a truck (not Truck, mind you). With some tea and ginseng I got going and I probably wasn't the worst zombie at the party place. In front of Areena we bumped into morning fresh unssi, who asked for directions to Boozembly. I said that I don't really know, but follow the noise and the smell of the barbeque - the previous year the smell could be sensed all the way from the Pasila railway station.
I went to the scene booth to finish my drawing. They were watching Amiga demos on the screen there, but changed to the Assembly TV stream as soon as the freestyle music compo began. It kicked off with Kuvittele maailma, female vocals singing a depressing rant about the world. Hetki hulluutta was a catchy and groovy pop song with strong influence from the Finnish band YUP.
Of course there was some rap/hip hop too, Dip it down low. Not really to my tastes. But I liked Close Your Eyes Don't Say A Nord Now. Quite a bit of pathos, but nice singers. Same goes for Closer to God with its hymn-like chanting and strings. We Against the Machines was something entirely different featuring speedy metal riffs and a singer that reminded me of Laibach. Dreck für die Massen was melodic trance - but also with raspy industrial male vocals.
I went to the Assembly TV studio again to comment on the freestyle graphics compo with Libanon and MacGyver. Some great entries, some total junk. A few otherwise good pictures were ruined by something trivial, eg. unbalanced composition, off colors, missing contrast or messy textures. There was only one picture that had utilized traditional art and a few with photographic elements. Mostly it was again Photoshop, sometimes combined with 3D software.
The two vector pieces (Michelle and The Outskirts) were both good, though I found a background element in the former very distractive. Cunning murder had an awesome concept - a horse tripped over by a banana peel - and great execution. Another one that stood out with its concept was the last entry, Don't Press Any Key, which turned a keyboard into houses with a finger pressing one of them. I also found J.C. Harassing a CS Undergrad quite clever and aesthetically pleasant, especially Jesus looked good.
After that it was time for voting, just in time because it closed at 17. That's also when the browser demo compo started and it was really good. The first entry was real vote catching if anything, called "Oral Tentacle". The splash screen with the word "yaoi" made people laugh and applaud. Komplex & Slengpung had a Silverlight demo with an interesting image zooming effect. Evoflash & BombSquad didn't let us down, the demo kicked ass both technically and design-wise. It was like a demo should be. Nothing wrong with the remaining three Flash demos by Pyrotech, Lume Crew and Minority either, they just weren't as impressive.
The first prize ceremony kicked off late, as always, at about 18:30. I watched it with Deep-Blue and said that I could bet my pants that the music compo winners would include Aikapallo, Paavo "Tarantula" Härkönen and Britelite. Well, I forgot Little Bitchard who won the fast music competition, but other than that my predictions were spot on. This year Aikapallo only finished 4th in fast music, but he won the instrumental music compo with his epic metal tune.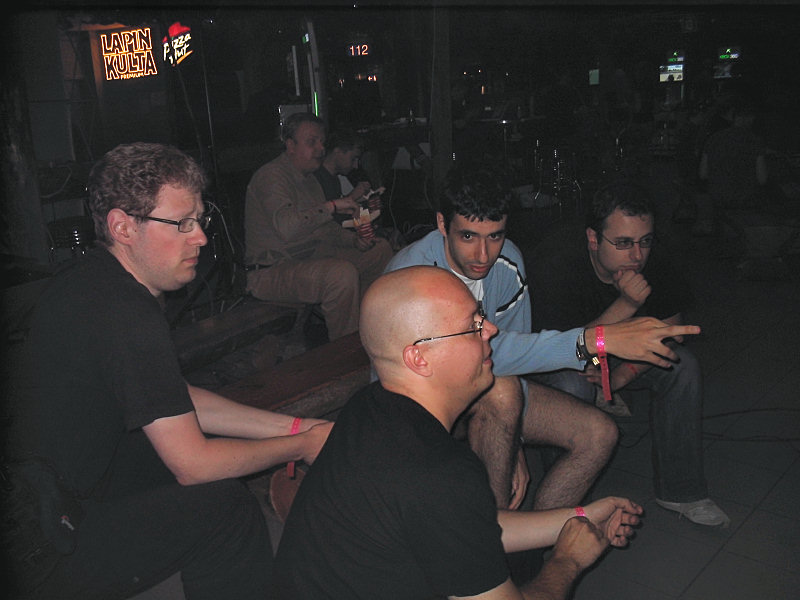 The graphics compo winners posed no big surprises either, though I was absolutely certain that Hermit would win the fast graphics compo. So much for my predictions, it got the shared third prize (I can't remember the last time a place was shared at Assembly). It turned out to be created by maxon, who shared the place with john peeba, and Random won the compo with Tornado Surfers.
Random, maxon and john peeba didn't get any prizes in drawn graphics, which was expectedly won by Kinnerean and the monsters under his bed. Maxon also placed #2 in freestyle graphics which was won by a fellow group member Migugi's Jesus picture. I wasn't too happy to see that this year's tit artist Venni ranked 3rd in drawn graphics and 2nd in fast graphics (though admittedly the former wasn't that bad).
Duce of Extend deservingly won the oldskool graphics compo, with Random second and the Speccy Mind Invaders third. Britelite again won oldskool music with !Cube and Inphernic behind. I had no guesses as to how the prizes would be shared in the oldskool demo compo, but the results felt fair enough. Trilobit was third, PWP second and Aspekt won the compo with their NES demo. Apparently not enough namevoting for Dekadence this year. I didn't really agree with the 4k results, except for RGBA's second place. The winner Candystall wasn't my thing and RetroPedro didn't really stand out to me either.
The ceremony ended in a huge cleaning spree where almost everyone collected trash around the arena with annoying duck quack music playing to entertain us. After that there was a lottery for three tickets to next year's Assembly as a kind of collective cleanness prize. I went to see Lackluster's gig, which featured material from mellow chillout to IDM. Some people were even dancing there, but most were just chilling out on the floor.
The mobile demo compo only had three entries. Pink Velvet Fluffer by Immersion must have been less than memorable, since the only thing I remember from it was the number of (tasteful) pictures of women. Dekadence's Beertime X was a good, very demo-like demo. My favorite entry was mixtape memories by prostyle corp, very similar to the Shitfaced Clowns Entries and poking fun at them.
The short film compo (formerly the wild compo) really came as a surprise to me and probably many others too, even though it only had 7 entries. Normally it's my least favorite compo, but this time it was really good. And all the entries were actually animations or demos. Vahapurnukan taukotuokio was a playdoh animation, nothing particularly outstanding, but people seemed to like it nonetheless. ToyZone 2 on the other hand on the other hand was a stunning real-time "pixel art" show with some amazing animations and demo effects, including a fire effect.
The Light At The End of The World was an animated short film, narrated in French. I couldn't really figure it out, but props for making something different. Jack and the Bus was another animated short, making fun of little Jack getting run over by a bus. Scene.ee's Star City didn't really appeal to me much, though the 3D animation was admittedly cool. Youscope was a great oscilloscope demo (with a clever name to boot) that the audience seemed to really enjoy. But the real crowdpleaser was maxon's realtime demo wannabe, which combined great design and great graphics with good laughs.
I went to see Takomo's gig at 22. They're a d'n'b duo that consists of rjv and bze, and they've played gigs in many countries. Because of that it was surprising to see that there were very few people listening. Interestingly at least half of them were girls. For some reason the visuals screen was mostly showing fractals.
The 64k compo was a real letdown for sure. There were only three entries which were quite similar in quality, nothing awful but nothing groundbreaking either. I can't even remember what I voted for or if I voted at all. I only remember one of the entries, Basic Facts About Design by Immersion, and I remember wondering if the name was supposed to be some kind of irony or humor.
Due to the short compo there was plenty of time to go to the rave again. This time jaywink was playing, but the music was still d'n'b and now the crowd was bigger too. Upon leaving I saw 3-4 people running around in a row singing the Finnish elephant song. One of them was wearing a Pikachu tail. I didn't think much of it. I bumped into Deep-Blue and we hanged around. I got myself some potato wedges from Pizza Hut. Then the elephant folks appeared again, and now there were at least 50 of them, quite a WTF panda moment. When we got to the grand stand, we noticed them trampling around on the arena level.
Our demo compo watching party included a whole slew of people, JoneK, Jttl, Deep-Blue, huhta, Luscinia, ld0d, me and someone whose nickname I don't know. The company was surely a good thing when it turned out the democompo was delayed. And delayed some more. Apparently they had a broken Internet, a broken AV system and a broken portable HD (with the videos of demos on it). We ran out of food and drinks and Deep-Blue went to have a cigarette, as that's always bound to trigger the action, but he actually got back before the compo started. In the end it was delayed by almost an hour. In the meantime the organizers tried to keep us entertained with eg. "Jos sun lysti on" singalong on the big screen.
I was seriously starting to fall asleep by the time the demo compo started, which is why I can't recall all of the fifteen entries very well. I actually liked wAMMA's demo which was quite clever and refreshing. Adapt's demo on the other hand made me feel very sleepy and seemed to go on for ages. MFX's demo wasn't particularly impressive either, but for some reason it wasn't even shown in its entirety.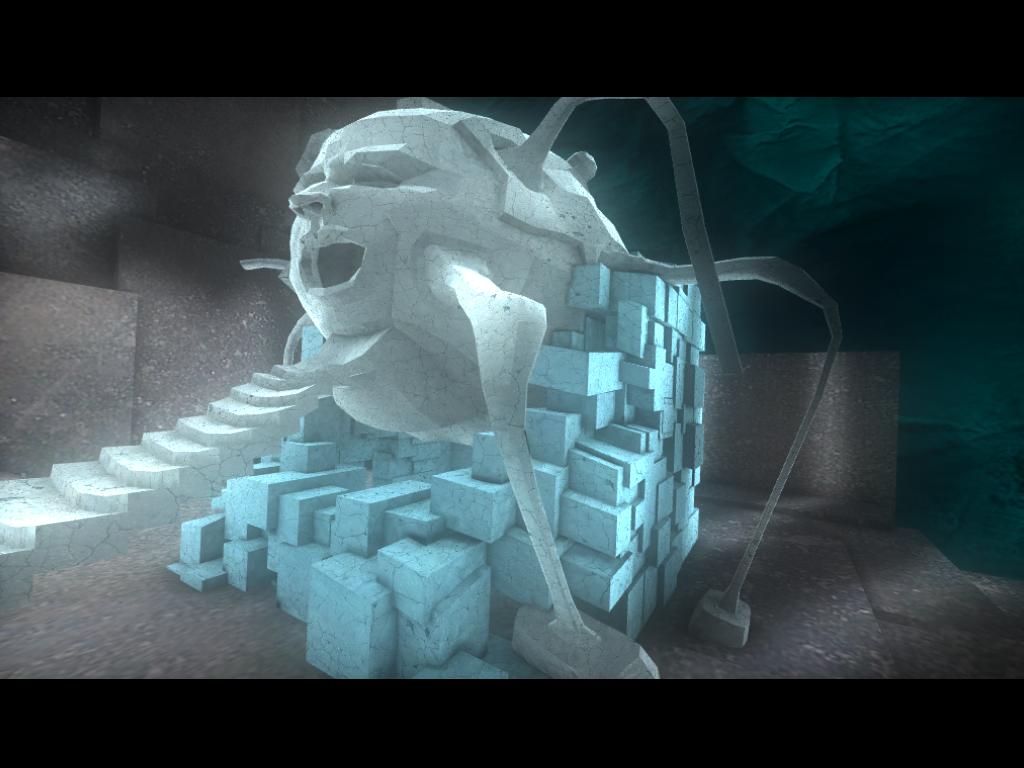 There were several invitations in the compo. F07 by Conspiracy was an an invitation to Function, otherwise nice, but the music annoyed me. And due to a technical glitch it was shown twice. I was ticked off because it wasn't the first time I had to watch a CNS prod twice at Assembly due to a glitch. Luckily it wasn't nearly as boring as the previous one. Brainstorm and Traction had a cute invitation to Buenzli, hard not to draw a parallel to the Kings of the Playground. The Sundown invite wasn't nearly as memorable as last year.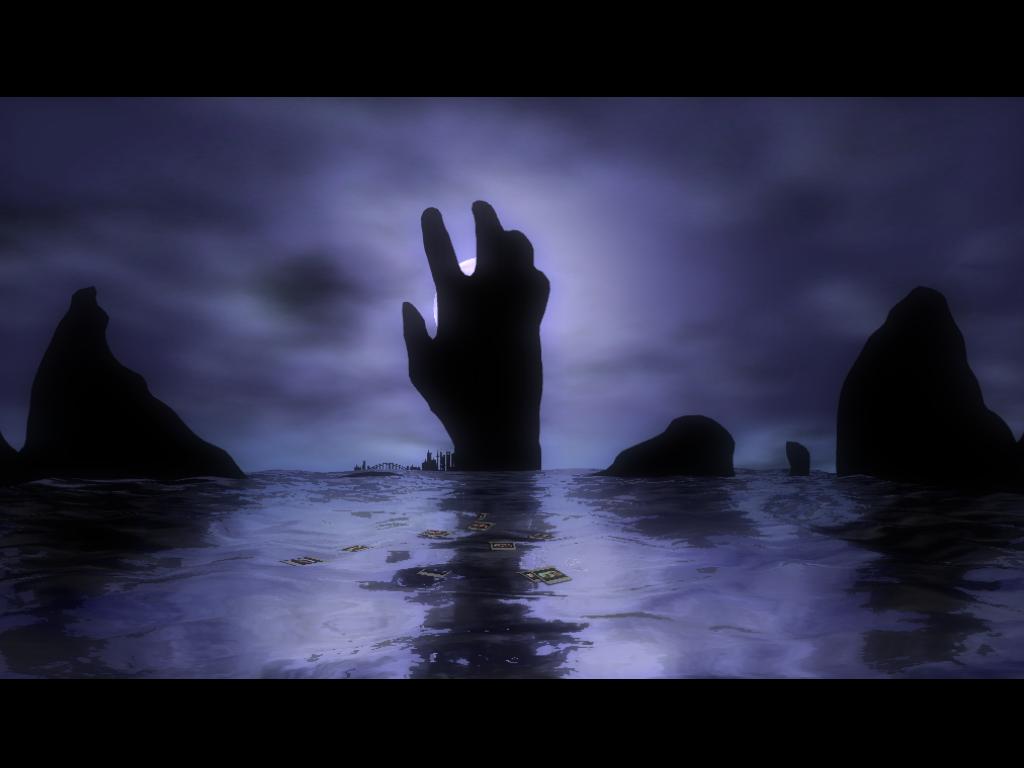 I liked Break Dance not Hearts due to the original style (and fractals are cool too). The Synesthetics demo wasn't particularly original or creative, but it kicked ass the way a good demo should. But nothing really compared to the treat that was nicely saved as the last entry. ASD didn't let us down, their demo Lifeforce was over eight minutes of pure eyecandy, earcandy and mindcandy too. The great atmosphere completely woke me up me from my sleepy daze and I just stared with my jaw close to the floor. The audience burst into massibe applause several times.
I had assumed we'd have plenty of time after the demo compo and I was planning to go to the rave one more time. But in the end we were in a real hurry to catch the last train to Espoo at little after 3. Luckily I heard that JoneK was giving a ride to Jttl who lives just 1-2 km from where we were going, so we got a lift too. Waking up at 12 in the morning was still a bit of a nuisance, I must have been replaced by a zombie during the night. I contemplated not going back to the party place, but in the end I did go out of tradition.
I was a bit late but I knew the prize giving is always delayed, and of course it was this year too by like 30 minutes. The ceremony always lasts for ages, because of the myriad of game compo, sports compo and sponsor compo prizes. Coolest case, fastest computer, best IRC-galleria CSS mod, best drawing of a WOW character, stuff like that. Setok and Ravel from Altparty organizing awarded Youscope as the entry with the most original concept and Mangaelf as the winner of the scene drawing compo. Strangely the heart organization didn't give out a prize for the highest blood pressure/heart rate.
When I saw a closeup of Abyss on the screen at the beginning of the ceremony, he looked incredibly tired and worn out. It was later evident when he got completely confused and almost skipped awarding the winners of the browser demo compo altogether, but the audience loudly reminded him. The compo was won by Evoflash & Bombsquad, not a big surprise. Komplex got a special Microsoft prize as the best Silverlight entry.
The mobile demo compo was won by Dekadence. Maxon claimed the first prize in short film again, with ToyZone and Youscope behind. The gamedev results came as a surprise to me, with Cinnamon Beats third, Zompie second and Centripetality as the winner. The margins were quite small though, and Rolling Boulder ended up fourth with only 10 points behind tAAt. Immersion won the 64k intro compo, but the margin between the first place and the third place was less than 200 points (out of almost 7000).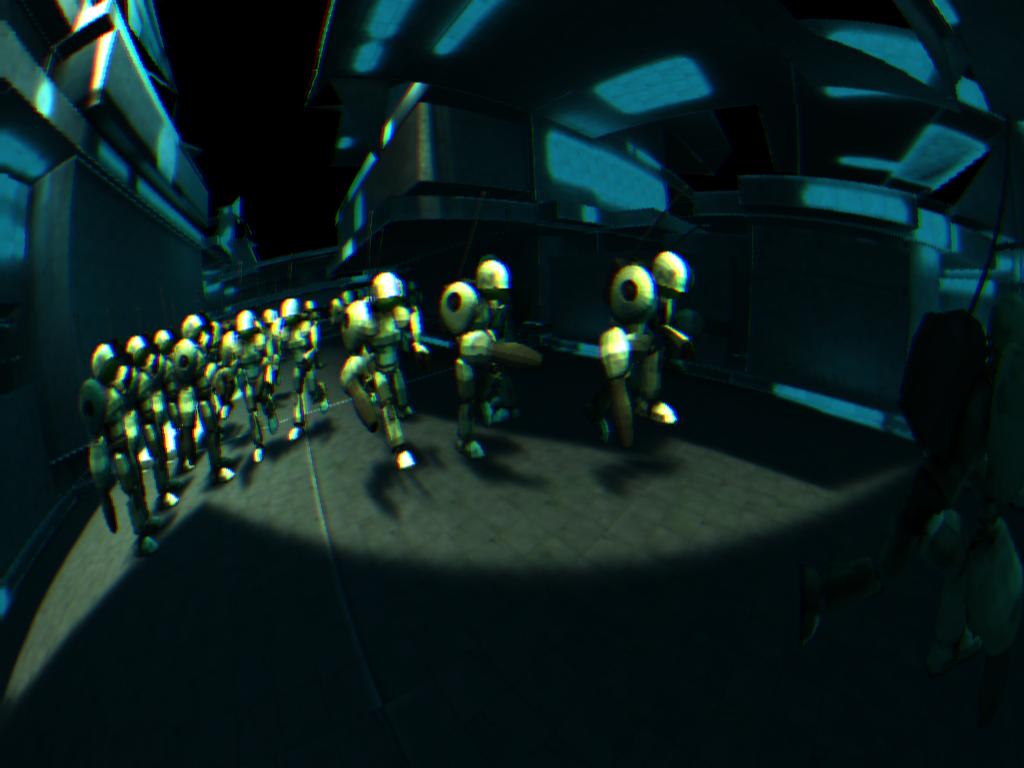 As always there were five prizes given out in the demo compo and Microsoft also awarded the best XNA entry. It was Conspiracy's F07 which placed #5 in the compo. Evoid droid was fourth, media error third and STS-06 second. The margins weren't too big here either, but not surprisingly ASD claimed the first place with over three times the amount of points that Synesthetics had. Navis looked overjoyed on the stage, on the verge of tears. We got to watch the demo again and people still applauded in the best parts. Then the closing ceremony started. After greeting some folks and and congratulating Navis I decided to leave.
As a whole I guess Assembly was alright. And that's more than I could say last year. It's not nearly the same event for me as it was nine years ago (well, not many things keep their meaning for a decade) and I was bored a lot of the time, but it's the bright highlights in the compos that really made it for me. Some of the 4ks and wild demos, some oldskool prods and ASD's demo of course. They were enough to make it worthwhile, to even make me all warm and fuzzy inside. So I'd like to thank the authors of those prods. And the rave organizers too, since it was another great thing about Assembly. Next year I hope there will be even more people to thank.
DiamonDie/Hugi