In Focus: H2O of Paradox, Rebels, TRSI and Alcatraz
Done by Tristan/Hugi
Additional questions asked by Magic of Nah-Kolor
Tristan:
Hi H2o! Welcome to Hugi issue 34. Please introduce yourself to our readers.
H2o:
My Name is Markus, born 1974 in Braunschweig, Germany. My handle in the so called scene is "H2o" and I have been doing graphics and ASCII art since I was 14-15 years old. I also tried to code assembler on Amiga, but found that I wasn't made for it as I recognized later :) Since I've grown a bit older now, I prefer to mix real life and scene up a bit; I made a lot of friends during my scene time all over the world, so it is, and was always positive in all aspects to be a small part of the computer / demoscene. Maybe some of the older guys remember that I was more or less successful in doing Amiga ASCII art, and did some logos here and there for demos, intros and cracktros.
Tristan:
What groups and projects are/were you involved in?
H2o:
Well this is a too-long list to write here, but I will reduce it and write down some newer things. Actually I am supporting Rebels and TRSi and I am also a lifetime member in Paradox. I am helping the new Alcatraz people too - a bit. Generally my time is super rare and I discovered a life without pixels too. :) My latest production, as you might know, is our latest musicdisk called Rebellion, the concept and design of which I did for Rebels. Before that I worked on an Xbox360 Demo called Bloody memories 2 for TRSi and before that one we did some other console demos. In the past I did a few ASCII collections and logos and graphics for cracktros and intros. It would be really too much to explain all. What I am preparing right now is a wild demo for Breakpoint 2008 which looks promising. Also an Xbox 360 Demo is supposed to be released, but that's not really sure yet... And I guess a few people would like to see Rebellion 2 ... but, uhm, there is nothing in the pipeline ...
Tristan:
What was your first contact with the demoscene like? Please describe how you became involved.
H2o:
Uhm, my first contact, if I remember correctly, was that I got more attracted by cracktros accompanied with commodore 64 games, the texts and stupid wars inside the scene, than the games itself. I wanted to learn how to make them and started to see what's behind all those "bad cracker" guys. Automatically I saw the first legal demos / intros in those times. And I got more attracted to it. The city in Germany where I grew up had a lot of sceners from "Possessed, Endless Piracy and Paranoid." They did a great job to introduce me to the scene. Okay, in the past there was more arrogance inside the scene than today. If I compare how easy it is right now to become a member of a nice group compared to the past - it was always harder I guess. I started to code intros, cracktros etc. But my better skills have always been to design that stuff. My first membership was in Alphaflight, then Arise, Scoopex, Paradox and others. Then my golden BBS years came up, and it all changed. I moved to the PC platform sometime afterwards and there I concentrated more and more on pixel graphics and logo art.
Tristan:
What do you really miss from the old BBS's days?
H2o:
First of all, I remember that these were for me one of the best years on the scene. I did a lot of ASCIIs and ANSIs, which I am still able to do, but nobody needs them anymore, so this scene is, sadly, almost dead. The BBSes were the first international and quick sharing option for sceners and I ran 2 BBSes in those times. One with my buddy called Link and the BBS was called Paranoia and I had my own small BBS called Raveland, both of which have been run well. First AmiEx and then Fame :) Those were really good times.
Tristan:
What you do for a living Anno Domini 2008?
H2o:
At the moment I do several things; first I am working with a big company for videogames accessories and wholesale. I program and design the webshops, some product pages, etc. Mostly I am responsible for the internet part of this company. Another thing is my small design agency, which does Web and Screen design, Programmation, Corporate Identity and Corporate Design. And my next small thing is a fashion label called "Millionaire Couture" - this is a label which I want to boost more next time. There are a lot of people hot for that shit :)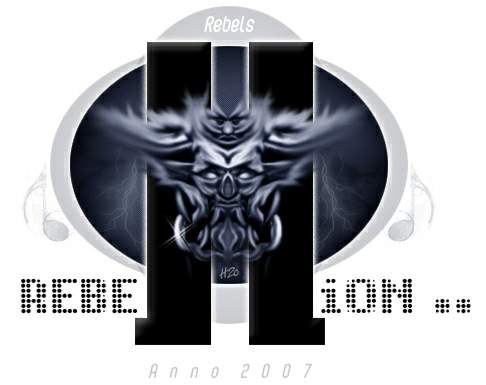 Magic:
Please describe the process of making graphics for Rebellion a little...
H2o:
Well, it's always the same. First you talk with all active parts, select and filter what is needed. Then you start with a piece of paper and then I do one of my feared scribbles ... I am super bad in that! Then I talked to the coders to see what's possible, and once I had all information I needed I started with the screen design ... That is a simple process I guess. More or less all my ideas and styles have been accepted on first attempt. That's about my participation for this production.
Magic:
Please tell me a little about Rebellion 2. Will you also participate in it? Any ideas, graphics-wise, for it?
H2o:
Well, Rebellion 2 will come sooner or later for sure, we have a lot of super-talented and well-known musicans.. Right now we have different ideas, but I guess and you can be sure that Rebellion 2, if ever made, will follow the way Rebellion did, to make a real musicdisk instead a musicplayer with a nice skin. And, for sure, I plan to do the art direction again for Rebellion 2.
Tristan:
What is it like to work with Maximilien and when did you meet Paradox?
H2o:
I love to work also with sceners in real life, except one guy, who ripped off a lot of people and also me. I don't want to mention names, but you can imagine what I mean here. What makes the difference to work with sceners is the spirit behind it, it's not a job, it's a way of life. I never had bad experiences so far. To work with Maximilien is not different. Professional work with possessed people. A lot of people get jealous if they see others having success in the business; sad but true. Thanks to the scene I am happy to say that I am able to live well in a nice spot of Europe ... Because I use my skills in a successful growing company built by sceners. Well, I met Paradox a long time ago, but it was not so interesting for me, once I met Lincoln at Irata's (of TRSI fame -ed) place, we met for a few drinks before we all went out to a party. A shame I don't remember that very well anymore. And Lincoln told so much about it that I got interested to work with them; I did some things for them, mostly on PSX I guess ... but it has always been nice to work with those sceners.
Tristan:
What do you think about the demoscene of today compared to the old-school demoscene?
H2o:
Well, first of all one, thing makes me happy: some sceners who dominated in the past still rule today. For example Debris from Farbrausch was coded by Chaos, the same coder who already made major demos with Sanity on Amiga. The Music in the musicdisk Rebellion was outstandingly done by Virgill and Chromag, also two super longtime sceners. Of course there is a lot of new blood in the scene, but well, the oldies are still active and setting the benchmarks. Old-school demoscene, what's that? If old-school means I just put a scroller, starfield and logo and I have a demo, it sucks. When it means to do a demo in the way it was in the best Amiga times, I love that shit. What worries me sometimes about so called 'old-schoolers' is that they did not do much in the past, and today they claim themselves to be gods. A lot of people are inventing stories what they did in the past or let's say, they are stretching the truth :). And to talk crap on forums and comment every production on websites is for sure not really a scene activity in my eyes. Some people see that differently. Whenever I tried to keep the good old spirit I thought about productions from Sanity (Interference), Anarchy (Digital Innovation) or The Silents (In the kitchen); (I think you mean Hardwired here because In the kitchen is an Anarchy demo -ed) these are all stylish and nice productions for sure. But is it necessary to mention groups like Melon design or Lemon? They were active in their own decade of design, even amusing. Compare to what we understand about a demo today, the first next-generation production was State-of-the-Art from Spaceballs. Well synced but not 100% "the bomb" in effects; but this was the grandfather of today's demos, in my eyes. The times are gone where we announced an effect and showed it afterwards. But in the old demoscene decades, some nice colorschemes have been used, for sure, and sceners knew how to turn the pixels. Today you see more coder-color accidents in demos compared to earlier times.
Tristan:
What do you miss most from the old-school days?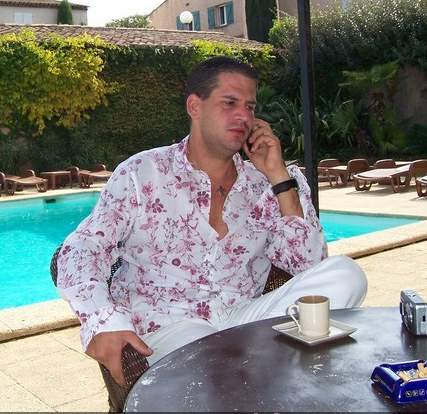 H2o:
I miss, and please don't be upset with me, the good old arrogance. I was super motivated to get in the golden circle of sceners ... today it's baby easy. Today someone comes from somewhere under a stone and goes to a big group, if he is more or less skilled he can quickly reach a respectable crew. That was impossible in the C64 / Amiga times. And for sure, the spirit we had, but maybe I don't feel that because I am not so young and hot for it.
Tristan:
You told us you made ASCII art. What do you think about the ASCII scene in general?
H2o:
Well the ASCII scene, if it ever existed, really was a respected thing in the years of AmiExpress Fame and a bit PCExpress. I mean, in times when a BBS was the one and only place to trade the latest stuff; there was a high demand for those ASCIIs and ANSIs; this became more and more a hype and the first ASCII groups had been founded. I guess I was in the right place at the right time, I was really inspired by the first pieces of ASCII art done by Skin and Amblin, a lot others followed later, so I was quite early in this scene, saw the ups and downs of this scene. I was able to create my own style, with crazy elements, and maybe I was one of the guys creating what ASCII art today is, or better said, what the people today remember when they talk about ASCII art. Today, I guess ASCIIs are not really needed, and well, it's also not really respected so much anymore, for sure some NFO Files or Login ASCIIs for FTP servers are needed. But that's it, I have to admit, the times of ASCIIs and ANSIs are almost over. I am torn between respect for the guys still doing that and saying "no, it's time for them to change to another work". That funny respect and dizzes in the collections have been traditional ... But today the youngsters start to forget which guys invented, and from which influences they rip off.
Magic:
You did the design and graphics for http://www.virgill.scene.org... How did you become involved in this? What programs did you use for it and how long did it take you to make it?
H2o:
I've known Virgill for a long time, so we have been in contact regulary. I have a small website which is my personal small gallery for me and my friends. I needed, or better, I wanted a personal trailer sound, so I asked my talented mate Virgill to make me a nice sound. He did that well, there was, for sure, no question that I would do graphics for his website. The whole website was done by me ;). The sound he made me was also recycled for a mag announcement intro...
Magic:
What is the address of your website? And that music you mentioned was this used for the Zine#12 headlines intro?
H2o:
Yes it was Zine ... this small personal website is called: www.quatre-vingt-quatre.com. But it isn't worth to visit this :) Just some crazy party pics :)
Magic:
Why did you join Alcatraz and what is it like to be part of Rebels?
H2o:
Well Alcatraz ... s7ing was asking me a lot so I accepted to help him, he knows that I am very busy, but I saw potential ... Rebels is something nice, as I told already; it has some nice members, a BIG potential, and people I've known for ages.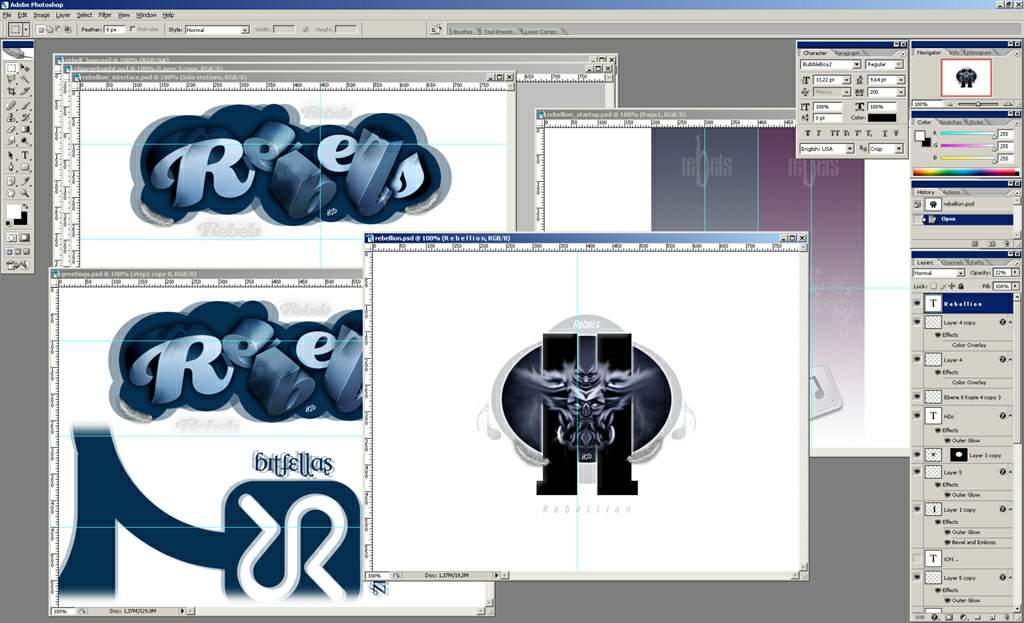 Tristan:
Next to computers, what has your interest also?
H2o:
Well besides computer stuff I like to ride my motorbike. I got a big motor for my 30th birthday, and I like to ride that thing a lot. Next thing I plan is a holiday with a bike around Corsica. And, well, I like to share time with kids, every year I organize a Kids-Summercamp with over 300 Children, 50% growing up under bad social conditions, 50% from normal families. It's super nice, and nothing is better and more true than a child's smile. Of course, my son Leon is going with me to that camp, but he is 2 at the moment. And for sure I like to live a good life. Work like in hell, party like in heaven, that's my credo. Last year I discovered a bit to do "Accrobranche", that's climbing through parcours with different obstacles. I do that often, it reflects your body shape and your level of condition well :) It's fun and I discovered a few places where you can do that. My first black (means really hard) course I did together with Ayatollah/Trsi when he was in my region for vacation ;) It's really funny, the older I get, the more addicted I get to sports. Maybe it's because I am afraid to look like shit at all.
Tristan:
What are your favourite alltime demoscene groups?
H2o:
The best from all cracker groups, for sure, is Paradox. As for demos I think it's Sanity and Farbrausch who set the benchmarks really high. The group to party with and with the most crazy action was Haujobb I guess, but XXX of Haujobb calmed down so much down, and Lincoln / PDX got calmer too, the parties today are nothing compared to the ones in the past. Maybe with an older age we have another point of view.
Tristan:
What groups are the best in today's scene, do you reckon?
H2o:
Hmm, there are a few. First, of course: Farbrausch, they have been leading the scene since ages, some productions are from upper standards, but from time to time they are brilliant. So, for sure, they fit well in this list. And, of course, also nice is ASD. Their productions are innovative and I like their changes in style a lot. I don't know about coding so well, but also that looks sober for me :) On the third place is Equinox. They have the right feeling to pack old and new effects, but in super nice ways. I like what they do a lot, they do a nice stretch between old-school and new-school! Other groups I like a lot, not really technically but for other reasons, are TRSi and Rebels. Yes, some of you might think wannabe old-schoolers, but that's not true, I have been working a bit longer with them, I made not only groupmates, I made real friends, and beside that we might be the old guard, we enjoy having fun at parties, booze and talk shit. But we still try to produce some respectable things like our PSP Demos, or at Breakpoint 2007 we released an XBox 360 Demo; this wasn't the effect overkill, but compare how many crews with a similar age are still releasing something? That's rare. And for sure REBELS is very nice, today existing in a mix of good, older Sceners like Virgill, Chromag and co. and some newer but really talented members. The results are respectable for sure, and Rebels is one of the rare reactivated crews which is able to continue the same level of productions as when they left the scene for a while.
Tristan:
What scene moments do you treasure the most and which ones would you like to erase right away?
H2o:
Well, what was the best? Uhm, I guess the best moments are the party actions we all had during the years. Meeting friends once or twice a year you mostly know from chats and instant messengers, that's really fine. For sure we always celebrated the times together, and the time goes fast like hell. Also the time shortly before parties, when big pressure is on, this is a strange but nice moment. Worst ever moment, I organized in 1993 (or was is 1992?) a demo-party after the CeBit in Germany, it was my first party I ever organized, I was a bit young, and had no experience. So finally about 800 visitors attended, and there were nice releases. But a lot of guys destroyed almost everything in the nice party place. The moment when the bill for the repairs came up, was really terrible. Thanks to Commodore, which finally paid the damages. I felt super lucky. I was really disappointed about some sceners then.
Tristan:
Which demo parties have you attended? What do you like about visiting parties?
H2o:
Through the years I like to attend two parties per year at the moment. For sure Breakpoint is a must be, this is in my eyes an actual state of the art party, where you can meet really almost all sceners who are active. It's well organized from the shuttleservice at the airport till the hotel reservations till the end ceremony and the shuttle back direct to the airport is very, very nice. The second and more family style party is Evoke, also nicely organized with a nice and small atmosphere and is very good too... Sadly, it's always in August, and this is not really well working together with my private kids-camp engagement I do.
Tristan:
Where do you get your inspiration from to create your brilliant graphics?
H2o:
First of all my gfx are only average and never brilliant. I try to be in one league with good graphicians, that's all. I think I have my own ideas of style and follow my ideas. And in real life I have a job where also style and gfx are important, so I am well trained. I don't need any mood or any music to do graphics, for me the bigger problem is to have the time for making graphics because for me, working for the scene is like escaping to another world, with other rules. Honestly, everything which is better than the crap I do motivates me, I want to be at the same level, or even better... Sometimes it works, often it does not.
Tristan:
In your opinion, who are the best graphicians on the demoscene?
H2o:
Oh, that's a hard and somehow an unfair question too, it depends, in pixel gfx I like Kenet and Xenusion, those two are active ones and surprise me every time in what they do. In the past I think the best have been Uno and Angeldawn, sadly both don't follow the way to participate in the scene. Besides that other graphicians exist who are really nice, but the scene is fast, and sadly only a few stay inside it all the time. But nowadays to be a good at gfx is not anymore to make outstanding pixelgraphics, the requirements got higher, storybooks are needed, 3d objects, camera paths and textures have become more and more important, and in this field I also have to learn new stuff every day.
Tristan:
In your opinion, what was the best art ever made in real life?
H2o:
The best art ever made is easy :) Salvador Dali. The god of arts :) And he had an eccentric life. He did stuff which became modern years later, so he is the best ever.. Even when you print his illustrations on t-shirts today, you might even sell them as well.
Tristan:
Please use this opportunity for some last words. Give the readers some words of wisdom.
H2o:
Well, what to tell at this stage? I thought with the age of 20 I would stop being active on the scene, I failed. I wanted to quit with 25, I failed again, and when I turned 30, no better luck. I think the longer you are a part of the demoscene the more you get addicted. The only limitation is the time you can make free for the scene. But when you have some dark moments in your life and nothing is working well, there is always one spot where you are welcome: IN THE DEMOSCENE. To make a greetings list might be 1) boring and 2) some people would be pissed because I forget them. As you might know already, it's not the time for you to get rid of my influence in the scene. I'll still work to improve myself as much as I can. And I hope you all work on the same level to keep the demoscene as leader in new trends and technologies.
Links related to this article
Virgill's website designed by H20
Another website H20 designed, with music by Virgill
Tristan, Magic & H2o