Al Lowe interview
Done by Magic/Nah-Kolor and Adok/Hugi
Photos by DiamonDie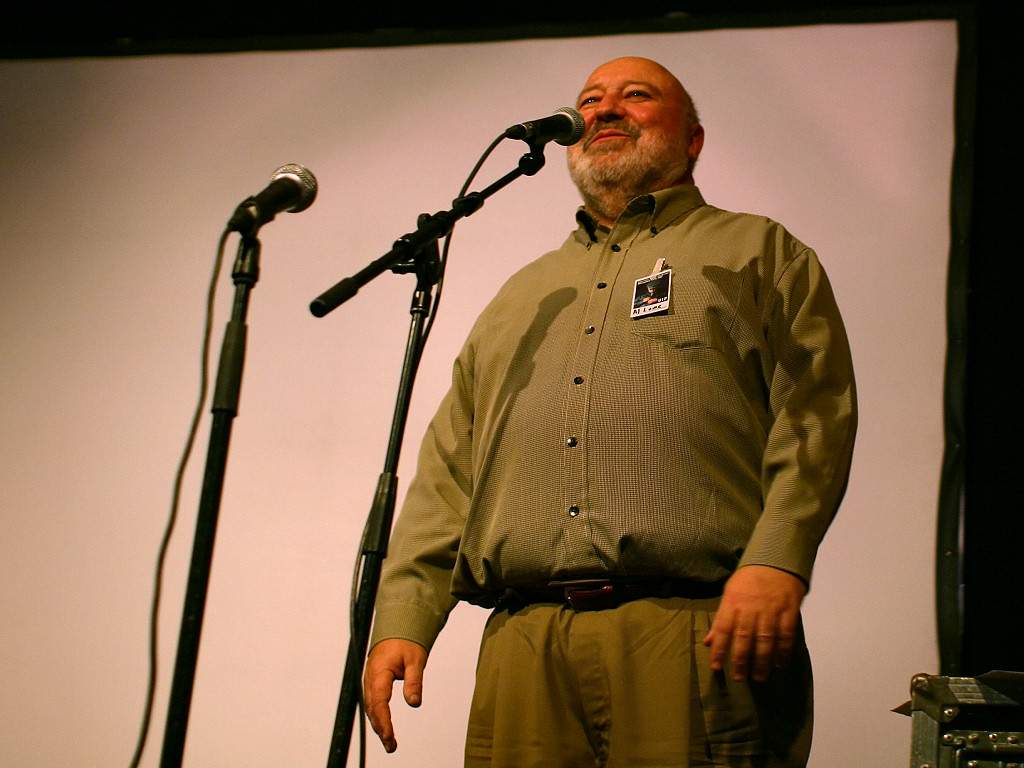 Larry
Magic:
Hi Al, the first question has probably been asked to you more than one time before, please tell us where the character Larry originates from.
Al Lowe:
Hi, I'm Al Lowe and about 20 years ago, I came up with an idea for a new character in computer games called Leisure Suit Larry. Larry came about because at that time, Sierra had a property called Softporn that hadn't been published in years. When it was out, it was a big hit. Sierra asked me if I could take a look at this game and see if I could bring it up today, make it more modern and put more modern graphics in it. It was a text-only game which, by the way, you can download now for free at my website allowe.com. I looked at it and came back to the company and I said that there's no way I could do anything with that game, it was so out of touch it should be worn in a leisure suit. And I got a laugh. And from there I said, you know, if you let me, I could make it funny, I think I could make fun of the game and it would work better. And they said: Sure, have a try. I told them about the total amount of my game proposal and design offerization of Larry, and they said I should give it a try. I did that and spent about three months of programming, writing the texts, designing the scenes and animations, writing the music, scoring the sound effects and so on for the game. It was a huge game for the time, it took two floppy disks (360k) and was the worst selling game in the history of Sierra On-Line. So I said: Well, I guess I wasted my time on that, and I started working on the first Police Quest game, not knowing that over the next year Larry's sales would double every year.
Magic:
Was the first Larry a one-man show, meaning you did all the code, gfx and music yourself?
Al Lowe:
It was a really fun project because I worked completely alone other than the graphics, which were produced by another guy, Mark Crow, who was a young student at high school at that time. He had gotten his start on Space Quest. He was working on Space Quest during the day for days a week and Sierra said: "Well, if you could work on Leisure Suit Larry as well we'll pay you a great royalty for doing so". That's what he did. So it was just Mark and I. I think Mark worked one month of weekends and evenings doing all the animations and backgrounds, while I was doing all the coding, sound effects and music.
Magic:
In the very beginning, even before Larry was created, how did you teach yourself to program?
Al Lowe:
I bought a lot of books because they were no class at the day at that time. You could take classes at Cobol or Fortran, but that wasn't really very useful on an Apple II. When the IBM PC came along, I just shifted over to that and continued to teach myself that. For a number of years in the early eighties every project that I worked on I either learned a new computer or a new operating system or a new language or multiples thereof. It was a rapidly changing time back then.
Magic:
How do you explain the hype around Larry in the 80's?
Al Lowe:
Well, it was easy: There was none. Larry was never hyped, it was never marketed, it was never advertized. It was strictly sold by word of mouth. Yet it was kind of amazing phenomenon because at the time Larry came out, the stock market was in rapid expansion and in about three months after Larry came out, the market crashed. I think there were a lot of stock brokers sitting around, somebody had an illegal copy of Larry and passed it around on various computers - PCs were just making their way into the financial market at that time -, somehow infected one of the servers with a virus as they had a pirated version that had a virus on it and brought down one of the big financial companies in New York, which gained a lot of publicity. We had a lot of interviews, a lot of press and a lot of interest in the game but never any hype, never anything but sales. It just went out and was sold. When I finished Police Quest, I said: "Well, maybe I should try another one of these games" and started Larry 2. I figured I would end the series with 3 because trilogies were the common denominator for multiple games back then; there weren't more than three games of anything and not even three movies. This was kind of an unwritten rule. I adhered to that. So when Larry 3 was over, I sealed that all up and placed it in a corner. Later, when I talked with the sales department, they said you can't make it the last one, people still want to buy this thing, you got to make another one. So I was really in trouble. I just couldn't figure how to get started on Larry 4, what to do, where to get from the happiness he had at the end of Larry 3 into some situation that would make him single again. One day in the hall I was talking with somebody and she said: "What are you working on? Larry 4?" I made a joke and said: "No, Larry 5", and we laughed. But I realized: Maybe that's the answer! Who says that you have to do sequels in order? So that's what I did. I shifted right to Larry 5 and all through Larry 5 I referred to the fact that some things had happened in Larry 4. I even titled the game "The Missing Floppies". It was a fun way to get me out of a terrible situation and have a lot of fun with what people said because the normal answer when they heard that Leisure Suit Larry 5 came out was: "Hey, wait a bit! What happened to 4?" And so we got their attention, helped the sales and helped Larry to succeed.
Magic:
Can you explain why Larry, in our eyes, is still a popular game even in 2008, 20 years after its original release?
Al Lowe:
That's an excellent question. You know, I think it's because of my superior programming skills *laughs*. No, I think it has much more to do with the fact that the games told stories and people still loved to hear stories and to learn about characters that are strong characters. One thing we did right back in the days was to create characters that people could relate to. While there are games that do that nowadays - there are very few adventure games and it's much more the RPGs that have strong characters now -, Larry was a story game and it was a character-based game. The other thing that made it popular was that unlike the other games around then, it was not a swords and sandals game, it was not a space conquer game, it was not a post-apocalyptic world game, it was set on current day in time and I did that purposely because I didn't think it was good to compete with those other games and by hitting the ball where they weren't, by doing something other people weren't doing I sort of gave myself less competition and I had an easier go for it.
Magic:
Leisure Suit Larry: Box Office Bust has been announced. A new game coming for the Xbox 360, PS3, PC and Mobile Devices. What's your comment on this news? Would you like to be involved in this game in some way if possible? If no, why not? If yes in what way?
Al Lowe:
I've heard that a new Leisure Suit Larry game has been announced by Sierra - of course it's not Sierra any more because Sierra no longer is anything but a logo on a box, there is no Sierra company any more, it's all owned by Vivendi Universal Studios, which is now merged with Activision to form Activision Blizzard, so I guess it's owned by AB, and AB will bring out a new game - but the only thing I know about it is whatever is on the Internet. I've never heard a word from anybody. They say that they are interested in having me enjoy the game when I play it and you know, I think the way to ensure that it's true to the original games would be to have me involved but it's up to them, it's their property. One of the things I did at Sierra was I agreed to a contractual arrangement that allowed me to create the games and receive royalties on them for as long as they were sold in return for giving up the rights to any derivative games that are based on the characters and situations I developed. So Vivendi AB is perfectly within their rights to do what they're doing. It didn't work out well for them with their last game because it wasn't a very good game but you know, they will make it sure it will be better than that. I hope it will be better than the games I did because I would like to have something funny to play again.
Magic:
We have read about the Ultimate Larry Collection. What's this exactly? Please define...
Al Lowe:
The Larry games have been issued in a number of collections over the years. It's very complicated as to what's collected where, but the best of these collections is called The Ultimate Leisure Suit Larry Collection. It was sold in the United States. It had all the games in it plus Leisure Suit Larry Casino and even the pinball game I had nothing to do with, that was done by Dynamix, a division of Sierra back then. The recent collection Vivendi put out in 2006 did not contain all the games. They left out the sound version of Leisure Suit Larry 6, which is by far funnier than the silent version. They also left out Leisure Suit Larry 7 completely and therefore it's just a partial collection. I can't tell you all the specifics about the collections. The easiest thing for me to tell you is to look at my website because I do have a complete description of the collections.
Alt Party
Magic:
As you know our magazine reports and writes about the demoscene: You visited the Alternative Party 2007 in Finland. We learned from the organizers you were already invited for the 2004 edition. Please tell us why you accepted to come now in 2007 and how you ended up there.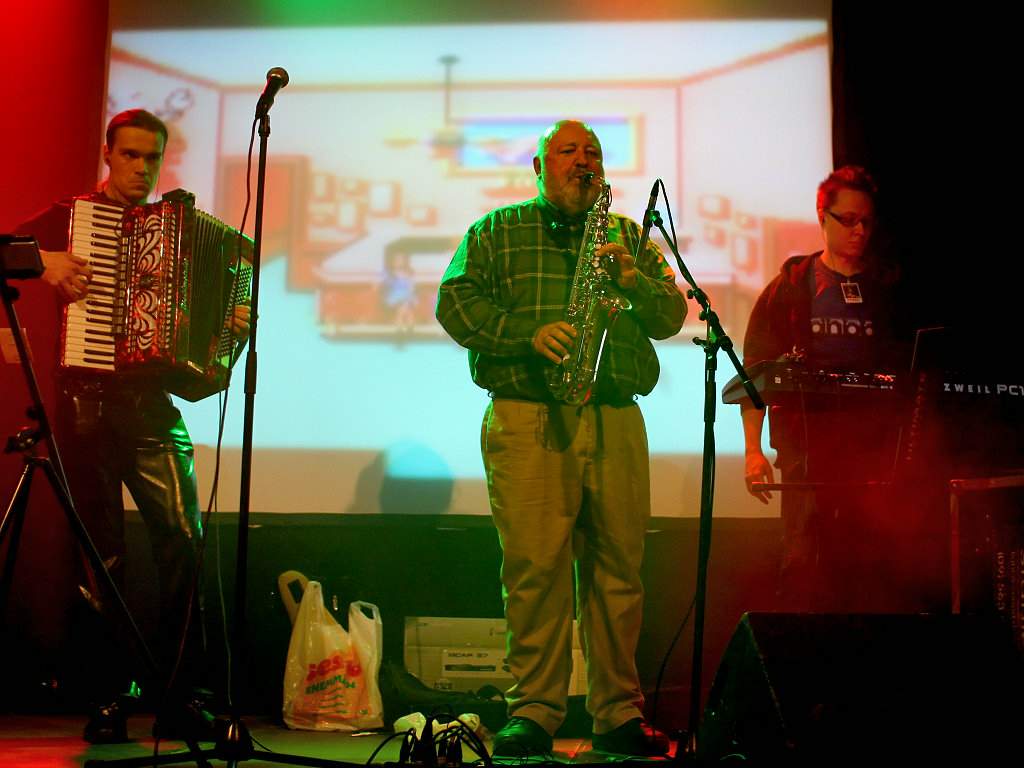 Al Lowe:
In November of 2007 I was fortunate enough to attend the Alternative Party in Helsinki, Finland. I heard from it originally several years ago. I think it was maybe 2004, 2005 when they contacted me. I was pleased to come over and see the amazing demoscene. You know, there's nothing like that in this part of the world. The States have nothing like that where programmers get together and create games right on the spot and do things like that. I stayed there for a few days before the party and left right after my speech on Saturday night. The limited time I was able to attend I found it an amazing place. There was a speech which I believe is posted on Youtube so you can listen to it and I even got to play with a local band, the David Hasselhoff Big Band, and had a great time playing saxophone with them. I think that was posted to Youtube, too, so you can find it if you look for Altparty 2007 or my name or something like that. There was a real funny Leisure Suit Larry look-a-like competition. A guy was dressed completely correctly with a blue shirt and a white suit. The other guy was maybe not quite as close but he had a toilet paper attached so firmly that it stay on during the whole competition. So we ended up with a tie for the first place prize.
AlLowe.com
Magic:
When did you start with your website allowe.com and what was your intention with it back then?
Al Lowe:
My website allowe.com started just about when I left Sierra On-Line in 1998. I wasn't sure what I wanted to do with this site but I just thought I had to do something and I had a lot of humour material I had collected over the years. I've been online since... Well, I guess my first modem was a 110 baud acoustic coppler. You stepped the phone headset in and called to a mainframe. That was in 1977. My first bought modem was a beautiful 300 baud one in 1982 and I think I paid 300 bucks for it then. So that's one good thing about today, one of the bad things about the good old days. I collected humour over the years, as everybody knew I loved laughing and loved making people laugh. As I had all the material, I thought: "Why not give it away?" and posted it onto my website to make people laugh. So that's what I did. It started off with a small site and I ended up posting a lot of humour. There are hundreds of pieces of material there now and maybe a thousand videos and fifteen hundred site gags - just a lot of material. The thing that makes mine different from other humour sites is that allowe.com is edited by me, and I mean that literally. I don't post everything I get like other sites, they slap up there whatever they get. What I do instead is throw away 98 % of what I receive and share only the things that I feel like are the very best, the very funniest. But before I do, I correct the grammar, spelling, punctuation and everything, and do my best as a humorist. I tighten the humour and the jokes and make them as funny as possible.

End Questions
Magic:
Are you still being creative in some way in game development?
Al Lowe:
I have retired from game development. I wasn't really happy with the way it happened because Sierra actually gave up on all adventure game development. But I have a lot of hobbies and I do a lot of volunteering for non-profit groups. I also love playing golf, I read and I spend a lot of time watching movies and films in my home theatre. I don't anticipate ever going back in the game business again. The games have changed a lot and I had hope that they were some time going to cycle back to story-based games and character-driven plots but it hasn't happened yet. If it does, I'll be the most pleased. But right now it doesn't look to me that it's going to.
Magic:
In the future, after you have left the human world, how would you like the Larry games to be remembered by all those generations of gamers who played it? And how do you want to be remembered by them?
Al Lowe:
In the future, I'd like to see the Larry games remembered as a good time by the players who played it. If anything, I'd like to be known as the guy who used computers to make people laugh. That's really my goal in life: to have a good time. So far I've been doing that. I've been very blessed in my life because I never really had a job that I wouldn't have done for free if they weren't going to pay me. You know, I'm very fortunate to be able to say that. I've never had to do anything that I hated, I've had jobs as a music teacher, I loved kids, I loved working with music and loved playing music. What could be better than that except game development, which was wonderful. Since then, I've had the chance to enjoy my retirement and to learn to play gold badly.
Magic:
Please give this article a nice ending. Give us your last words. What do you want to tell our readers about Larry, creativity and would you perhaps even share some wise words?
Al Lowe:
I was happy that I could share the time with you today. I hope you enjoy this and maybe got something out of it that will help you. If nothing else, you can sure get a lot of laughs by going allowe.com. I give away two jokes every workday morning. So if you want to start the day with a smile, come to allowe.com, sign up for cyberjokes 3000 and maybe I can make you laugh once more. Nice chat with you!
Links related to this interview
The Alternative Party 2007 Report
David Hasselhoff Big Band with Al Lowe live at Alt'07:
Al Lowe speaking at the Alternative Party:
Magic & Adok