Sceners moving to Swiss mountains (By T$/Scoopex)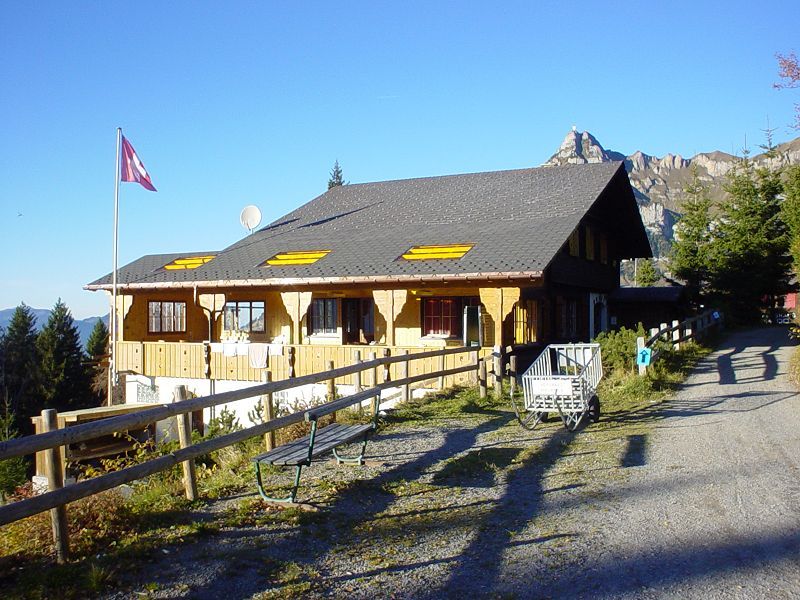 At the end of October 2005, Topy44 invited all serious sceners to celebrate the most ruling scene party ever held on a mountain for the second time after the great success (and the great financial mess) of the first GeekCamp, which had taken place about 3 years before. Apart from Topy44 himself, Sirrah and PsyKon were helping him all the time while Zehbra had provided a lot of support, which backed the party up from the ground. The location itself was a small cottage in Fluelen, close to the heart of Switzerland, providing a breakfast room, which was used as the main hall, a party room where the compos and DJ sets took place, as well as a large balcony for relaxing and, not to forget, a couple of rooms providing beds for everyone.
The weeks before the party had been rather cold, so most of us expected the weather to be rainy and hoped (or feared) that it might already be snowing for the first time. However, as the party weekend approached and with every kilometer less to Fluelen, the weather was getting more and more sunny and promising for a perfect late summer ending. As the party place was located on a mountain, the only way to reach it was by using a cable car. The operator of its lower station didn't seem to be surprised of me wanting to get up the mountain in the late afternoon, carrying along computer equipment. It looked like Topy44 had already informed him that many sceners would be arriving at that time.
Since there weren't any other attendants arriving when the next transport was planned, the operator told me that he wanted to close the station as usual, and thus refused to take up Scamp and other sceners arriving later with him. This gave Topy a hard time running out of money and organizing a 4x4 while several sceners had to drop the party due to losing their ride or being occupied by real life duties. As a result, the party ended up really cozy with only about two dozen attendants. The first sceners greeting me in the fading sun apart from the organizers themselves were Ddeml and Sirrah, while Jens was already busy with disassembling the CRT beamer as it seemed to have a broken circuit in it. He later even managed to order a replacement part and soldered it into the beamer right before the compo day started, but there were still some problems remaining. Well, I guess most people wouldn't have noticed the slightly misadjusted beamer picture at all anyway.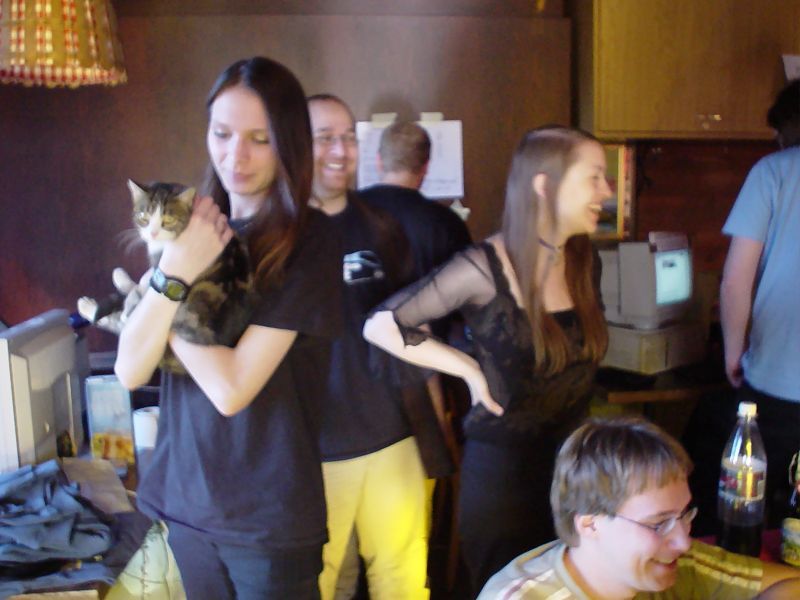 We also had the famous and completely unknown happy hardcore DJ CorDharel on the party. He was occupying the party room almost all the time playing back his tracks, although nearly no one was listening or dancing to them. However, from time to time it was a good place for having an excuse to recharge your personal Vodka-RedBull level while chatting around. One could also notice that there were a lot of animals, not only cows, but also a large group of striving cats that enjoyed being pet all the time until they got scared away by our evil pirate guy MBB.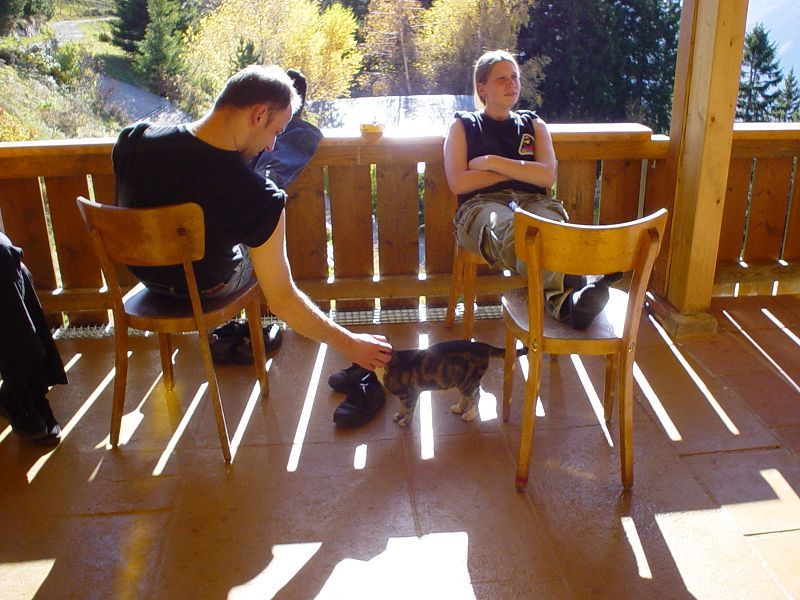 Later on, the SquoQuo and Metalvotze guys arrived, followed by our Bingen and heros. As it was still rather warm outside, most of the evening and the night was spent on the balcony chatting, joking and - of course - enjoying any kind of delicious beverage like GinTonic or JägermeisterOrange (which, as everybody agreed, was "tasting like christmas").
On Friday, I decided to go for a walk in the mountains to enjoy alpine nature and to take some photographs for the photo compo at the same time. After eating some home-made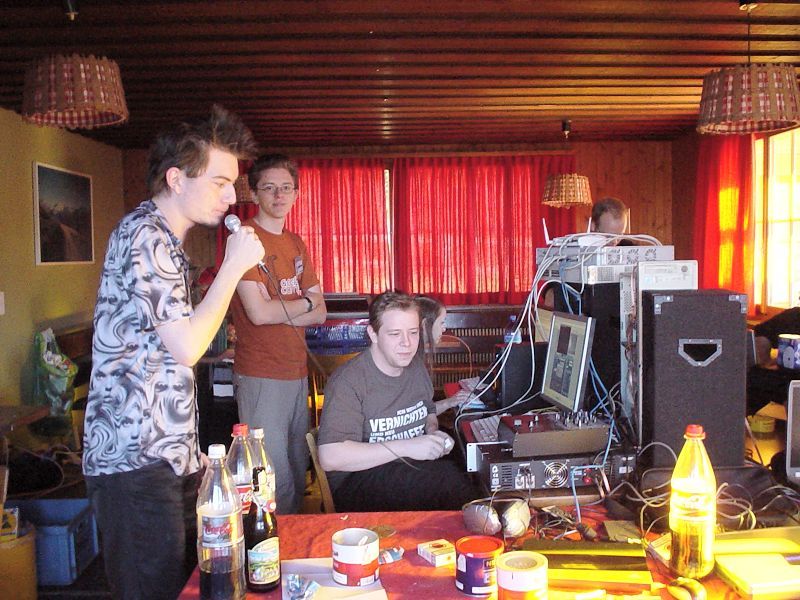 gingerbread on a small alp house it was already time to get back, and I returned just in time for not wanting to eat the infamous "Swiss cheese fondue", which - I must second DFox - "smelled like rotten animals". Apart from that, the food support was really great as it consisted of pancakes, scrambled eggs, spaghetti, pizza and a large pile of various Swiss candy like "Biberlis". Cooking as well as washing up was done by all attendants present, thus you could hear a lot of "Fieeees" and "Üüüübel" shoutings while cleaning up the huge pile of dirty dishes and pans
from the last evening. This evening was mainly spent by watching funny costume movies, like Batman from the sixties or really strange Japanese real-life versions of an anime, as well as playing console games on the bigscreen. Metalvotze also announced that they had split up into two groups named Goldvotze and Kackvotze for some unknown reason.
The fun compo took place on Saturday. Its task was to build a cable car model by only using the material provided by PsyKon as well as any stuff which was somewhat related to beer. I
ended up joining the team of Ddeml, Sirrah and Jens while the other team consisted of the artists formerly known as Metalvotze. Both groups ended up with rather decent results, showing extras like working doors in the cabin or the station, additional buildings or a tree for decoration. After the presentation of the working cable cars, the polyester-covered Metalvotze guys decided to top it by setting their cabin on fire while letting it rush downwards in the dark. Other competitions followed where one could see that the only reason for the Metalvotze split up was most likely to be able to dump twice the amount of crappy releases into the compos. The competitions ruled anyway, and I can only recommend to check out JCO's track as well as his movie, where he pretends to be a lecturer while overexaggerating his mimics by using perfectly suiting image distortion effects. He later also took over the DJ set playing back a mixture of Trance and Electro-Darkwave while many of the participants joined the dancefloor.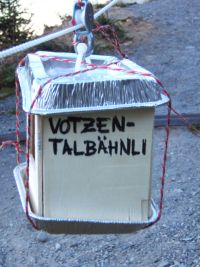 Sunday morning arrived way too soon with sceners trying to wake up or just enjoying the warm sun while watching the mountain landscape in the fresh air. I also bought a party shirt from Topy44, driving him crazy by wanting the design of the girly shirt on a non-girly shirt of a size he claimed being way too large for me.
The prizegiving was delayed as usual, and Topy44 told us that the amount of money wasted on this party had been several thousands of Euros in total, the majority of it spent on beverage. Since it was already pretty late, most sceners rushed to the cable car station at once. Getting a ride to the train station by our premier Atari coder, I managed to get on the last train back home just a few minutes before it departed. As soon as there will be a next GeekCamp, you can count on me being there again!
T$