DiHalt 2006 report (By Preston & Nap)
__Preston:
Me and Unc were staying at the railway station and waiting for a train to Moscow where some friends were waiting for us to make a trip to Nizhny Novgorod together. The idea of making the trip entirely by train wasn't that exciting. We had decided to go by local electric trains, but our friends from Moscow were working all day Friday and we didn't want to stay too long there.
In Moscow we realized that we were too lightly dressed. The first electric train took us to Vladimir.
__Nap:
As freaks usually do, we bought train tickets just one day before :). Preston said by phone that we'd meet in Nizhny and there would be sleeping places there.
Friday, 28.04, evening: Our voyage started with my late arrival to the railway station, about 10 minutes before the train's departure. I'd met Paro there and we had been drinking wine the entire way.
__Preston:
For some reason I had taken out my cell phone and was looking at it. After a moment I got a message from Zeebr saying that he couldn't help us with sleeping places. One more call – Bitl said that he was going to NN and that we'd find something when we arrived. I'm in a panic – Paro, Nap, Mam are traveling too and they don't know where to go there. I called my old friend who has some family there. He gave me his sister's phone and she promised to meet us in NN.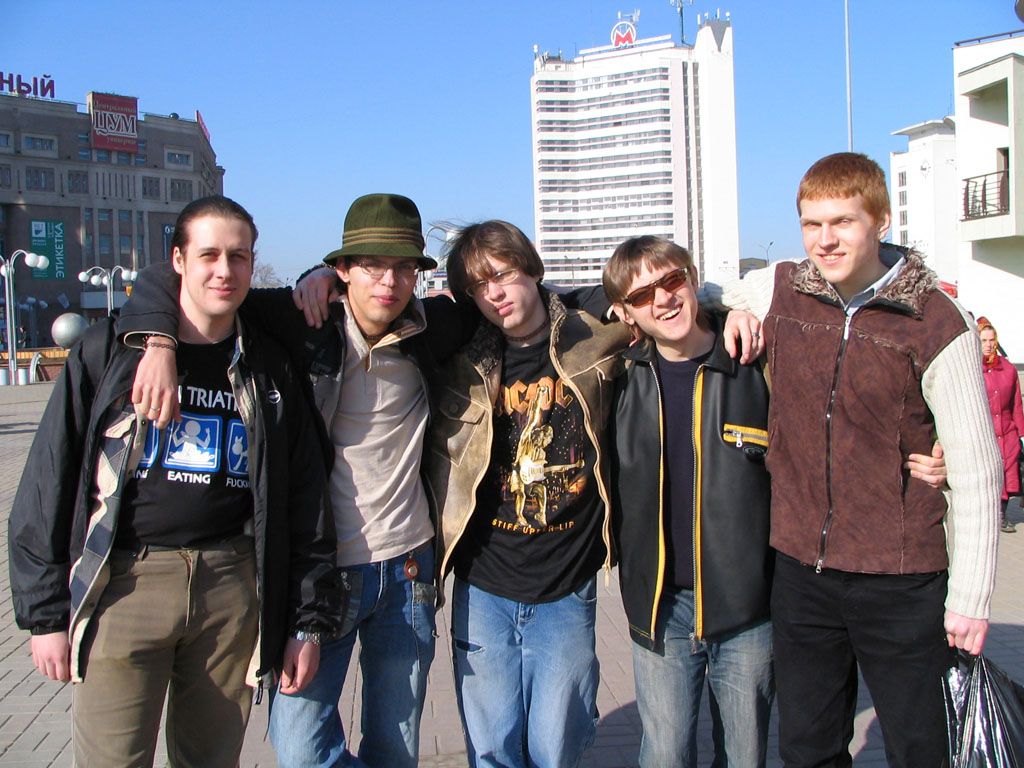 Vladimir city was cold as well. The next train was to Viazniki. Sitting in the waiting room and feeding pigeons with nuts, getting to Viazniki, then to Nizhny took the next few hours. One more message from Bitl saying that he had arrived and didn't know where to go. It was ironic because Bitl was one of the party organizers. We found a flat for rent near the South highway and bought some food. Mam arrived soon after. Nap and Paro called – they couldn't find us. It seemed like their taxi was somewhere nearby, but they couldn't explain their location clearly :). Finally I found their taxi and we sat, drunk beer, and talked about scene news 'till late in the night.
__Nap:
At 1:16 a.m we arrived at Nizhny Novgorod, caught a taxi, and with difficulty found the place where Preson, Unc, Mam, and Bitl were. I showed them my unfinished 64k which I had written the night before.
After that we talked a while and finally got some sleep.
__Preston:
It was nearly 3:00am, Nap and Bitl were discussing MacOS in the kitchen and we fell asleep. In the morning we cleaned up the flat but Bitl was still sleeping and snoring like a 56k analog modem, just like real hacker should ;) We went to the railway station to buy tickets for the return trip. It was successful. We then had breakfast at McDonald's and got to the party place by tramway. It was about 11:00am when we met some people from the speccy scene and some others who were just observers.
At some point some CPU members, Agressor and RayNoa arrived – the party got a bit funnier then. Mam and I started writing a track while Nap continued coding the 64k. Bitl was drinking with the speccy fans outside. It was the first party day.
__Nap:
The security guards were very loyal. We couldn't bring our glasses inside so we left them at the entrance. The party started with music compos. The chiptune compo was the best.
There was a wifi network at the party, but it didn't work :) It's far more fun when group mates are nearby talking about demos as opposed to network development, so I continued coding the 64k on my notebook.
There was some fun compos – disk throwing and coca-cola drinking compos.
There was only one demo in the ZX demo compo. It was by CPU and was exciting, but had no rivals. The CPU guys ruled. Respect guys :)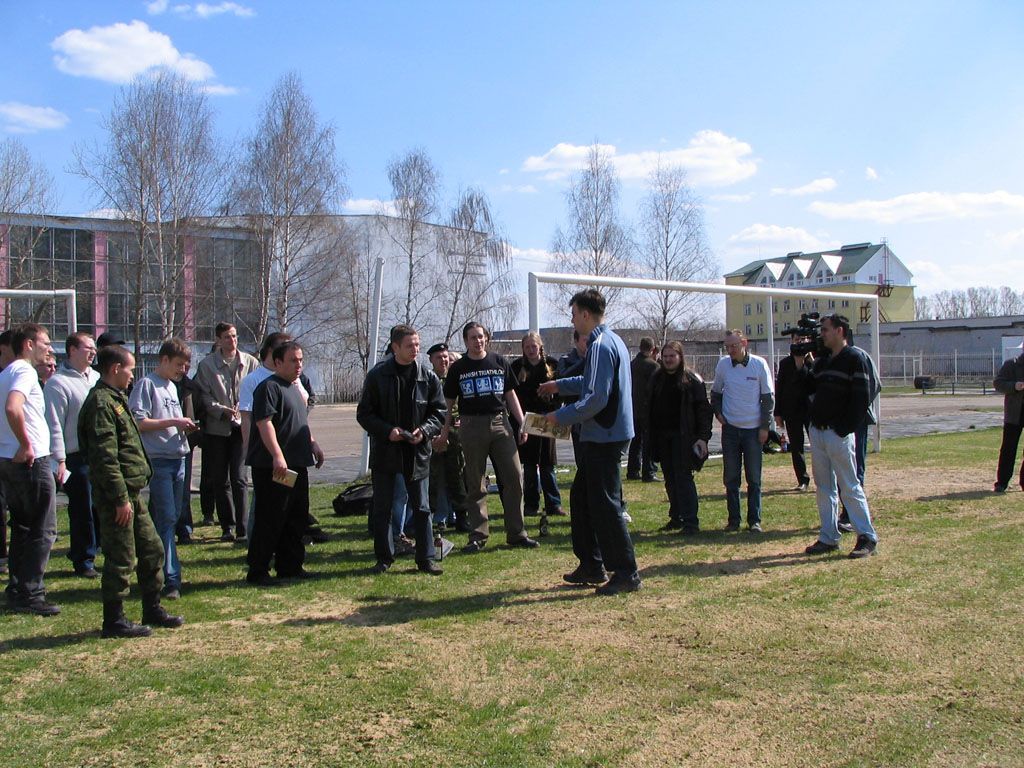 __Preston:
CPU called me to go visit the hidden party, but I was too tired. Nap, Paro and Bitl had gone to the HDD throwing compo and then went with Himik to get some food at a cafe near the party place. Mam, Unc, and I went to the flat to get some sleep. In about three hours our hidden party participants arrived. I thought they'd never leave there. ;)
Of course, Bitl and Nap didn't sleep all night long and went to bed near morning. Then everybody woke up because of Bitl's terrible snore. It was even harder to wake him this time.
__Nap:
The hidden party was not very far away from the party place. Everybody was discussing, roasting sponsored sausages and drinking. Vinny drove there and brought some alcohol and sausages. Nice weather and a good environment made the hidden party one of the most positive I'd ever seen.
The second day started with waking up, having breakfast, understanding that it would have been better had we slept a bit more, and finally reaching party place by taxi (who wants to go by tram for an hour again?).
I got inside and continued coding, stopping to walk around and drink some beer and Red Bull while attempting not to sleep. It was the third night with nearly no sleep and I was so near to fainting that when 64k was finished, I uploaded the wrong version. When I realized this (it was during the 64k compo) I couldn't do anything except laugh at the situation. Shit happens, and making intro in ~15 hours isn't the best anyway :)
So the anticipated demo compo entries were poor. FatCrazer/StormStudios made an Amiga demo and it took first place, regardless of the fact that its music was weird. The demo from Crolyx was much better, but took second place because of its lack of new ideas, I think. Other demos were even worse than the 64k intros we'd seen before. There was a nice invitation to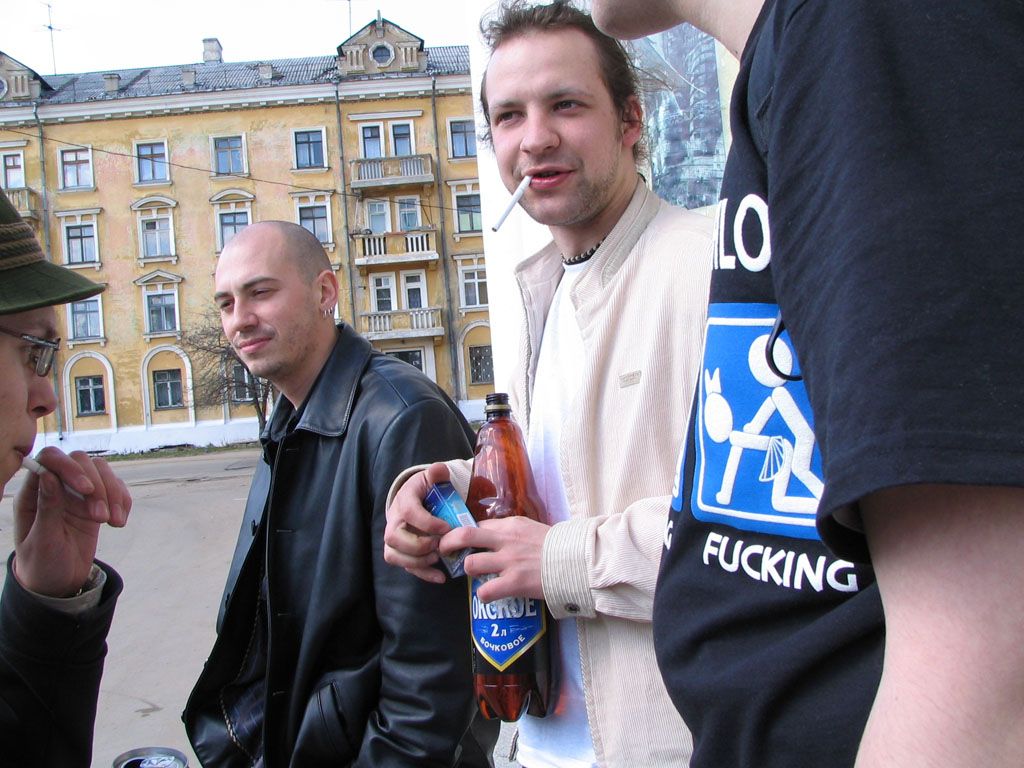 some Spanish party, but it was too long.
The last thing at the party was the prize ceremony. We received some prizes and diplomas and then got onto our train and spent some time looking at photos and videos we made at the party.
When we got to the station Preston and Unc bought tickets to St.Petersburg, we ensured that Bitl had a ticket to get home and that he was at the right station, and finally went to our homes to get some rest.
__Preston:
The second party day appeared to be better than the first. When we got to the party we continued tracking, Nap continued coding, and Bitl had fun somewhere, occasionally coming back to us. We were too tired and didn't care about anything.
We finished the track and called it "Di halt ura" ("Di halt hooray"). There was only one perfect work at party -- Another Watch by Fox.
Prizes were money, magazines subscriptions, hardware t-shirts, and pocket radios.
PS: Going to small parties is not centered on taking prize places, it's much more interesting just to see old friends, drink some beer, have fun and feel the scene spirit ;). Everything you don't get at major parties.
Preston & Nap