Assembly 05 party report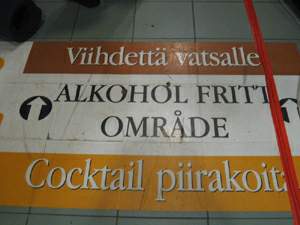 Assembly didn't start in the best setting this year. The normal date of the party coincided with the sports world championships held in Helsinki in August, so it had to be moved one week earlier and that made it seem like there was one week less to finish productions. The Areena was also under construction work, which moved several parts of the party to different locations. Due to this and another thing that had to do with the championships, there would be no rave this year. No one was holding unofficial competitions and while there were going to be a few concerts, they weren't announced on the website beforehand.
Besides or maybe because of these things, the tickets hadn't sold well. Gone are the times when Assembly computer tickets sold out in a matter of minutes. In fact computer places received so little interest that two tables weren't built in the end and all kinds of tickets were sold at the door. The weather forecast didn't look too good for those queueing outside of the Areena. It predicted rain on Thursday, Sunday and mega massive rain on Saturday.
When I arrived 11:40 it was warm and sunny, though some nasty clouds were hanging above the partyplace. I spent the waiting time talking with ravel, no other familiar faces in sight. The doors opened at 12 and I headed for the oldschool. It stayed empty for a long time, only Wolf was there on my table. I entered my C64 floppy to the infodesk. They stored it away in a ziplock bag, just like police officers handle pieces of evidence on tv. I met hydron and Deep-blue, nosfe and the Hungarians had just arrived too. I visited the Microsoft stand in hopes that I could get their Premium Pack without having to install the Express programs, but no such luck. Their stand was interesting featuring beds, teddy bears and alarm clocks (hopefully not operated by Windows).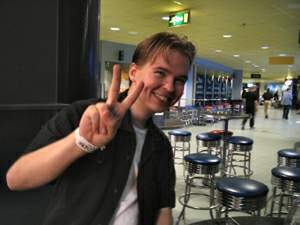 I kept company to hydron, bemmu and Deep-blue during their visit to Pizza Hut. The place seemed popular, at least Setok and _LUKE_ came to say hi. I and Deep-blue decided to go grocery shopping in Lidl and came back with almost exclusively fruit and fruit juices. I returned to my computer to install Paint Shop Pro for the fast graphics compo, only to find out that versions 8 and 9 require an upgraded IE and older versions were nowhere to be found. In the end I spent several hours installing PSP. Fortunately I got some company so it wasn't as boring as it could have been. Friends and familiar faces were everywhere.
The opening ceremony started at 18:30. This time there was empty space in the hall, so they had built the stage underneath the bigscreen instead of the top of the stairs, much more convenient. The ceremony was quite a farce though, starting with strange music and a really crappy video about Assembly. Abyss had problems with his microphone and when those were fixed he delivered the usual "Assembly rules the universe" kind of speech.
I and ld0d sat in the audience with several friends surrounding us. We moved places to meet even more friends and got to watch a guy who played DDR on his laptop with his keyboard, scoring "Wonderful" on every move. The plan was to go outside, but it had just started raining and Boozembly was emptying too. So I got back to my computer place, interrupted by talking to several people on the way. I talked to kataja and found out she was sitting just one seat away from me. Psychad was collecting signatures for a petition asking that the gates to the grand stand to be opened in the oldskool area.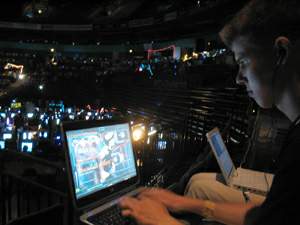 I hanged out with miscellaneous people until the fast graphics compo themes were published at 20:30. The site which was supposed to host the themes was down, but fortunately I got the theme on IRC. It was "Spam, bacon & eggs", quite an interesting choice. I started drawing to find my newly installed PSP crashing four or five times during the drawing period, which was very annoying. In the end the deadlines for both fast music and fast graphics were extended due to the technical problems, but my own computer issues made me seriously run out of time - I'd have been better off with Paint.
After the compo I finally headed out to the hills, where the lovely people of wAMMA-TV interviewed me and ferrix. I talked to visy who was extremely drunk and some people who were just slightly less drunk. I snapped a few photos and then left, as there were no friends of mine present. As I got in I got a call from the oldskool jury, telling that there was an error with my floppy. It took me some time to find them in the labyrinth of Areena, but I handed them two backup floppies and got seated just in time for the game development compo.
The quality of the entries was rather high. There were board games, 3D action, platformers and car games. People didn't fancy the slower-paced games and the Chinese chess game HiddenLynx in particular was met with nasty shouts from the audience. Pogo Sticker was just as good as you'd expect from tAAt, a creative idea with plenty of addiction potential. Skies by Aukeagames was a flight simulator with impressive graphics. Factory Pinball was a funny pinball game, though it seemed like more attention should have been paid to the level design. The crowd's favorite still seemed to be Kumoon by Mayoneez and the Boyz, no fancy graphics but a good, fast-paced concept and plenty of levels.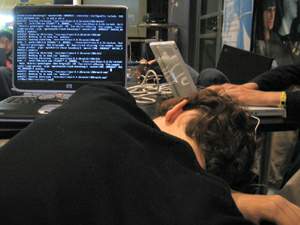 Ravel announced two more contests to be held by the Altparty posse during the party. The list now included seven contests: performance, wireframe vector 2d graphics, rusk eating, butt dancing, fastfood music, floppy massage and DVD burning. The origin of this eccentric selection was the Finnish radio station Ylex, which had organized a trivia about Assembly on its website. I bet they'd have never guessed that someone would actually go as far as organizing these "wrong choices".'
Two o'clock was a good time to retaliate to sleep. The morning was quiet as always, people on IRC were complaining of hangovers and sleep deprivation. Due to the renovations at Areena there hadn't been enough room for sleepers. Ravel wanted to show me the Visual Basic presentation he had made for the Microsoft contest, which was interesting to say the least.
I went to check out some of the stands. Jaffa was chilling at Evtek's place, which was a good one since it offered free chocolates. Someone there had fallen asleep in front of his Linux terminal, but he woke up before it was hax0red. Tomcat had just woken up at his stand, the collection of t-shirts was just massive and I finally got to see the long awaited Freax book. It looked good, A4 format with glossy pages and plenty of illustrations, just like any art book. He also offered demoscene DVDs and a custom t-shirt printing service, which turned out very popular. Pelikonepeijoonit had another impressive booth with several arcade machines for party visitors to try out.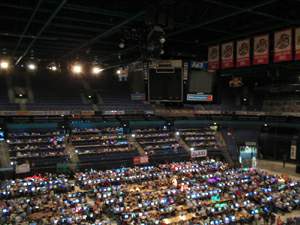 I spent some time on the computer and locating visitor tickets for two of my friends. I got to see the first Assembly pictures too, Jori's Boozembly gallery and Deep-blue's shots from the Areena. I made an excursion to the actual partyhall, where the majority of people were gaming, but a large part of them were playing Pogo Sticker. I also saw a reporter and a photographer, who seemed to regard the event as a giant freakshow, perhaps not that far from the truth.
Altparty's fast food music compo started at 16:00, at the same time as the first Robosota tournament. The compo was held in front of Hesburger and there were four participants. DHBB featured Kraku with a harmonica and Basscadet with an accordion. Their competitors BASS presented us something even more memorable: Gargaj banging a tune with a plastic bottle and Truck singing. Die Rebels included ravel, Setok and Jyrgen doing a combination of rap and singing accompanied by laptops, educative lyrics and Hesburger meals. TAAt's presentation was rather feeble compared to what they usually do and the strange toy speaker was barely audible to the audience.
I left to check out Boozembly where I hung around until 17:00, which is when we were supposed to have an IRC meeting, but most of the people coming were delayed. We ended up with lostc, iood, mohky, ld0d, and I with flux and Owli as guest stars. The group headed grocery shopping to the Pasila railway station. I didn't know what to buy so I ended up with silly things like ice cream and caramel popcorn. I was surprised that the pizza and coke supplies in the store were still excellent, could they have finally learnt?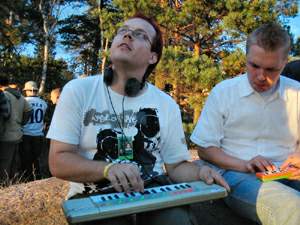 We hurried to catch the DVD burning compo held at the new barbeque at Boozembly. I think it was one of the best compo ideas at Altzone ever and probably had the most spectators too. I had forgotten my camera inside, but fortunately many other people have photos of the show. The rules stated that you could burn any DVD of yours with any technique and ravel served as a judge to check that all the DVDs were for real. Most participants burned software DVDs and jaffa even sacrificed a Midtown Madness Xbox game. Different materials were used for the burning from booze to spray deodorant. Some guys even utilized a one-use barbeque set, which made for a fine roasting for SQL Server 2005.
We missed the fast music compo while hanging on the rocks, but came back to the Areena in time for fast graphics. It was nice to watch, fast compos always feature a more personal style. My favorite pictures were the My Little Pony colored picture, Pork and Chicken and the technically excellent Breakfastface. "Assembly needs a bigger screen" was rather funny with its sumowrestler-sized guy. Queen of Bacon looked like a meaty representation of Liv Tyler.
After fast graphics there was a two hour pause in the official compos. I watched Altparty's performance compo, which had some interesting entries but very few watchers. Ravel, setok and Jyrgen were reading poems in silence and two random guys showed us some cool martial arts. After those entries I left to keep company to friends on their journey to a nearby gas station. JoneK later described the rest of the compo to me, the entries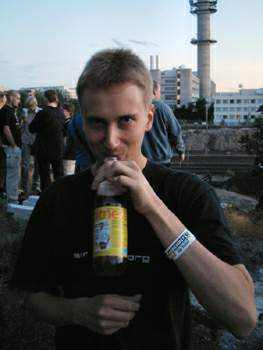 seemed very fitting for the concept.
I was supposed to go and take a look at the five-hour DDR compo marathon, but I forgot about it and just spent most of the time at the hills. Boozembly was not surprisingly rather crowded, people were mostly barbequing and boozing. The Amigafin people had a hardware throwing compo, which we missed because we didn't know about it. We left in a hurry to check out the instrumental music compo, though skipping it probably wouldn't have been a great loss. It sounded more like a movie score compo with hardly any variety. There were some deviations from that style, but most of those tunes weren't any more impressive.
Next up was the the drawn themed graphics compo, whose themes this year were "star", "organism" and "back to basics". No one bothered to announce the themes nor connect them with the particular entries and we were left guessing which one of them the given picture adhered to. I don't think the quality was too high, some entries were excellent, but there were some pictures that looked very unfinished or otherwise less than satisfactory. The use of the themes also seemed rather poor in some cases, like using a star-shaped tattoo as an excuse to enter a picture of tits.
Following it was the 4k intro compo, which was good even though not even close to last year's one. Sadly there were no Amiga intros this time. Fit & Bandwagon had again made a very creative entry, though nothing of the magnitude of the Yellow Rose of Texas. Evoke Spacerace was a very cute invitation with some animals flying in the space, my personal favorite in the compo. I also enjoyed Northern Dragons' Blobzilla. It's nice to see design and creativity in compos like this.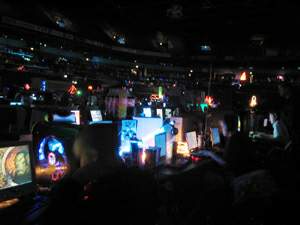 The oldskool music compo started at half past midnight and featured some great entries. I could recognize Nebula as BriteLite's tune and I think it's among his best ones. Dirty '64 impressed people with its vocals performed by the SID chip. When Mushroom started I soon knew that people would start clapping to the tune and so they did, which was funny when the tempo quickly got faster. The oldskool graphics compo mostly included C64 pictures. I think my David Hasselhoff picture got the biggest applause, even bigger than Heatwave with its pair of tits. Especially the wAMMA guys sitting in front of us seemed to like it.
The oldskool demo compo only had four entries, but the quality was top-notch. The first entry was a Russian Spectrum demo with a political theme, simple but I liked it anyway. I didn't really fancy RNO's Amiga demo, RNO's recent demos have seemed to lack something. Aspekt had a cool C64 demo with great music, but it was no match to Fairlight. Those guys had really outdone themselves with the groovy and well-designed demo that seemed to never end, but still wasn't the slightest bit boring, unlike 99% of longer demos. Shortly after the compo we got a car ride to ld0d's place and headed to sleep.
We didn't return to the partyplace until 15 on Saturday. Our first destination was the Boozembly hills, not very crowded there. The weather was very hot, so many guys had rid themselves of their shirts. This eventually led to the events we now know as the Boozembly gay disco. Melwyn was making pancakes on the new fireplace, but regrettably we didn't have the time to wait to taste them as the freestyle music compo was starting at 15:30.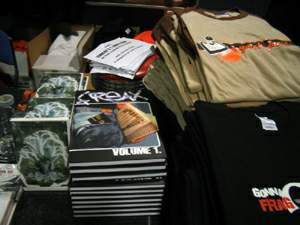 Freestyle music was formerly known as vocal music, so all of the songs featured some vocals. It offered much more variety than the tedious instrumental one, but most of the songs were ruined by horrible mixing, some by crappy lyrics or an awful singer. The selection made us question whether the jury was actually deaf, but maybe the quality of the entries just wasn't very high. Fortunately there were no humorous entries this year. We now heard Promised Land with vocals and they were rather good. Moon & Sun was a well produced (even if a bit boring) eighties-influenced tune. Calling me a Ho was an interesting track, featuring good vocals, blues guitars and bagpipes. Aisth had made a new song too, but I didn't like the remix they entered in the compo.
The freestyle graphics compo had great entries for the most part, though there were a few pictures I definitely wouldn't have qualified for the bigscreen. I believe there was more variety than in the past, considering the styles, techniques and subject matters all combined. It was just unfortunate that there was no information about how the picture was made, there were some entries that left you unsure whether they were digital paintings, traditional paintings or perhaps post-processed 3D models. Most of the entries looked like they were made in a digital medium, though.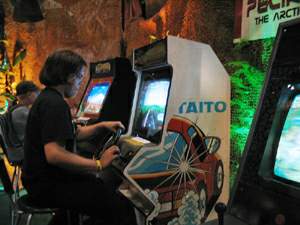 I hadn't yet voted in any compos and I was in a hurry to do that, as it was almost five o'clock and the voting deadline was set at 17:30, coinciding with the browser demo compo that started at 17. A friend borrowed me a laptop with WLAN which I took with me to the grand stand. I missed a part of the first two entries because I was concentrating on voting. The compo had Flash, Shockwave and JavaScript entries and all of them were rather good. The Flash demos were all nicely designed, though the Komplex entry seemed unfinished and I didn't like the music of Etsin unelmaa. The JavaScript demos showed us some stunning effects and funnily all three of them featured a rotating 3D cube. The Ribbon & Bomb entry was clearly the most demo-like with the best design.
The rusk eating compo would have been held somewhere at this point, but I missed it because no one had informed me that it had been moved. I believe I would have stood a chance, looks may be deceptive as I'm in fact quite talented at eating. I followed my friends to the gas station again and afterwards to the hills. The pancakes hadn't fortunately run out just yet, now it was Nrg making blue pancakes, just like the ones we had at Stream. I got a pancake which was rather tasty despite its magic mushroom like blue texture and headed back inside at 18:30, even though I was sure that the first prizegiving ceremony would be delayed. Sure enough I turned out to be right and we weren't even informed of the new starting time until 19. I believe the 45 minute delay was at least partly caused by missing sponsor staff.
The prizegiving ceremony took ages with all the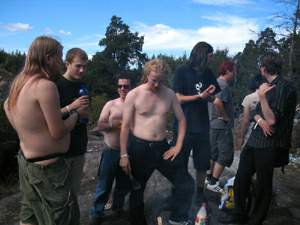 sponsor stuff and Abyss's endless speeches. First they awarded prizes for some sponsor compos and the outdoor compos. Sceners rarely excel in those, but ASD's Navis won the first prize in floppy throwing and placed second in CD throwing. Fast music was won by Aikapallo, it's always either him or artz winning it and this year artz didn't participate. Nigerian Breakfast won the fast graphics compo, not what I was hoping for as the joke had hardly anything to do with the theme and the picture wasn't that great either.
I was glad to see that quasian's ape dog pack won the instrumental music compo, as it was the only tune that really stood out. Mazor received the very well deserved first place in the drawn graphics compo. Abyss quickly concluded from the winner trio that phase1 was a superstar, John Peeba was a Sika (pig) and mazor was uh, boneprone organismo. I was surprised that Visualice didn't rank higher. Paavo "Tarantula" Härkönen won freestyle music, which surprised me, but then again hardly anyone had bothered to vote in that compo. Random's picture won the freestyle graphics and while sure deserved I'd have expected Darth Reagan to win. I was also a bit surprised to see Fit & Bandwagon dominate the 4k.
The winners of the graphics compos were mostly scene legends, but the oldskool music compo topped that with Britelite, SounDemon and reed on the stage. The prizegiving for the oldskool graphics had kept me shaky throughout the whole ceremony, but not in vain as I heard Abyss call my name to pick up the third prize and share the stage with Phase1 and tempest. I got an Asus Wlan router as the prize, which seemed rather strange. Nothing else, not even a t-shirt this year. I doubt the results of the oldskool demo compo surprised anyone with Fairlight prevailing as the clear winner.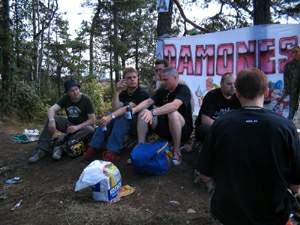 The mobile demo compo started a bit late and there were just six entries this time, nothing particularly groundbreaking. It was hard for the watchers to judge the technical side of the demos, as all of them were on a different platforms, many of them ones we hadn't even heard of before. It was nice to see a new HiRMU demo on the screen, though most of the audience probably didn't appreciate it. I liked the parody aspect of Perkele Plus+. Matt Current's entry was a bit disappointing for me compared to their previous GBA productions. FormFunk was a good demo, but I think it could have been improved by slightly different design ideas.
I was reminded that Altparty's 2D vector drawing compo was closing. I quickly doodled something very silly (a winged giraffesaurus, anyone?) out of a lack of time and inspiration and of course I got a much better idea soon afterwards. I and a bunch of friends headed back to the incredibly crowded hills. I first talked to my ex colleague hautis, who seemed to be both drunk and stoned, but at least he was protected form mindcontrol rays by the tinfoil hat he was wearing. I also had a chat with Dipswitch, mostly about Evoke and ASCII art. It was cool as I hadn't talked to him IRL since Breakpoint 2003. He was begging people to get beer since he - like many other foreigners - hadn't been aware that alcohol sales in stores cease so early in Finland. He managed to score one somewhere and my friend Skiz0 donated him half a bottle.
Boozembly had taken its toll and numerous sceners had passed out during the weekend. Nosfe lay sound asleep next to the barbeque with people

trying to wake him up. The short film compo was coming up and he surely wanted to see his video on the screen. The efforts seemed hopeless since he was completely inanimate, but when we hurried back to the party place to catch the compo at 22, we saw him talking to some people in front of the Areena.
The short film compo (a combination of the former wild and animation compos) wasn't nearly as bad as I expected, in fact it was the eighth Assembly wild compo for me and probably the only one that hasn't made me feel like tearing my hair in agony. The first entry was a parody of the Star Wars movie, not very promising, but not too bad either. The effects were well realized, except for the #ff0000 colored blood. There was also a stupid home video where people damaged hardware by burning, dropping from heights and running over it with a car. The rest of the bad entries were mostly contributed by demosceners. Byterapers had three entries and I didn't particularly enjoy any of them. It was nice to see the Boozembly video in the compo, but I was hoping for a more interesting reperesentation.
There were many good entries to compensate or that. I actually really liked tAAt's buttonboard demo, it's an idea I would have liked to come up with myself. TAAt's other entry, a live version of Porrasturvat was quite an obvious concept, but I couldn't help but like the way it was realized. Hedelmae, the guys who had made the LCD demo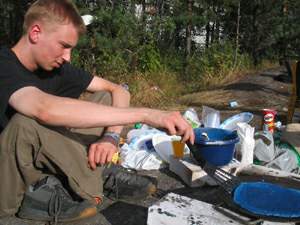 last year had a new one, with a bigger screen this time. The ending revealed the LCD was in fact controlled by an Amiga. The clear winner of the compo was still maxon's animation, which was funny, well drawn and obviously made with huge effort.
I disagree with the people who have said that the quality of the intro compo was great. Surely there were more entries than last year and some of them were impressive, but many were merely mediocre. I think there were several first productions, stuff that in the past rarely qualified to the bigscreen, though some of them were rather good. The audience didn't really appreciate Flo's eccentric intro, but I was glad that it was shown. Traction's intro was very nice, but many people paid more attention to its name. Apparently the word "homo" still makes people laugh.
Origami was a nice intro from newcomers, though I'd have liked to see more of the actual origamis. The Loonies intro showed some splendid 3D models that would have looked good in a demo as well. Tomkh's Suboceanic also presented cool models, despite the fact that they were all generated on the fly. It was easy to see which intro was the winner, Fairlight's Che Guevara was greatly enjoyed by everyone. It would have ranked well even in a demo compo.
When the demo compo was starting I began to feel really tired. That was strange, as I had woken up at 11 after almost eight hours of sleep so I shouldn't have felt sleepy. I tried to keep alert, but I spent most of the compo between nodding off to sleep and waking up again. With that in mind I'm happy to remember most entries at least partially. What's there to say, ASD has never disappointed me. I liked the Synesthetics and Trauma entries too, the Ananasmurska and Matt Current demos were good, but could have been even better. The wAMMA demo was surprisingly all right.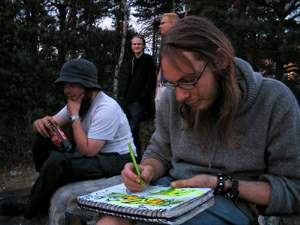 The Assembly Netcrew announced a new surprise compo, the download competition. The object of the compo was to spend the most downstream bandwidth during the hour between 03 and 04. The leeched content didn't matter, as long as it was legal, which practically means downloading Linux distros. The winner of the compo was announced later, but I'd have liked to hear what prize he got.
We had to wait almost an hour for a train which took us back to ld0d's place to sleep. Trossi was also in the same train, just like last year. Our comeback to the partyplace was at 13 on Sunday. Altparty held its own prizegiving ceremony at 13:30. It was a minimal, hurried presentation without much glamour, but the winners were happy nonetheless. The prizes were also rather good, many of the awardees walked away with the Freax book, Visual Studio software or even a new keyboard. Only eight votesheets had been returned, so the compos had to be judged by the Altparty organizers.
DHBB won the fastfood music compo, probably not a surprise. Jaffa claimed victory in DVD burning, though I'd have awarded the guys with the barbeque system. Ryty & Kosti placed first in floppy massage and Ryty also won the performance compo with an entry I unfortunately missed. Rusk eating was won by Truck, which probably wasn't a surprise even though I didn't see the actual compo. The winners of the vector 2D graphics compo were some random guys, but Jeenio came third and presented the most cheerful attitude among the lot.
The butt dancing competition was supposed to be held on Saturday, but time ran out due to the delays so it was held on the spot in the prizegiving ceremony, with "Pylly vasten pyllyä" as the compo song. I, osyn and some others joined in, but the victory went to Nosfe, Britelite and Thoron "on size alone". As the prizes had run out the trio only got Microsoft paperbags, which they decided to wear as hats.
The second prizegiving ceremony started with Abyss and Pehu throwing some t-shirts to the audience. It was crazy, dozens of people ran there from all parts of the hall, like it had been Michael Jackson donating his collection of fake noses. The first awards went to the fastest computer and coolest case, extremely interesting especially since the overclockers all had almost identical setups and we didn't even get to see the pictures of the coolest cases.
These were followed by other important competitions like blogging, gaming and placing a sponsor's fake tattoo on yourself and taking a picture. I'm actually just bitter because I didn't realize there was a blogging compo to participate in. Asus awarded the winners in soccer and DDR and then there was a bunch of gaming competitions, with some of their winners getting to go to Singapore for the World Cyber Games 2005 tournament.
Ravel and Setok presented Altparty's Most innovative entry diploma to FLO's 64k intro which ironically placed second last in the compo. Kumoon won the game development, beating both Skies and Pogo Sticker. I was honestly surprised by the results of the browser demo compo. Two of the winners were JavaScript demos - but the best one was missing. Shingebis again collected the first prize. The results of the mobile demo compo could have been anything, but FormFunk ended up winning with PORTMEIRION STATE and Perkele Plus+ closely behind. This was the first time ever I was happy with the results of the wild compo, though would have been nice to fit Hedelmae in the TOP-3 too. What a shame Maxon wasn't there to receive his prize in person.
The results of the 64k intro weren't hard to guess either, though I'd have thought that Fiat Homo would rank higher than Origami. Fairlight won of course and _LUKE_ amused the watchers of AssemblyTV with the legendary quote "aina ku reed on mun housuissa mun on ihan pakko päästä joraa". I'm not even attempting to translate that! The prizes in the demo compo all went to great demos, but I was especially happy to see ASD finally win. With that Abyss switched to the closing ceremony, which was essentially flashing the names of the organizers and sponsors on the bigscreen and greeting wifes, babies and dogs.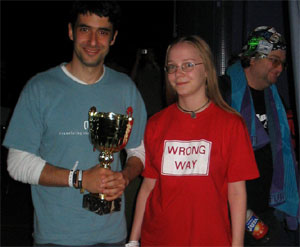 There wasn't much left to do after the ceremonies. The party was over and it hadn't been too bad. I caught Navis with his trophy and congratulated him. Someone also wanted to take a picture of the both of us and somehow Truck managed to sneak in there too. Just before I left I also talked to some nice Russian guy whose name I have forgotten. He said he's been translating my partyreports for the Russian Hugi and he rather likes them. I told him I believe that my Assembly party report was going to be my best one so far and I hope I haven't disappointed him.