Party Report Breakpoint 2003
By Dkdman / Surprise!Productions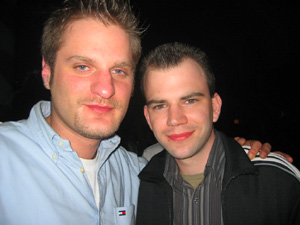 Well..... it all started on Thursday 17-04-03 evening.
After work I caught up NUKE/S!P from the train. We went to my place. Sometime before I bought booze of course..... we started to drink the first beers and watched demos. Some beers and bottles of wine later, maybe it was midnight? We went to a local disco. There we boozed a lot of mixed drinks and we had a lot of fun inside with friends of mine and girls! From time to time, I lost nuke. Usually I found him again after a while, but when I wanted to go home I didn't manage to discover him. But he was really doing what I had suspected. Nuke had gone with a girl to her place and... yeah.
2 hours later we had to stand up. I was surprised that nuke was lying besides me in my bed. We drove to the airport in Graz and checked in. A little later with some kind of head-ache we were flying to Frankfurt. Got some beer inside and, yeah, finally reached Frankfurt afer 50 minutes. There we had a little meal and went by train to Mainz and then to BINGEN!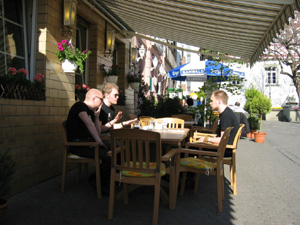 The first thing we did there was pissing right beside the Rhine river to a tree. Haha, that was fun. Some people watched us. Then we walked a couple of minutes to the NH Rheinhotel where we would stay. We checked in and went to our room in the 4th floor by elevator. Later we checked out the town and got some booze. Before getting back to our hotel we boozed in a restaurant were we met 3 guys from The Black Lotus! Of course we took a photo from them. Later, in the hotel, we boozed some more beers while watching MTV. Then we opened the first bottle of wine, which we had bought at a cigarette load.
While boozing all the time Nuke's cellular was ringing. It was eviL from portugal. We caught him with some guy from tpolm at the train station up and went to a "kebab-bude". There we got some food and a beer. eviL and this guy took the next shuttle-bus to the party-location. Then Nuke and I went back to our hotel and again drank some beers as well as some glasses of white wine.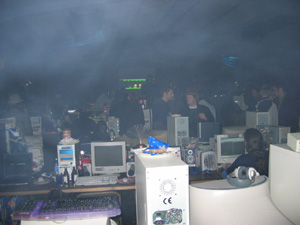 In the evening we took the shuttle-bus to the party location somewhere at the edge of the world.... All the time we travelled with this bus we had a lot of fun because we never waited for it at the right places; we always caught up the bus somewhere on the street. The chauffeur was fucked up because of this. In the bus we met two guys from Russia. They were cool and funny, haha.
After checking in at the party, we did something strange.... yeah, we got some bottles of beer. Boozed up, we took a first look at the location. It was pretty fine and we had plenty of fun there. Nuke met a lot of people, some whom he had already known for a long time as well as some he had not even known for so long. I saw these guys there for the first time in my life and it was just such a funny experience!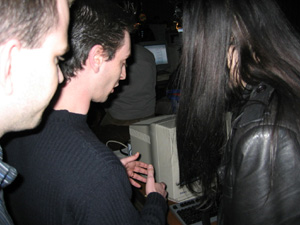 We also met eviL again and had fun and boozed some beer. Yeah, we went to the guys of Speckdrumm! We watched them while coding & looked at the latest demo, which was kewl! ........and finally seismic cut us a FOLIBA!
Once we really fucked up from boozing and all, so we took the last shuttle-bus back to Bingen. In the bus we were talking with gizmo/fr. Finally we went into the hotel and drank something there (again) while watching MTV. Finally, we fell asleep.
Saturday:
Nuke and I woke up; I guess it was in the morning!? Refreshed and with new power, we went downtown and bought BOOZING-STUFF at a super-market. Before getting back to the hotel we ate something at a "Würstelbude".
Back in hotel we started to booze. Beer, wine....... yeah. Watching MTV and all the shit. Talking about party, people, booze, girls.... After midday, we called the room-service.
I pressed the 4 on the phone (hotel-bar).... ring ring ring ring. Nothing. Ok, I pressed the 1 (reception). There I asked for a bottle of BACARDI. The man on the other end was surprised. Hrhrhrh. He asked: You really want to have a bottle? Should we bring it to your room? ....YES! So I had to press the 3 (restaurant). There I orderd the bottle. After 4 minutes the guy there called me back and told me the price. 60 EURO! Of course I said yes..... and 3 EURO extra for room-service. OK! 5 minutes later a really nice girl brought the bottle with ice and a lemon! FOOOOOOLIBAAAA!
Already drunken a little bit, I mixed the first 2 glasses while NUKE was brushing in the bathroom. Afterwards I went in and did the same..... YEAH. refreshed and washed, we boozed Bacardi-Cola with ice and lemon while watching MTV and talking all the time.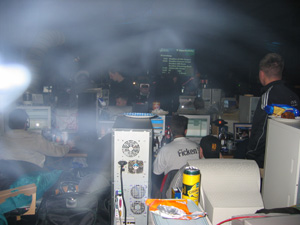 So we had to get ready for the party again. There was a little rest in the bacardi-bottle (1 litre) which we drunk the next day. Before going out to catch the bus Nuke wanted to drink some wine! And so we did. 2 glasses of wine later, we went to town and quickly drank one more beer at a pub! Then we gathered on the street, and yeah, there the bus came. The chauffeur was very angry at us because we weren't waiting at the the right place, the bus-stop. hahahah
In the bus we had a lot of fun with the guys inside. Gizmo was there again. Yeah, finally we noticed that we very travelling with him very often because it was his job..... Yeah. We got to the party place and the first thing we did........ haha, we got some beer. We boozed there, talked with people, watched demos.... yeah!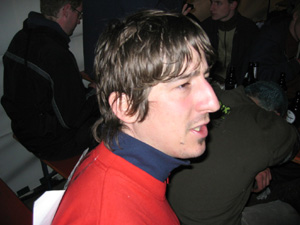 Once when we bought a lot of beer for our mind, there was a funny thing..... A guy came and wanted to give back the empty beer-chest! He talked with Avatar/Black Maiden and we stood right beside them. haha. Avatar/Black Maiden said: THERE ARE SOME BOTTLES LEFT! We nearly pissed in our trousers 'cause of laughing so much. It was so sick. There was only one bottle in the chest. The other 19 bottles were missing! Avatar/Black Maiden didn't realize why we were laughing so much. hrrhrhrh. That was great!!! We took a photo of the empty beer-chest!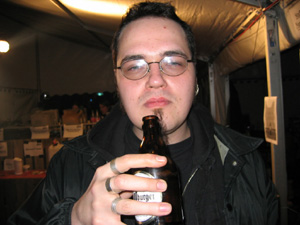 Then we went outside to the tent-fire. First we ate some "Currywurst" and then met up with a group of people at the tent-fire and boozed! After some time I and some guy I didn't know took a huge "wood-chest" and put it into the fire. wuhuuuuuuuu. It was burning very fast and all people took some steps back because it was gonna very hot there. The wood-chest burned down fast and so we had to put in there a second chest. haha.
A guy from tpolm came to me and we talked about something..... I can't remember the details. Then we went back inside. Maybe we boozed some more beer!? All I know is that some time later, we went back downtown! And in the bus we met a guy from Razor1911!
Saturday Night:
We went to the local disco 200 metres away from our hotel, named PALAZZO! 20 EUR entry fee and we got in. Of course we BOOZED! Met up there some people, and yeah, CHICKS!!!!!!
...not sure if I should write about what followed...
In the morning we finally went to our room and took a sleep!
Sunday:
I woke up with a fucking cold! Nuke was sleeping and I took a photo of him. We ate some food we had bought the day before and it took not long till we started to booze again. Later we went to town, ate at a restaurant and got some beer. After that we also boozed at a "Biergarten". Finally in the hotel we drunk the little rest of our Bacardi. Then we got fresh ice from the restaurant. haha.
The same like the days before. We got beer, wine......... YEAH!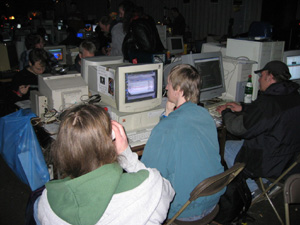 A little bit drunk, we went to town again with a beer in our hands. I thought I had lost the time-table for the shuttle bus (I retrieved it on Monday) and so we went to the bus-stop and waited for it. Nothing. We went to another hotel (in which we didn't stay) and asked there for the bus-times! OK. We had more than an hour. So we went back to the pub where we had been yesterday, had fun with the waitresses inside and boozed some beer. Then it was time to go. The bus would come in 5 minutes. We stood up and wanted to went outside, but first we drunk some tequila! I ordered 2 for us! A guy called "Walter von Berg", who is a componist, talked with us. So I orderd 2 more tequlia for us. I quickly handed the waitress 10 EUR and then we ran out of the pub! Well - we did see the bus. FUCK! We ran and ran and ran. But it was gone. SHIT!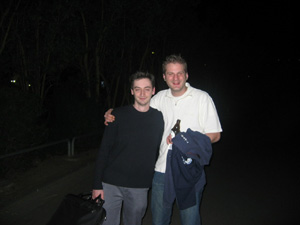 HAHA, then a funny part started: Nuke asked then a chauffeur of a normal regional bus if he would be driving near the party location. This guy told us that we should walk about 300 metres because the bus would come back after passing the train station. OK! The people in the bus all stared at us, having no idea about what we were planning to do. That was fun! So we ran again, stood besides on a street and pissed there right on it while cars were driving behind us at very fast speed, hrhhrhrhrhrh. Then the bus arrived and the chauffeur put the hand on his head because we are the 2 chaotic guys waiting somewhere on the street again! hahaha. While we were pushing the last drop out of our cocks and waving at the same time, the bus stopped on the street, and we entered it! The guys inside didn't realze why the bus had stopped. haha. We made the show inside of the bus. There was some guy from England (leblane) and 2 more one of them were from Africa!!! wohoooo. We had some "Weinbrand" in our pockets and drunk it. Of course we gave something to the guys in the bus. The guy from England was pretty fine. At the party place he was all the time with us and boozed with us.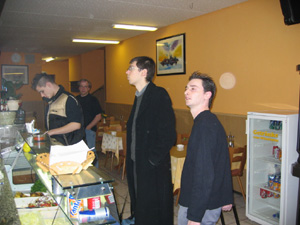 Once we went out to the tent-fire again where I and Nuke pulled a guy away from the fire because the people weren't seeing him and running over him........ he was........ out for the day (night). Inside were the compos. Yeah. I was really drunk and took a lot of photos and screamed with the mass because there were so many fantastic demos!
After the show we drank some more beer and then some time we went home. The last bus. FUCK! We thought we wouldn't catch it, but I did! I ran about 500 metres behind the bus until it stopped. So all people could get inside. It was really crowded and we had so much fun there inside. At town eviL went with us into our hotel. There we got some food and eviL had a very good bottle of wine with him. which we drunk. Really boozed up, we went to bed and slept.
Monday:
Yeah, we stood up early in the morning after having had about 2 hours of sleep. Paid at the reception and went to the train station. Then at the airport we ate something and finally reached the plane! 50 minutes later, back to graz/austria, we drove home by car. There we downloaded the first released demos/intros. In the evening Nuke went home by train and........... THAT's IT!
-dkd