Core Party report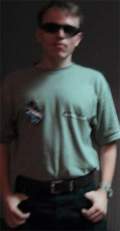 Core was perhaps one of the smallest Hungarian parties ever - at least the smallest I've ever seen. It was held in the city of Zalaegerszeg, 17th-19th, organized by Inquisition. Around 80 people popped up, however, the international interest was high, we had around a dozen Polish visitors (hi Addict guys!), a masochist Russian called RCL, who traveled a week by train to get there, and Adok/Hugi himself. Adok was brought to the party by car by his parents, who had great time in the tiny Hungarian redneck city - as they reported, a Gypsy family was yelling under their hotel window all the night.
First day there wasn't much to see. The organizers showed demos on the big screen all the day, first C-64, then Amiga and later PC ones. This even continued next day, so it was perhaps the longest demoshow in the Hungarian scene history. Some C-64 sceners were drunk like pigs, they were loud and annoying. Not much Hungarian PC sceners were around, just around a few dozen, but that contained some old dudes like Blala and Robymus of Byteam (do you remember them?) We had some fun. Especially when some junior dancers arrived to have some practicing in the buildings gymnastics hall - they were little gals & gays aged 12-14 - and Blala joined them drunken, with the beer bottle in his hand...
It was a disgustingly hot summer, over 35C, so we took our way to a local open-air bath, namely Vickey, DFJ of Dinasty and Adok. The cold water was just cool, however it came to light that Adok can't do a correct headjump into the water. ;)
There were the usual compos in the night, not much to be remembered, except for some pixel graphics, the rest was crap. There were some nice surprises from Fresh!mindworks, a demo and a 64K intro, and some others, but the overall quality of the compo releases were like if we'd be watching a computer talent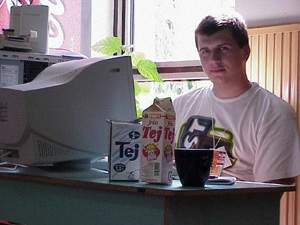 show in Albania. Besides, the 900 MHz compo machine jammed the MP3 files during the music compos.
Summary: It could have been a nice party if more people had come. We had a great time, the atmosphere was good, but nothing more.
tomcat^grm
Photos supplied by Adok